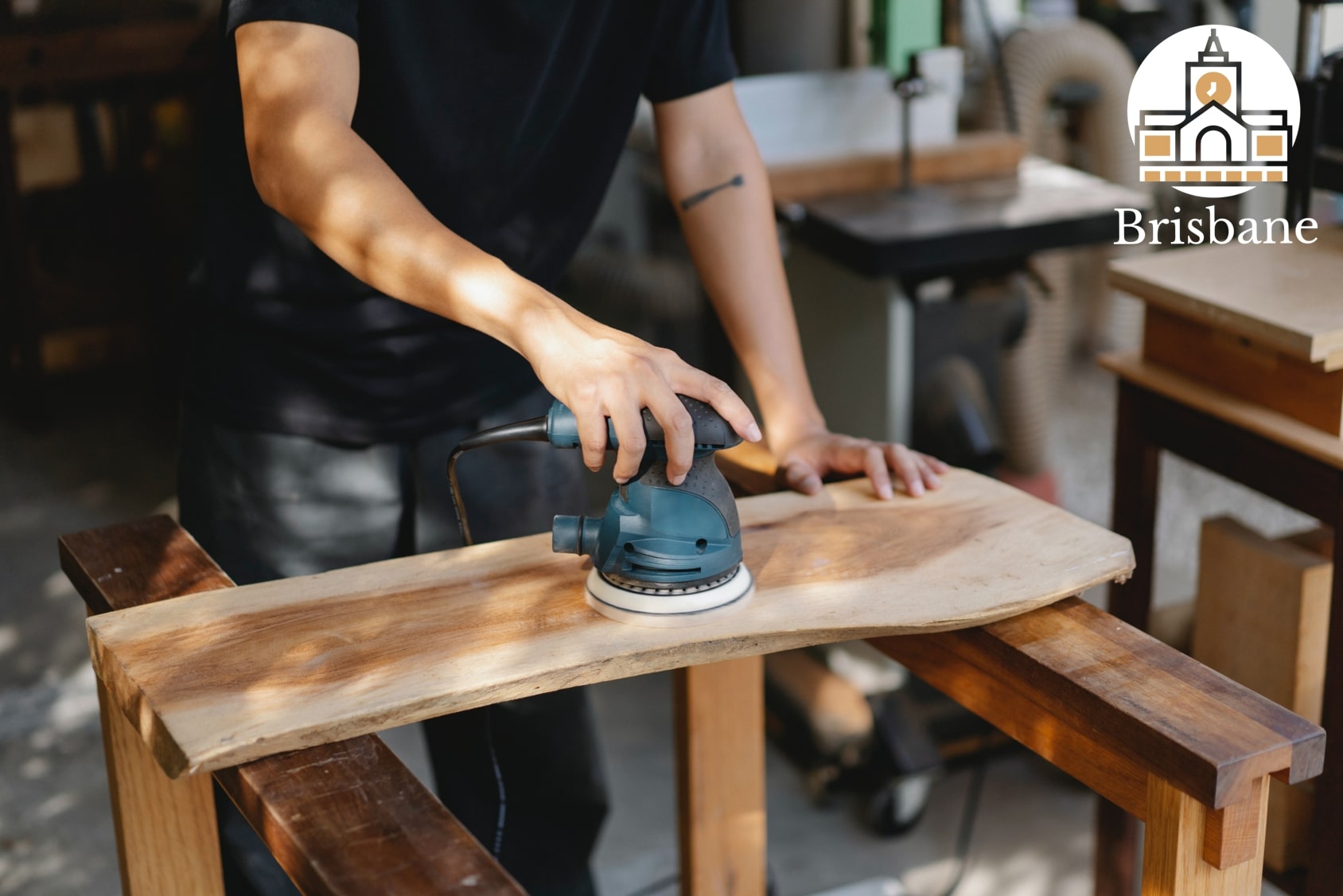 5 Best Places to Learn Woodworking in Brisbane
Our Criteria for the Best Places to Learn Woodworking in Brisbane
1. Damion Fauser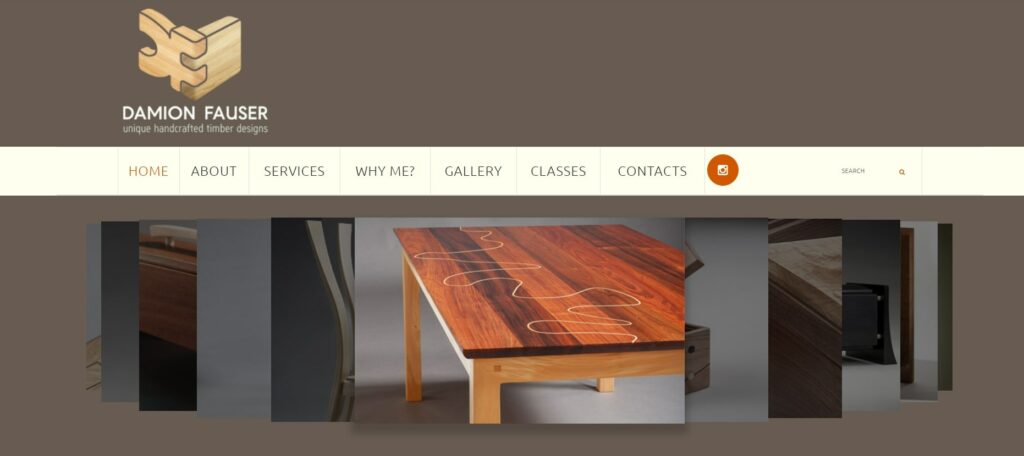 Class Offerings: Hand-Tool Essentials, Machinery Essentials, In-Home Instruction, Specialized Workshops & Masterclasses
Website: http://damionfauser.com/
Address: 4/14 Buttonwood Place, Willawong Qld 4110 Australia
Contact Details: +61 407 522 207
Hours: Monday – Saturday, 8am – 8pm
| | |
| --- | --- |
| Google reviews score | 5/5 |
| Facebook reviews score | 0/5 |
| Total reviews | 2/5 |
| Score consistency | 5/5 |
| | |
| --- | --- |
| Class Offerings | 5/5 |
| Workshop Inclusions | 5/5 |
| Instructor Credentials | 5/5 |
| Schedule | 4.8/5 |
| Tuition | 4.8/5 |
Award-winning woodworker
Offers in-home classes
You can request a topic of your choice for classes
Specialized workshops include all materials
Personalized classes depend on instructor's availability
Classes are refundable up to 2 weeks but your slot must be replaced
Damion Fauser's workshop is one of the best places to learn woodworking in Brisbane. You can learn from an award-winning and accredited woodworker who specializes in unique handcrafted timber pieces.
Damion offers fine woodworking classes and other workshops that are perfect for beginners and advanced woodworkers.
Some of the fine woodworking classes he teaches are hand-tool and machinery essentials which are perfect for beginners. It can also suit those who have been enjoying DIYs at home and want to refine their skills.
For those who want to focus on a specific topic or type of furniture, it's awesome that you can make a request on your preferred topic!
The class schedule would depend on his availability, though. The cost an hour would be $93.50 for a solo class and $132 for pairs, which we think isn't bad at all.
He can also do in-home instruction and visit your home workshop if you need guidance when it comes to your woodworking setup or any topic of your choice. He charges $121 per hour if within the Brisbane metro and $154 up to a 4-hour drive from the city.
He also holds some specialized intensive workshops throughout the year, an example is the Circular Side Table Workshop for $1,540 inclusive of all materials.
If you're interested in joining any of his workshops or classes, a 40% deposit is required. And take note that the fee is refundable until 2 weeks before the scheduled date, given that someone else can fill in your slot.
2. Brisbane School of Fine Woodwork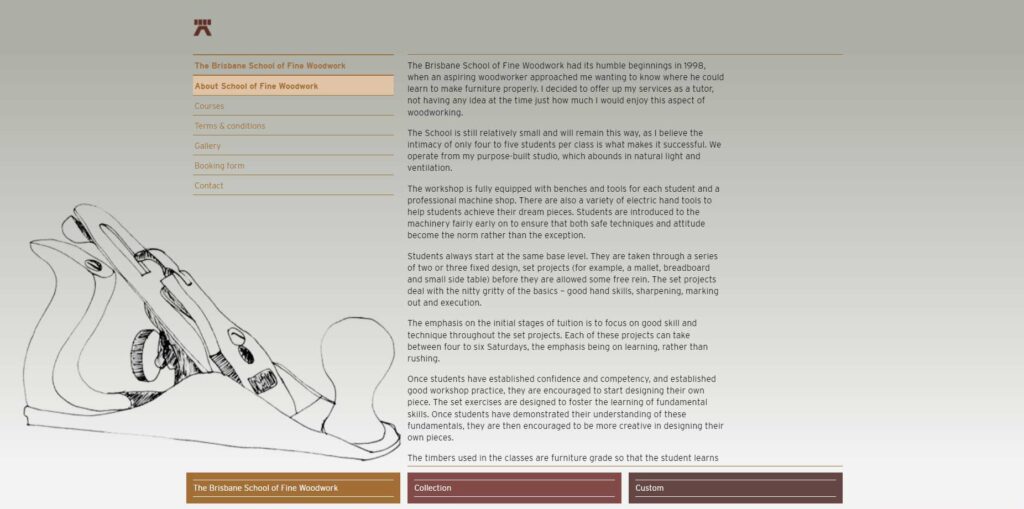 Class Offerings: Basics Workshop, Hall Table Workshop, 6-Day Make Your Own Dovetail Saw, 6-Day Danish Weave Stool, Basics Foundation Course, Cabinet on Stand Course, Casual classes
Website: http://www.royschack.com/
Address: 73-81 Mount O'Reilly Road, Samford QLD 4520
Contact Details: furniture@royschack.com / 0415 328 166
Hours: Monday – Sunday, 9am – 5:30pm
| | |
| --- | --- |
| Google reviews score | 5/5 |
| Facebook reviews score | 5/5 |
| Total reviews | 2.3/5 |
| Score consistency | 5/5 |
| | |
| --- | --- |
| Class Offerings | 5/5 |
| Workshop Inclusions | 5/5 |
| Instructor Credentials | 5/5 |
| Schedule | 4.9/5 |
| Tuition | 4.8/5 |
Great for serious woodworking hobbyists 
Materials and tools are covered in course fee
Quality furniture-grade materials are used
One-on-one classes are more expensive than others
50% deposit to reserve a slot
The Brisbane School of Fine Woodwork is another exquisite choice if you wish to really build a strong basic skills foundation.
The school is led by Roy Schack, who has been teaching since 1998. We like that he starts his basic courses with a set design project first such as a breadboard or mallet so students can start at the same base level, which we think is an effective structure.
These set design courses take 5 sessions and it's great that it aims to really focus on the nitty gritty without the rush.
We appreciate that once students have established their basic skills, they're given free rein to design their own pieces.
The basic workshop is priced at $1,700 inclusive of all materials, tools, and some refreshments. We think this is already a good deal if you really want to pursue woodworking as a hobby.
We'd also like to highlight that students will be using furniture-grade materials. We love that Roy puts emphasis on this as he shared that students appreciate their work more knowing that the material is of high quality.
However, when it comes to one-on-one classes, the rate is a bit higher than others at $200 an hour.
3. Bywater Design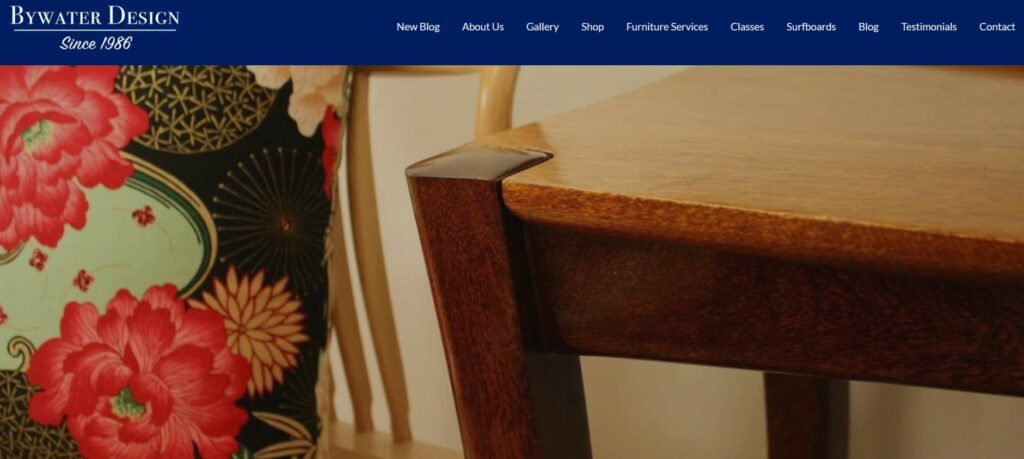 Class Offerings: Woodworking Beginner & Advanced Classes, Wooden Surfboard Classes, DIY Surfboard Kits
Website: https://bywaterdesign.com.au/
Address: 6/32 Zillmere Rd, Boondall QLD 4034
Contact Details: enquiries@bywaterdesign.com.au / (07) 3256 9000
Hours: Monday, 9am – 5:30pm; Tuesday & Wednesday, 9am – 5pm; Thursday, 9am – 6pm; Friday, 9am – 4pm; Saturday, 10am – 2pm
| | |
| --- | --- |
| Google reviews score | 4.7/5 |
| Facebook reviews score | 4.7/5 |
| Total reviews | 3.7/5 |
| Score consistency | 5/5 |
| | |
| --- | --- |
| Class Offerings | 4.7/5 |
| Workshop Inclusions | 4.9/5 |
| Instructor Credentials | 5/5 |
| Schedule | 4.5/5 |
| Tuition | 4.9/5 |
Over 20 years teaching experience
Offers Wooden Surfboard Making classes
Surfboard DIY kits are available
Class dates aren't that flexible
Basics class might not be as comprehensive as other intro classes
Bywater Design has been teaching woodworking for over 20 years and is a well-known furniture designer, maker, and restorer in Brisbane.
They offer 2-day introduction classes that cater to absolute beginners as well as experienced woodworkers.
However, since we weren't quite sure if two days was enough for an intro class, we talked to some students. We're pleased to say that they're quite happy with the experience.
In those two days, students will have the chance to design and build their own coffee table or hall table and master the use of tools such as the hand plane.
Another exciting course offering they have is Classic Wooden Surfboard Making, which is a 4-day workshop where you'll apply traditional techniques in making your very own surfboard!
It's great that you can learn how to build a board using sustainable timber materials which will be provided for you.
The surfboard building workshops will be done in their Boondall Workshop in North Brisbane.
If you won't be able to attend all workshop days, you have the option to purchase their exclusive Bywater DIY kits which you can work on at your own pace at home.
Their surfboard workshops are typically done in four consecutive days so it's understandable if you can't block off all days. We just wish there's an option for dates to be more flexible.
4. Robert Howard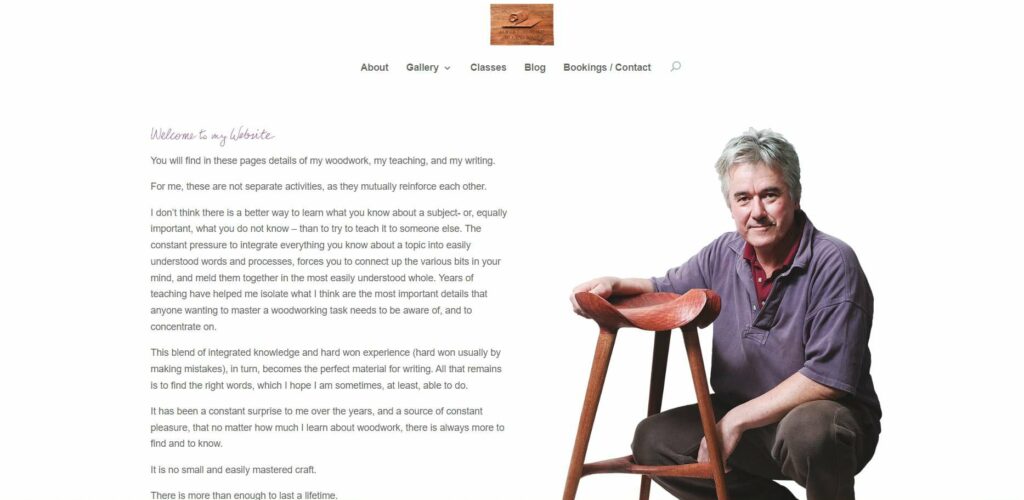 Class Offerings: Fine Furniture Making & Wood Carving
Website: https://roberthoward.com.au/
Address: 25 Stephens Road, South Brisbane, Queensland, Australia 4101
Contact Details: 0403 161 111
Hours: Tuesday, 6pm – 9pm
Wednesday, 9am – 12nn / 1pm – 4pm / 6pm – 9pm
Thursday, 1pm – 4pm / 6pm – 9pm
(Class Schedule)
| | |
| --- | --- |
| Google reviews score | 4/5 |
| Facebook reviews score | 0/5 |
| Total reviews | 2/5 |
| Score consistency | 4.9/5 |
| | |
| --- | --- |
| Class Offerings | 5/5 |
| Workshop Inclusions | 5/5 |
| Instructor Credentials | 5/5 |
| Schedule | 4.8/5 |
| Tuition | 5/5 |
Classes regularly available 3 days a week
Affordable class fees at $90 for 3 hours
Students can choose the style they want – build, carve, burn, turn
Classes are only Tuesdays – Thursdays
Only street parking available
Robert Howard's workshop is another superb choice if you're looking to learn basic or advanced woodworking.
He's one of the few woodworking instructors who offer woodcarving classes as well. You can choose the style you want when you book his classes – carve, build, burn, or turn – it's up to you!
Robert's classes are quite affordable at $90 for a 3-hour session. Although the classes are only held Tuesdays, Wednesdays, and Thursdays.
But the good thing about it is, the schedule is consistent throughout the year so you can allot a day within the week for your woodworking craft.
The only downside is, there's no weekend schedule for those who aren't available on weekdays.
But if you're really serious about taking up woodworking as a new hobby or even a career, then learning from Robert is ideal. Classes are available all year round so you can work on your skills every week for 3 hours or more if you can.
Robert supplies the tools and materials initially, but he encourages students to eventually build their own tool kit in order to familiarize themselves with the equipment that they'd also use at home.
You can also book one-on-one classes with Robert in addition to the group sessions. But take note that this will be subject to Robert's availability.
5. Make & Meld Makerspace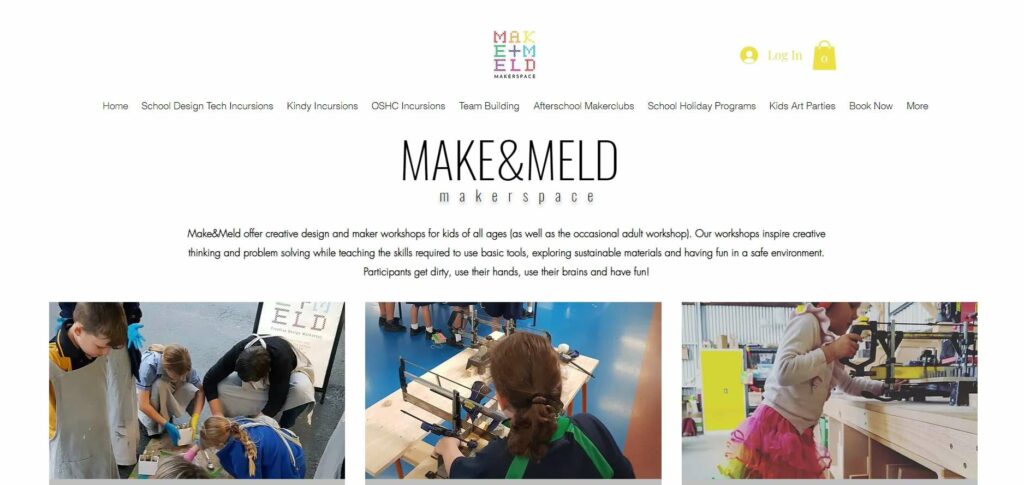 Class Offerings: School Incursions, Kindy Incursions, Maker Parties, Team Building, Maker Club, School Holiday Program
Website: https://www.makeandmeld.com.au/
Address: 23/133 Hyde Rd, Yeronga QLD 4104
Contact Details: info@makeandmeld.com.au / 0401632421
Hours: Schedule depends on booking
| | |
| --- | --- |
| Google reviews score | 5/5 |
| Facebook reviews score | 5/5 |
| Total reviews | 3/5 |
| Score consistency | 5/5 |
| | |
| --- | --- |
| Class Offerings | 4.8/5 |
| Workshop Inclusions | 4.9/5 |
| Instructor Credentials | 5/5 |
| Schedule | 4.8/5 |
| Tuition | 4.9/5 |
Offers a variety of workshops for kids
Offers programs for schools
Corporate team building activities are available
Doesn't offer refunds
Limited activities for adults
Make & Meld Makerspace has one of the best woodworking workshops in Brisbane – and particularly, the best for kids!
They offer a range of creative workshops for kids and kids at heart! While they offer different types of crafty activities, they like to focus on letting kids design, create, build, and play with wood.
We think they offer really interesting and enriching activities for kids so they can work with their hands more while inspiring creativity and problem solving.
Another great thing about them is that their workshops can be incorporated into a school's curriculum. They also offer Maker Parties with a standard package of $327 for up to 8 kids.
Participants can make a variety of items such as a wooden tool box, a wooden robot, wooden cars, jewelry holders, and more!
And the best part is, adults can also join in the fun as they offer corporate team building activities as well where teams can participate in design and build challenges.
Make & Meld's activities may not be for the hardcore woodworker, but we think it's a great way to inspire creativity in children as well as adults.
Also, take note that they don't offer refunds so be sure to block off your scheduled dates.
FAQs About Woodworking
---
And that wraps up our list of the best places to learn woodworking in Brisbane! Whether you're a beginner or an experienced woodworker, you can find the perfect mentor and community to guide and inspire you in your craft.
---