Categories >
Construction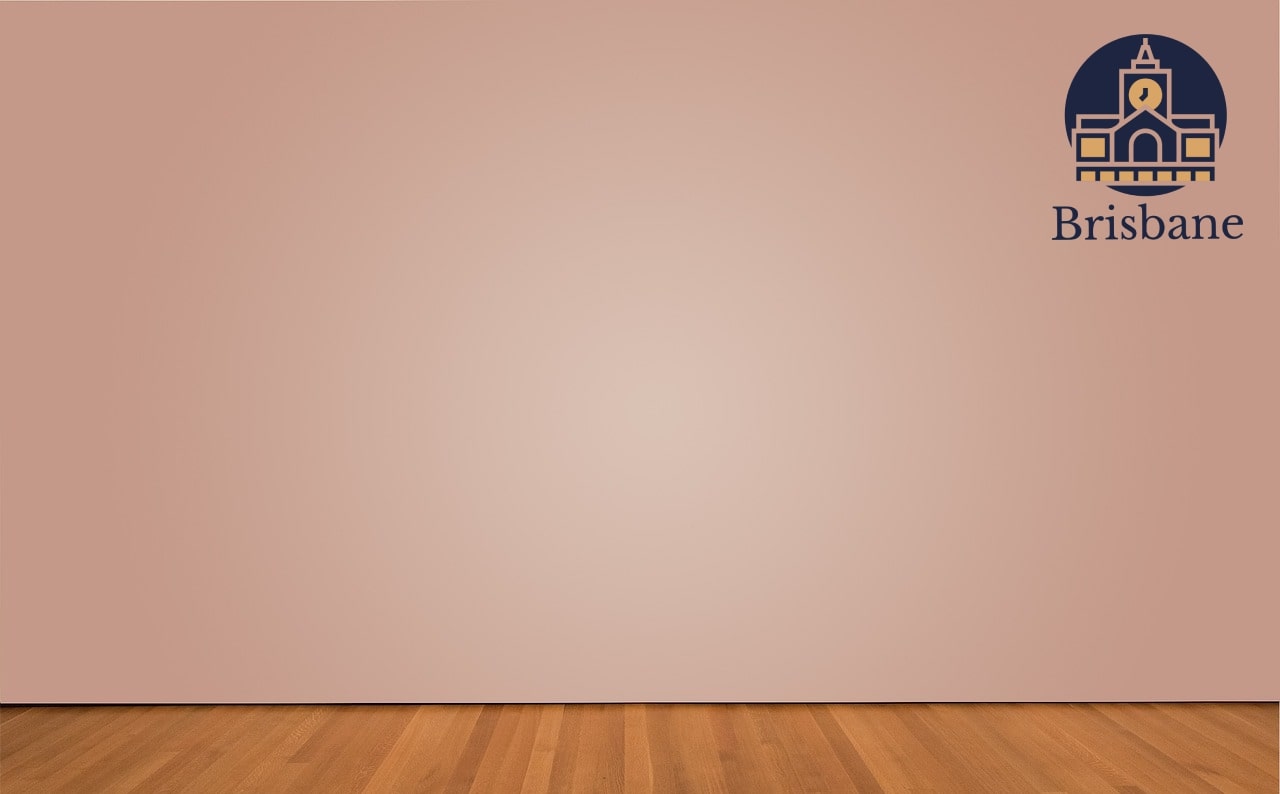 Best 5 Wallpaper Installation Services in Brisbane
1. I Wallpaper Interiors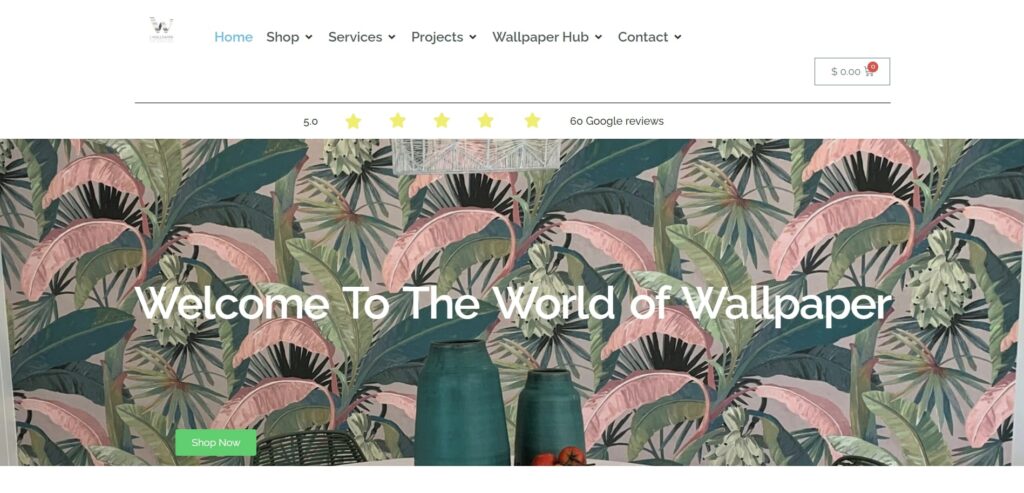 Services: Installation, Commercial Installers, Mobile Showroom
Website: https://www.iwallpaperinteriors.com.au/
Address: Thornlands, Queensland
Contact Details: (61) 458 019 363
Operating Hours: Monday – Friday: 8:00 AM – 5:00 PM; Saturday: 9:00 AM – 1:00 PM
| | |
| --- | --- |
| Google reviews score | 5/5 |
| Total Reviews | 5/5 |
| Score consistency | 5/5 |
| | |
| --- | --- |
| Qualifications | 5/5 |
| Recommendations | 5/5 |
| Rates | 5/5 |
| Variety | 4.75/5 |
| Professionalism | 4.75/5 |
Can install even if wallpaper is bought from another store
Can find supplier for customised wallpaper not in the catalogue
Only offers basic wallpaper (no flocked/embossed wallpaper)
Shipping gets delayed at times
What we love about I Wallpaper Interiors is it's all about customer service. Everything that the customers need, the company will try its best to accommodate it.
In fact, according to some of the customers we're able to talk to needed customised wallpapers for their homes that they didn't find on the catalogue. I Wallpaper was still able to supply them what they needed because the store knew several local suppliers!
This made things easier for the customers because they didn't need to find another store just to get what they wanted. If we were the customers, we too would appreciate the effort, and we wouldn't hesitate to bring another business to the company.
Another thing we like is that even if a customer didn't buy wallpaper from the company, the company can still install them for the customer. We appreciate that they don't turn clients away and adjust to their needs.
And the installers are so professional! We love that they come on time and do a good job without making too much mess in the work station.
In terms of pricing, I Wallpaper has cost-effective rates, and the best thing—no hidden charges. We love that the company stays true to providing quality wallpaper at honest and affordable rates.
The only problem we see is that sometimes, the shipping of the wallpaper gets delayed. The good news though is that it rarely happens, and I Wallpaper makes sure to prevent it from happening as much as it can.
2. The Ivory Tower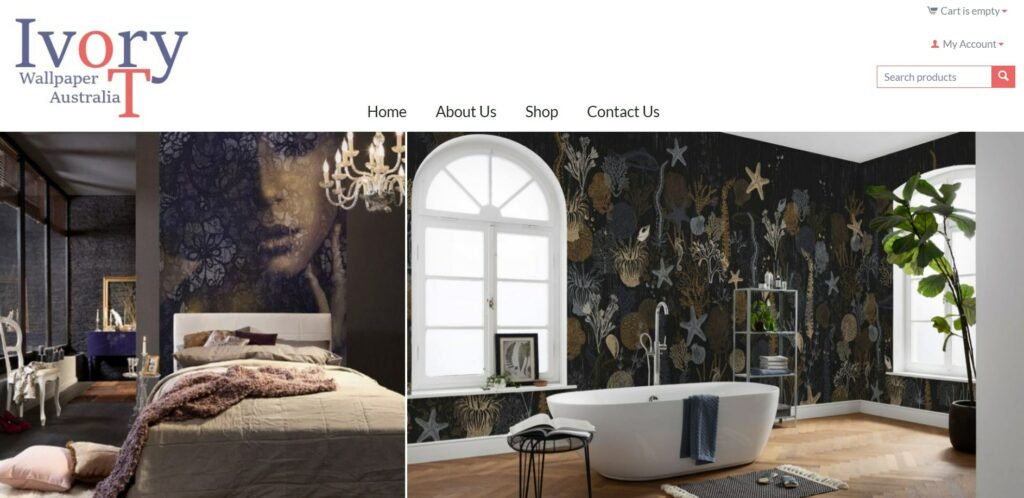 Services: Designer Fabrics, Murals, Wallpapers, Installation
Website: https://wallpaperaustralia.com.au/
Address: 5/7 – 20 King St, Caboolture QLD 4510, Australia
Contact Details: (61) 7 3256 9388
Operating Hours: Thursday – Saturday: 9:00 AM – 4:00 PM
| | |
| --- | --- |
| Google reviews score | 4.9/5 |
| Total Reviews | 4.75/5 |
| Score consistency | 4.8/5 |
| | |
| --- | --- |
| Qualifications | 4.75/5 |
| Recommendations | 4.75/5 |
| Rates | 4.75/5 |
| Variety | 5/5 |
| Professionalism | 4.75/5 |
Has a wide range of designer wallpapers
Post-job check-up to make sure clients are satisfied with installation
Limited business hours
Showroom is only open on Friday & Saturday
When it comes to designer wallpapers, we think The Ivory Tower is the best place to go. If clients prefer intricate designs over basic designs, the company has a wide range where they can choose from—and they're really some of the best ones we've seen!
Some of the clients we're able to chat with said that for a reasonable price, they got to change the look of a particular area in their house or office. It wasn't just the wallpapers, but also the installers because the workmanship is laudable—they're experts at this!
Speaking of the installers, we also admire that they're very professional—they don't only arrive on time, but they also make sure to start working as soon as they get to the place of installation. This usually ends up with them finishing earlier than scheduled.
Another thing we appreciate is that the company makes sure there's flawless communication. Customers are always informed about the time the installers will arrive as well as if there are slight changes in schedules.
Lastly, we love that The Ivory Tower always makes sure the clients are satisfied with the installation work. The company does a post-job call to get reviews and recommendations so it'll have an idea what areas in their services need improvement!
The only problem we have with The Ivory Tower is its business hours. It's only open for a limited number of days and hours, and the company's showroom is only open on Friday and Saturday.
3. Wow Wallpaper Hanging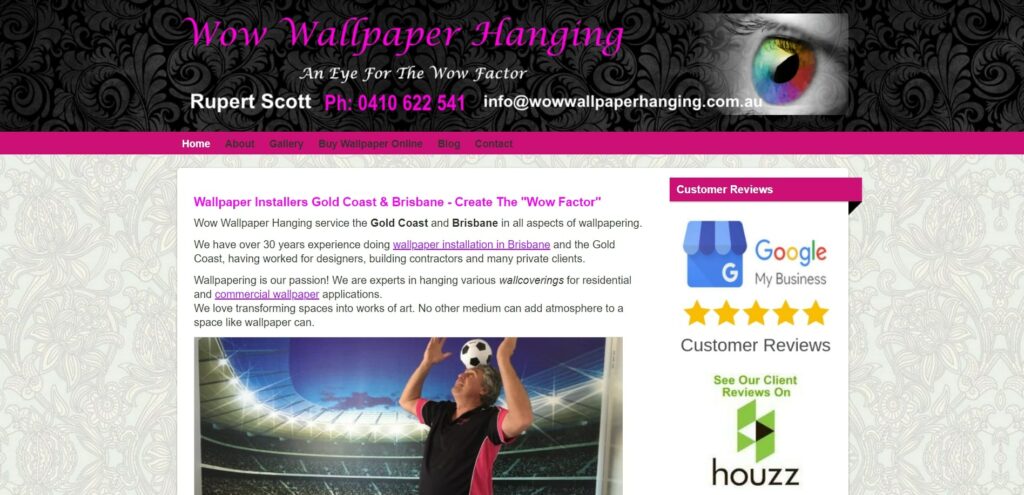 Services: Wallpaper, Installation
Website: https://wowwallpaperhanging.com.au/
Address: 1039 Pimpama Jacobs Well Rd, Jacobs Well QLD 4208, Australia
Contact Details: (61) 417 709 779
Operating Hours: Monday – Friday: 7:00 AM – 5:00 PM
| | |
| --- | --- |
| Google reviews score | 4.9/5 |
| Total Reviews | 4.75/5 |
| Score consistency | 4.8/5 |
| | |
| --- | --- |
| Qualifications | 4.75/5 |
| Recommendations | 4.5/5 |
| Rates | 4.75/5 |
| Variety | 4.5/5 |
| Professionalism | 4.5/5 |
Offers an extensive list of contemporary wallpaper designs
Responsive to inquiries via any channel
Cancels schedule at the last minute
Mistakes in bookings
Wow Wallpaper Hanging has been in the business for years, and has been wallpapering homes and offices in Brisbane and in the Gold Coast for a long time. When it comes to expertise, the company's right up there at the top hierarchy!
We're lucky to have spoken with some of its customers because they told us that Wow Wallpaper's worth checking out for. The company understands the use of colours and patterns, and uses that knowledge to create a beautiful space for its clients.
Wow Wallpaper has a wide array of contemporary wallpapers. Clients can choose among several patterns and colour combinations, and if they can't decide, they can always ask help from the staff of the company, who knows a lot about the products.
The communication is great as well so you can always get a hold of anyone if you have questions or updates! We love that the company's very responsive and doesn't leave them hanging with unanswered questions!
We want to commend the on-site installer team as well. There are cases wherein they had to make adjustments in the doors and walls before installing wallpapers, and they don't complain about it—they just get to work.
We love that the installers are patient and are focused only on providing the service properly. Their craftsmanship is always worth the compliment—the installers do a flawless job, finish it on time, and clean up after themselves!
Just a little warning—there are times when the company cancels schedules at the last minute. It's better for future clients to call before the day of installation that it'll push through to avoid convenience the following day.
4. Murrays Interiors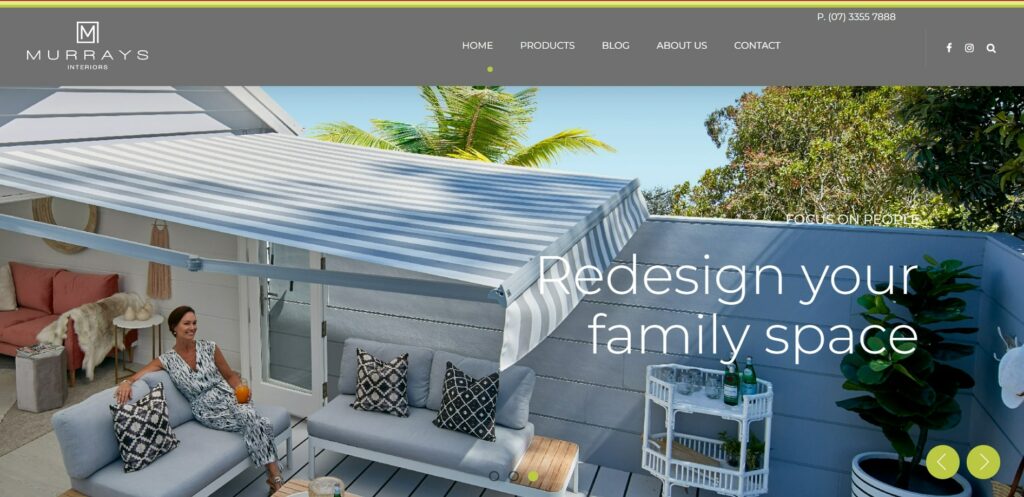 Services: Curtains, Blinds, Wallpaper, Shutter, Awnings, Upholstery, Installation
Website: https://murraysinteriors.com.au/
Address: 4 Osborne Rd, Mitchelton QLD 4053, Australia
Contact Details: (61) 7 3355 7888
Operating Hours: Monday – Friday: 10:00 AM – 4:00 PM; Saturday: 9:00 AM – 2:00 PM
| | |
| --- | --- |
| Google reviews score | 4.7/5 |
| Total Reviews | 4.75/5 |
| Score consistency | 4.7/5 |
| | |
| --- | --- |
| Qualifications | 4/5 |
| Recommendations | 4.75/5 |
| Rates | 4.75/5 |
| Variety | 4.75/5 |
| Professionalism | 4.25/5 |
Accommodating with schedules
Focuses on what the clients want
Don't have their own installers
Slow delivery of wallpapers
When asked what made us put Murrays Interiors, we have the best answer: the company focuses on what the clients need. Every single detail must come from the client, and the company focuses its workmanship based on that.
The initial consultation is stress-free. We appreciate that the clients have the time to discuss options with the company and hear advice as well if some of the things they want aren't doable.
We love that the company listens and pays attention so it immediately understands what the clients want. The team accommodates everything including the changes in schedule as long as it's for the client's convenience.
Another thing we think is worth praising the company for: the quality of the wallpaper. It's the type to last for a long time, so it's worth spending money and time for its installation.
We think it's important to let you know though that Murray Interiors don't have their in-house installers, but the company has local installers that it can refer to you. Now we don't have a problem with this, but we're just worried about the consistency.
For example, some clients we talked to are now regular clients. They agree with us about the consistency, not just in installation but also with how they handle the job. But so far, despite the different installers, there are no major issues—so we're relieved!
There are also some issues about the slow delivery of wallpaper that somehow delays things, but rest assured that this isn't a regular occurrence. Murrays Interiors prides itself of its customer service, and always tries its best to deliver on time!
5. Tiny Giraffe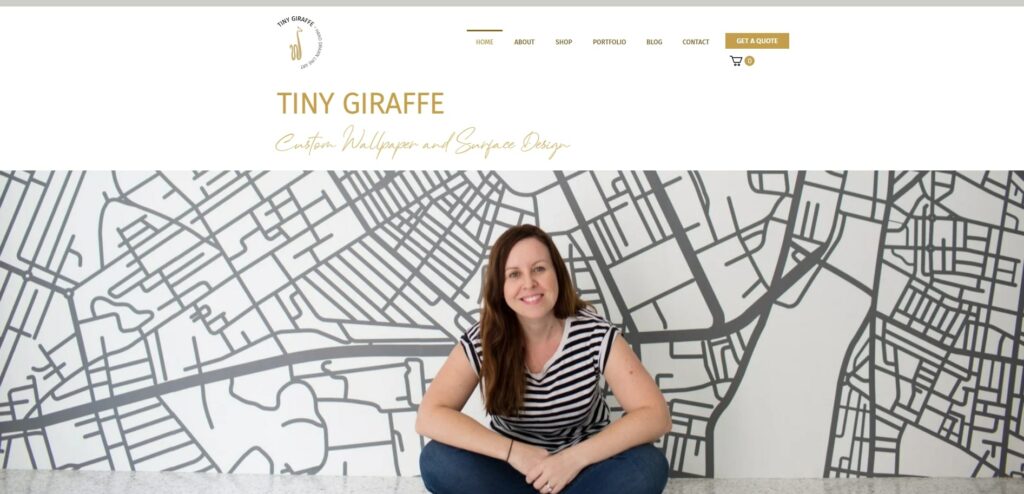 Services: Custom Wallpaperm, Surface Design
Website: https://www.tinygiraffe.co/
Address: Brisbane, Queensland, Australia
Contact Details: (61) 421 635 553
Operating Hours: Monday – Friday: 9:00 AM – 5:00 PM
| | |
| --- | --- |
| Google reviews score | 5/5 |
| Total Reviews | 4.5/5 |
| Score consistency | 4.75/5 |
| | |
| --- | --- |
| Qualifications | 4.5/5 |
| Recommendations | 5/5 |
| Rates | 4.75/5 |
| Variety | 4.75/5 |
| Professionalism | 4.75/5 |
Unique, artistic customised wallpapers
Seamless wallpaper design process
Inquiries via contact form are sometimes unanswered
Delays in the delivery of designs
Tiny Giraffe is owned by Kylie, an artist whose creations are inspired by travels and dreams. We agree that it might sound a bit fairytale-like, but it's the reason why Tiny Giraffe offers such unique and artistic customised wallpaper designs!
Kylie draws her wallpaper, so she's open to commissions. We love that despite taking all the design work by herself, she never fails to make the clients feel satisfied with the outcome.
In fact, we're able to get opinions from some of her clients, and they told us that Kylie always catered to what they talked about. The consultation time was always spent productively as they discussed options and designs—no single minute was wasted!
A lot of people who want personalised themes flock to her, which is why sometimes designs get a little delayed. But it's quite understandable for clients, especially when they see the final designs!
Another good thing we like about Kylie is that even though she has no in-house installers, she knows a lot who can do the job for her clients. She recommends only the best ones to make sure her artistic wallpapers will be installed properly.
The installers do a good job and make sure the wallpaper is mounted properly. They work fast but accurately, so the end result is always a perfect finish—no wrinkles, smooth, and very precise.
If you're the type of client who loves putting a piece of yourself in everything, Tiny Giraffe is the company for you! Kylie can do every design, which is perfect for anyone who loves to personalise things.
FAQs About Wallpaper Installation
---
And that's a wrap! Renovation starts with having the perfect backdrop, and there's where having the best wallpaper installer comes into the picture. Make sure to hire one that has a reputation to turn a plain space into your dream space without issues!
---