Categories >
Guides and Tips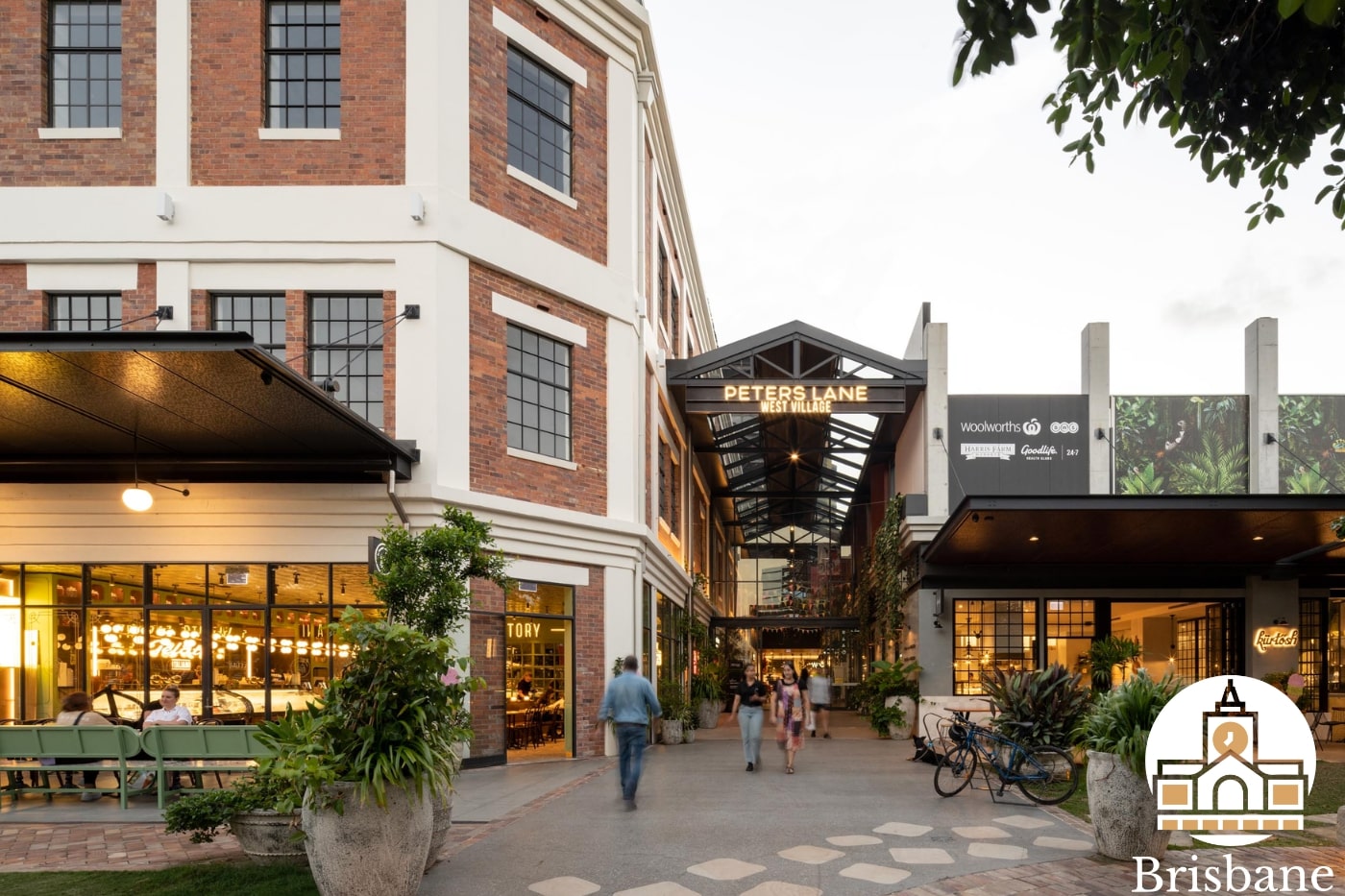 Hidden Wonders: Things to Do at West End in Brisbane
Want to explore the West End (with a drink or two)? If so, you're in luck because it houses the iconic West End Brewery, which churns out some of the most legendary brews in Brisbane!
Of course, this suburb offers more than just a sip of history. It's a tapestry of cultures, a hub for arts and music, and a food lover's paradise.
Stay with us to discover more hidden gems that the West End has in store for you!
1. Indulge at The Greek Club
Address: 29 Edmondstone St, South Brisbane, QLD 4101, Australia
Website: https://www.thegreekclub.com.au/
Contact Details: +61 7 3844 1166
Operating Hours: Monday – Tuesday: 9:00 AM – 5:00 PM; Wednesday – Thursday: 11:300 AM – 3:00 PM; 5:30 AM – 9:00 PM; Friday – Sunday: 11:30 AM – 9:00 PM
The Greek Club in the vibrant suburb of West End in Brisbane is a well-known establishment that offers a taste of Greece in the heart of Queensland.
This lively neighbourhood lets folks explore a world of Greek culture, from mouthwatering cuisine and lively celebrations to heartwarming traditions.
And when it comes to Greek cuisine, there are plenty of restaurants to choose from. If you're looking for an authentic experience, it's best to head on over to The Greek Club.
Not only is it a restaurant serving yummy dishes, but it's also an events centre that's a top pick for weddings and private functions.
Oh, and be sure to order a cup of Greek coffee while you're there. It's a must-try that'll transport your taste buds straight to Greece!
Pro tip:
Try The Greek Club's famous Greek aperitif, Ouzo, a popular anise-flavoured alcoholic drink that is traditionally associated with Greece and Cyprus. Remember to sip it slowly and dilute it with a bit of water to bring out the flavour.
2. Shop Away at the West End Markets
Please embed: https://www.instagram.com/p/Bq5nhTPH7Sf/
Address: Montague Rd & Jane St, West End, QLD 4101, Australia
Website: https://goodwillprojects.com.au/markets/west-end/
Contact Details: +61 435 840 810
Operating Hours: Saturday: 6:00 AM – 2:00 PM
If you're looking for a slice of Brisbane that's bursting with life and flavour, West End Markets should be your go-to spot for various culinary offerings, artisanal crafts, and a culturally diverse crowd.
As you stroll through the market, your senses will come alive. The air is filled with the aroma of sizzling street food, and the sound of live music weaves through the crowd.
Freshness is the name of the game here. You can pick up locally sourced fruits and vegetables that burst with flavour. From plump tomatoes to crisp cucumbers, the produce section is a treat for food enthusiasts.
And if you're looking to satisfy your hunger with something delicious and healthy, you're also in the right place. West End Markets are known for their variety of food vendors who serve up a range of fresh, nutritious options like salads and wraps.
You also can't miss the huge, ancient fig trees at the market. They're like the ultimate sunblock, giving you a shady escape from the Queensland sun! Plus, they create a cosy green hideaway as you enjoy your tasty market munchies.
Pro tip:
If you're looking for some excellent deals, cut it close and visit the West End Markets towards closing time. Some vendors are willing to offer discounts on their products to avoid packing them up for the day!
3. Drink Some Craft Beer at Parched Brewery
Address: 391 Montague Rd, West End, QLD 4101, Australia
Website: https://brewbaron.com.au/
Contact Details: +61 7 3724 9276
Operating Hours: Wednesday – Saturday: 12:00 PM- 10:00 PM; Sunday: 12:00 PM – 9:00 PM
Parched Brewery is a microbrewery in West End Brisbane known for crafting some seriously flavourful beers, like the Tewy's Misery pale ale, The Old Enemy English IPA, and the Sunset Sour wild pomegranate soured ale.
But hold on, it's not just about beer here. Whether you're a beer aficionado or a wine connoisseur, Parched Brewery has something to quench your thirst and enhance your evening out.
Apart from local brews, they've got a solid collection of boutique Australian wines. This includes reds, whites, rosés, and even a little French champagne for that touch of class.
Also, what's cool about Parched Brewery is that there's plenty of room to stretch out. You can kick back and chill at their picnic-style tables, where you can relax and have a great time with friends.
Pro tip:
Consider asking the barista for some limited-edition concoctions during happy hour. Parched Brewery occasionally offers some "secret" brews that aren't on the regular menu. 
4. Swim at the Musgrave Park Pool
Address: 100 Edmondstone St, South Brisbane, QLD 4101, Australia
Website: https://www.musgraveparkaquaticcentre.com.au/
Contact Details: +61 7 3844 1084
Operating Hours: Monday – Friday: 5:00 AM- 7:30 PM; Saturday: 5:00 AM – 6:00 PM Sunday: 7:00 AM – 6:00 PM
Entrance Fee: $7
When you're searching for a cool spot to splash around West End Brisbane, Musgrave Park Pool has you covered.
This park's pool is ideal if your kids are eager to learn to swim. There are several friendly and patient instructors here who can help your little ones become confident swimmers.
What's more, those looking to squeeze in some swim time during their lunch break are in luck because their swimming pool is open for some lunchtime sessions.
What's more is that every Wednesday, they host an aqua fitness class that's like a water dance party, getting you moving, grooving, and feeling fantastic!
And here's the cool part: This is also perfect for the elderly, who might be looking for a gentler and more fun fitness routine.
Pro tip:
If you're planning to visit Musgrave Park Pool with a crew of more than 10 people, it's best to book a lane space in advance. This way, you can ensure everyone has enough room to swim, play, and enjoy the pool together without feeling crowded.
5. Embrace the Coffee Scene at The Burrow
Address: 52 Russell St, West End, QLD 4101, Australia
Website: https://theburrowwestend.com.au/
Contact Details: +61 7 3846 0030
Operating Hours: Monday – Thursday: 4:30 PM- 10:00 PM; Friday – Saturday: 12:00 AM – 11:00 PM Sunday: 12:00 AM – 9:00 PM
The Burrow in Brisbane is a vibrant, eclectic bar and eatery found in the heart of the trendy West End suburb. It's known for its welcoming and artistic atmosphere and offers an extensive selection of craft beers and cocktails.
Whether you're in the mood for a classic Eggs Benedict, a creative vegan bowl, or simply a perfectly brewed cup of coffee, this cafe (cafe brisbane) is here for you!
In the West End, how you brunch is up to you. You can sit outside and soak up the neighbourhood's laid-back vibes or find a cosy corner for a more intimate meal.
These cafes are great for people-watching, reading, or catching up with friends too!
Here's the fun part: lots of these cafes are like mini art galleries.
They like to show off the art created by talented locals, making your brunch not just about food but a full-blown cultural experience!
Pro tip:
Why not try cafe-hopping in the West End? Start at one cafe for your morning brew, move to another for brunch, and finish at a third for dessert – it's a fantastic way to experience the local culture and uncover hidden gems!
6. Rent an e-Bike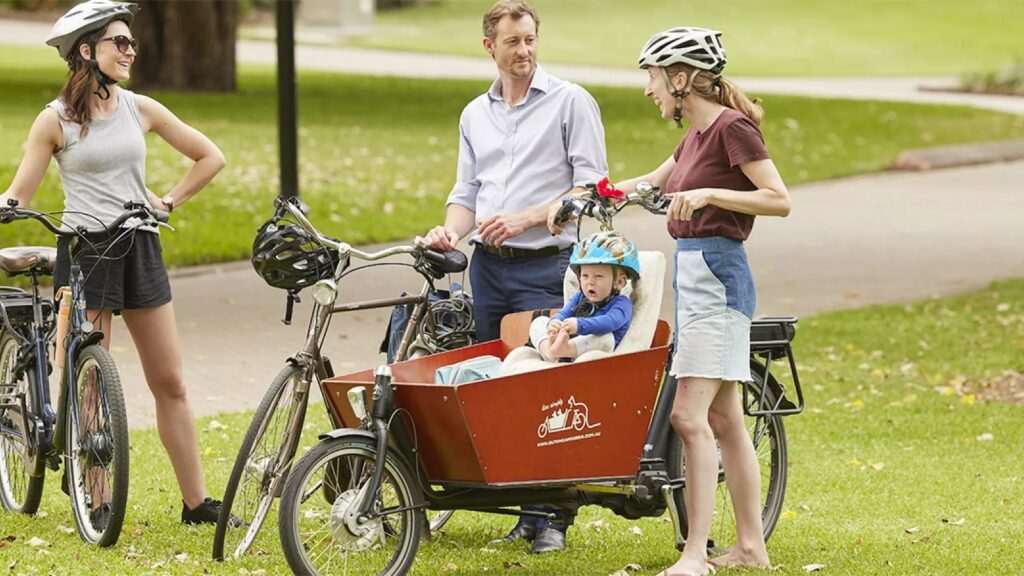 Rental: https://www.brisbane.qld.gov.au/traffic-and-transport/transport-plan-for-brisbane/transport-plan-for-brisbane-implementation-plan/brisbanes-e-mobility-strategy/e-mobility-parking-hubs
West End is known for its chill vibe, which encourages many to rent e-bikes and e-scooters in the area. These eco-friendly modes of transportation are like your trusty sidekicks, helping you effortlessly navigate the neighbourhood.
And as you stroll by the river, you'll be treated to some seriously picture-perfect views! The sparkling water, green landscapes, and the occasional passing riverboat create an unforgettable backdrop for your ride.
And what's super cool about e-wheels? You're the boss! Stop whenever you fancy, and maybe even pop into one of the West End's cosy local cafes.
Overall, choosing e-bikes or e-scooters means fewer emissions, so your adventure is both fun and good for the planet.
Pro tips:
Before you zoom off on your e-adventure, make sure to read up on local rules and safety tips.Also, remember that e-bikes are zippier than regular bikes, so make sure to start slowing down well ahead of your stops.
7. Learn Latin Dance at Rio Rhythmics
Address: 163 Boundary St, West End, QLD 4101, Australia
Website: https://riorhythmicsacademy.com/
Contact Details: +61 7 3844 1824
Operating Hours: Monday – Thursday: 3:30 – 9:40 PM; Friday: 5:00 PM – 11:30 PM; Saturday: 10:30 AM – 11:30 PM; Sunday: 2:30 PM – 7:00 PM
Rio Rhythmics is a dance academy in West End, Brisbane, where your dream of swaying your hips to the beat of Latin music can become a reality.
This place offers a wide range of dance classes, from salsa and samba to tango, creating a vibrant and inclusive community of dance enthusiasts.
Whether you're a total beginner or already have some fancy footwork in your repertoire, these experts will guide you through the steps with patience and flair.
Here, you'll learn the sultry Salsa, the sensual Samba, the enchanting Bachata, and many more Latin dance styles.
But this lively studio offers more than just dance classes. For many, it's also an exhilarating journey into the heart and soul of Latin dance culture. You'll get to join social events, live music nights, and cultural activities as well!
Pro tips:
Why not organise a costume swap event with fellow dancers at Rio Rhythmics? You can exchange dance attire and add variety to your wardrobe without breaking the bank!Consider combining your dance practise with learning a few phrases in Spanish or Portuguese. This can deepen your connection to Latin music and culture and make you extra talented!Keep a dance diary where you record the songs that inspire you the most. It's a great way to create your personal dance soundtrack.
8. Grab Second-hand Novels at Bent Books
Address: 205A Boundary St, West End, QLD 4101, Australia
Website: https://www.bentbooks.com.au/
Contact Details: +61 7 3846 5004
Operating Hours: Monday – Saturday: 10:00 AM – 4:00 PM; Sunday: 10:00 AM – 3:00 PM
Bent Books in West End, Brisbane is a great place to grab secondhand novels. It offers a unique and affordable way to explore an extensive collection of limited editions or old literature while supporting a local independent bookstore.
As soon as you walk through the door, you're greeted by towers of pre-loved books, each with its own story to tell. Whether you're on the hunt for a classic, a rare gem, or the next bestseller, you're likely to find it here.
And you know what's awesome? The folks working at Bent Books and the fellow bookworms who hang out there can be your instant book buddies!
You can swap book recommendations, dive into bookish chats, and share your latest book finds.
Oh, and there's one more thing. Bent Books has a couple of furry friends who might curl up next to you as you browse—some resident cats!
Pro tips:
At Bent Books, try selecting a genre or subject you wouldn't typically read. This way, you can challenge yourself to discover something new and unexpected.
Got books you've already read? Consider donating them here as well!
9. Sip and Learn Whisky at Cobbler
Address: 7 Browning St, West End, QLD 4101, Australia
Website: https://www.cobblerbar.com/
Operating Hours: Monday: 5:00 PM – 1:00 AM; Tuesday – Sunday: 4:00 PM – 1:00 AM
Cobbler, located in the lively West End neighbourhood of Brisbane, is an intimate bar renowned for its selection of over 500 types of whisky and masterfully crafted cocktails. It's the ultimate place for those who appreciate high-quality spirits and artisanal drinks.
Now, here's where it gets interesting. You don't need to be a whisky connoisseur to enjoy Cobbler's offerings. The friendly folks behind the bar are there to guide you through the whisky wonderland so you can expand your palate with ease.
And if you're feeling hungry, it's handy that Cobbler allows customers to bring in delicious takeout food and enjoy it right at the bar!
Cobbler also frequently puts on whisky-related events, tastings, and workshops, creating a sense of community for enthusiasts. It's a great chance to connect with fellow whisky lovers and take your appreciation for whisky to a whole new level.
Pro tips:
When in Cobbler, you can experiment by adding a few drops of water to your whisky. It can open up new flavours and aromas, providing a different tasting experience.
Try pairing different whiskies with high-quality chocolates as well. Their combination can create delightful flavour harmonies that you won't want to miss!
10. Revamp your Wardrobe at SWOP
Address: 161 Boundary St, West End, QLD 4101, Australia
Website: https://swop.net.au/
Operating Hours: Monday – Saturday: 9:30 AM – 5:30 PM; Sunday: 10:00 AM – 5:00 PM
SWOP in West End, Brisbane offers an eco-friendly and affordable store where you can refresh your style with unique secondhand clothing. It's an ideal place to start revamping your wardrobe!
And as you browse the racks, you might see that fashion has a fascinating way of connecting the past, the present, and the future.
But here's the kicker: SWOP isn't your typical fashion boutique. It's a thrift haven where you can grab incredible bargains, so you can save some lunch money too!
While you're in the area, don't forget to pop by Vinnies and Lifeline on Boundary Stree. They're like mini treasure chests for pre-loved items.
And for a truly unique experience, make sure to dig for fashion gems at St. Veronica Thrift Shop on Hardgrave Road.
Pro tips:
If your clothes don't fit anymore, it's nice to think about donating or selling them to SWOP.
Make each thrifting trip exciting by hunting for items inspired by a particular era or movie character. It will add a fun layer of challenge to your thrift shopping adventure.
---