Categories >
Guides and Tips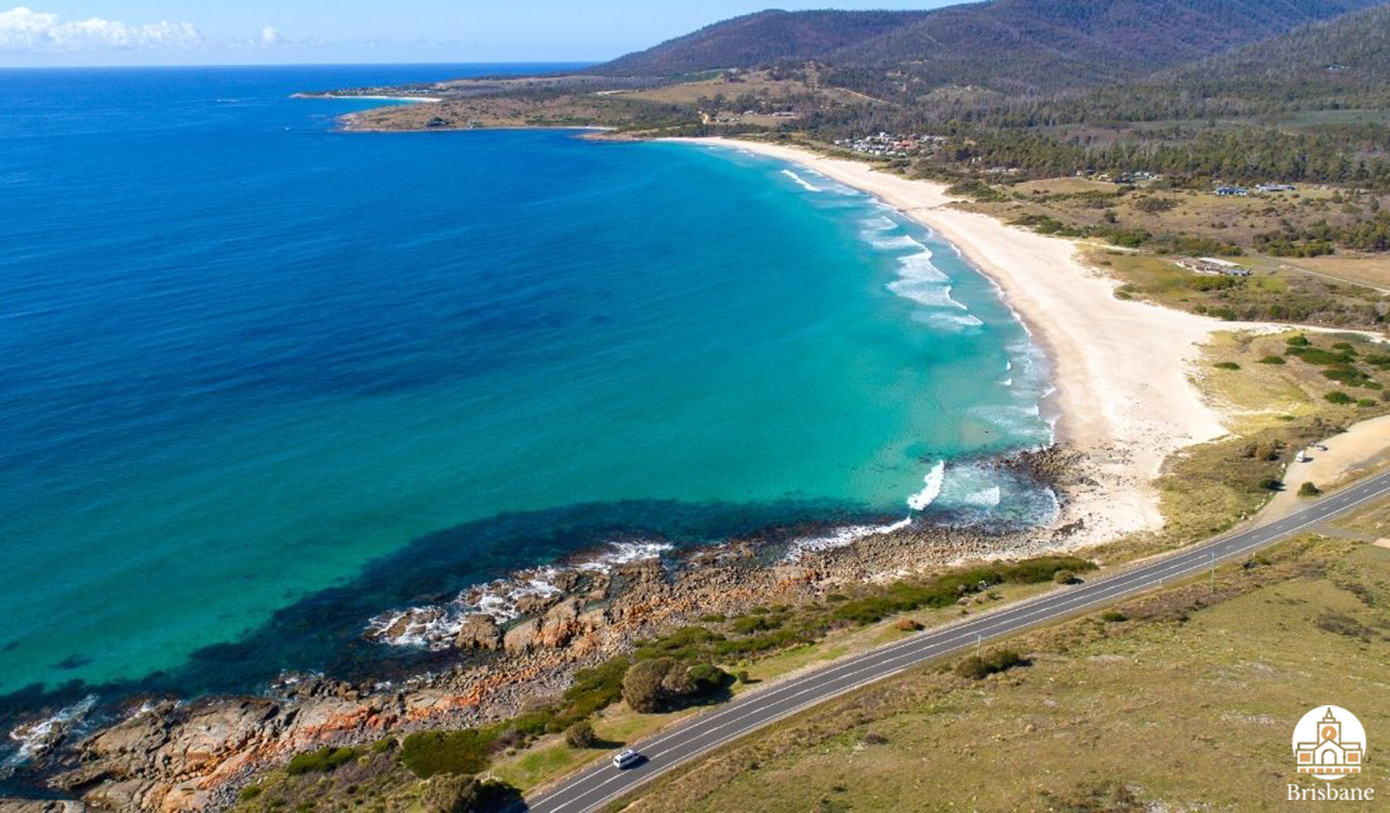 Must-See Spots on a Road Trip from Sydney to Brisbane
Are you ready to dive into the adventure of a lifetime on a road trip from Sydney to Brisbane? Buckle up, fellow travelers, because you're in for a wild ride packed with stunning coastlines, hidden gems, and unforgettable moments.
From the sunny shores of the Gold Coast to the laid-back vibes of Byron Bay, this road trip Sydney to Brisbane has it all.
So, grab your maps, your snacks, and your sense of wanderlust, because we're about to uncover the must-see spots that'll turn your journey into an epic adventure. Let's hit the road and make some memories!
Sydney to Brisbane: Your Road Map to Adventure
When embarking on an enchanting road trip adventure from Sydney to Brisbane, you will cover approximately 900 kilometers with a driving time of approximately 10-12 hours, depending on your chosen stops and detours.
This picturesque route follows the Pacific Highway (M1), passing through major cities and towns like Newcastle, Port Macquarie, Coffs Harbour, and the Gold Coast.
Along the way, you'll encounter captivating coastal landscapes and charming towns, making it the perfect journey for those seeking both tranquility and vibrant city experiences.
1. Bogey Hole
Address: Shortland Esplanade, Newcastle NSW 2300
Website: https://www.visitnewcastle.com.au/see-do/things-to-do/bogey-hole
Contact Details: [email protected]
Bogey Hole is a coastal gem enshrouded in historical significance, making it a captivating stop on your road trip from Sydney to Brisbane.
Carved by convicts in 1819 from a wave-cut rock platform, this mesmerizing ocean pool presents a unique blend of natural beauty and human endeavor.
Originally known as the 'Commandant's Baths,' it later earned the name 'Bogey Hole' from the Dharawal word for 'to bathe.'
This historical landmark provides a glimpse into Australia's early history and showcases the nation's earliest purpose-built ocean swimming pool.
Nestled at the base of Shepherds Hill, also known as 'sheep pasturage hill' in the 1820s, the pool is surrounded by the rugged coastal terrain of sandstone and conglomerate, typical of the region's geology.
Whether you're captivated by its natural charm or drawn by its historical significance, the Bogey Hole is an enticing spot for travelers making their way up the Australian east coast.
Pro tips:
• Wear comfortable walking shoes with good grip as the area can be rocky and uneven.
• Use the designated access point for entering and exiting the pool to ensure your safety and protect the natural environment.
2. ANZAC Memorial Walk
Address: 24 Memorial Dr, The Hill NSW 2300
Website: https://newcastle.nsw.gov.au/explore/things-to-do/walking-and-cycling/newcastle-memorial-walk
Contact Details: +61 2 4974 6000
Operating Hours: Monday-Sunday: Open 24 hours
Entry Fee: Free
The ANZAC Memorial Walk is a remarkable 450-meter tribute that beautifully commemorates the ANZACs and the industrial heritage of the city of Newcastle.
Connecting with the scenic Bathers Way, a picturesque six-meter coastal walking track, this walkway is a favored destination for active locals seeking the refreshing coastal air.
This memorial walk was meticulously constructed to honor the 100th anniversary of the ANZAC landing at Gallipoli in 1915, and it also pays homage to the commencement of steelmaking in Newcastle.
It stands as a magnificent memorial to the men and women from the Hunter region who dedicated themselves to serving both their community and their nation.
Situated atop Memorial Drive in The Hill, on the Strzelecki Headland between Bar Beach and King Edward Park, the ANZAC Memorial Walk offers visitors the opportunity to park conveniently at the hilltop or at the nearby Bar Beach car park.
It's a perfect destination for those who seek to pay their respects, enjoy a leisurely walk, and take in the breathtaking coastal views along the way.
Pro tips:
• Read the informative plaques along the walk to understand the historical significance of this memorial.
• Be mindful of the weather forecast. Wind can be strong, so dress accordingly.
3. Quad Biking at the Stockton Dunes
Address: 2130 Nelson Bay Road, Williamtown, NSW 2318
Website: https://sandduneadventures.com.au/
Contact Details: (02) 4033 8808, [email protected]
Operating Hours: Monday-Sunday: 9 AM-4 PM
Pricing: 1 Hour Quad Bike Adventure Tour – $119
Whether you're in search of a day filled with adventure, laughter, and unforgettable memories, quad biking at Stockton Dunes is an experience you won't want to miss on your road trip adventure from Sydney to Brisbane.
As the largest moving coastal sand dunes in the Southern Hemisphere, stretching over 32 kilometers and shaped by thousands of years of wind and weather, these dunes are a sight to behold.
Once a backdrop for Mad Max films, they provide endless fun for adventure seekers. One of the best ways to conquer these vast dunes is through quad biking.
There are sand dune adventures tours available which are suitable for riders aged 7 and up, with no prior experience required.
Kids and adults alike can enjoy the adrenaline rush of zooming across the rugged dunes, feeling the bumps and twists, and exploring the vast landscape.
Whether you choose a 350cc Yamaha Grizzly or a 150cc quad bike, you'll feel like royalty as you conquer Stockton Beach.
Pro tips:
• Leave unnecessary items behind or store them securely. Sand can find its way into every nook and cranny.
• Follow the guide's instructions on wearing helmets and other safety gear. Safety first!
4. Sugarloaf Point Lighthouse
Address: 75-77 Lighthouse Rd, Seal Rocks NSW 2423
Website: https://www.nationalparks.nsw.gov.au/things-to-do/historic-buildings-places/sugarloaf-point-lighthouse
Contact Details: +61 2 6591 0300, [email protected]
Operating Hours: Monday-Sunday: 7 AM-7 PM
Entry Fee: Free
Sugarloaf Point Lighthouse, perched on a rugged headland east of Seal Rocks village, holds a special place along the road trip from Sydney to Brisbane. This historic lighthouse, constructed in 1875, serves as a testament to Australia's maritime history.
Designed by colonial architect James Barnet, it was built to safeguard ships navigating the treacherous coastline, making it an essential landmark for seafarers.
Beyond its historical significance, Sugarloaf Point offers more. Visitors can explore the Lighthouse Keepers' quarters, which have been transformed into comfortable holiday accommodations.
But the real charm lies in the breathtaking coastal views and a front-row seat to whale migrations.
As you stand on the grassy slopes overlooking the cliff's edge, you'll not only appreciate the lighthouse's legacy but also witness the awe-inspiring spectacle of whales journeying along the coast.
Pro tips:
• Take the time to explore the lighthouse itself. Climb the external stairway and immerse yourself in the history of this iconic structure.
• Take a moment to visit the memorials on the site, paying respect to the people associated with the lighthouse's history.
5. Booti Booti National Park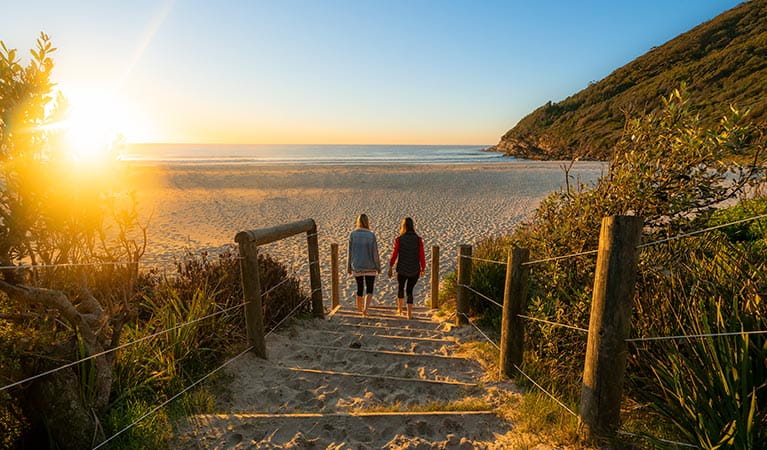 Address: Pacific Palms NSW 2428
Website: https://www.nationalparks.nsw.gov.au/visit-a-park/parks/booti-booti-national-park
Contact Details: 1300 072 757, [email protected]
With a range of facilities, including camping sites and picnicking areas, Booti Booti National Park is a must-visit destination for road trippers looking to immerse themselves in the natural wonders of Australia's east coast.
This pristine natural sanctuary offers a diverse range of experiences. From the serene beauty of tranquil lakes to scenic coastal headlands, Booti Booti has something for everyone.
As you explore this park, you'll understand the origin of its name, "butibuti," an Aboriginal word meaning "plenty of honey."
There's indeed plenty to enjoy here, whether it's hiking through lush rainforests, swimming in crystal-clear waters, observing a variety of birdlife, or witnessing majestic whales on their winter migration.
Families and sun-seekers frequent the beautiful beaches, while surfers and mountain bikers indulge in their adventurous spirit.
The park's numerous picnic spots, shaded by paperbark trees, provide the perfect setting for a relaxed meal. For those seeking panoramic views, Cape Hawke Lookout offers a truly stunning vista.
Pro tips:
• If you're visiting during whale-watching season (winter), don't forget to bring binoculars or a spotting scope. Watching these magnificent creatures from the coastal headlands is an unforgettable experience.
• Camping enthusiasts should book their sites in advance, as the park offers a range of camping options. Check with the park authorities for availability and any required permits before your visit.
6. Tacking Point Lighthouse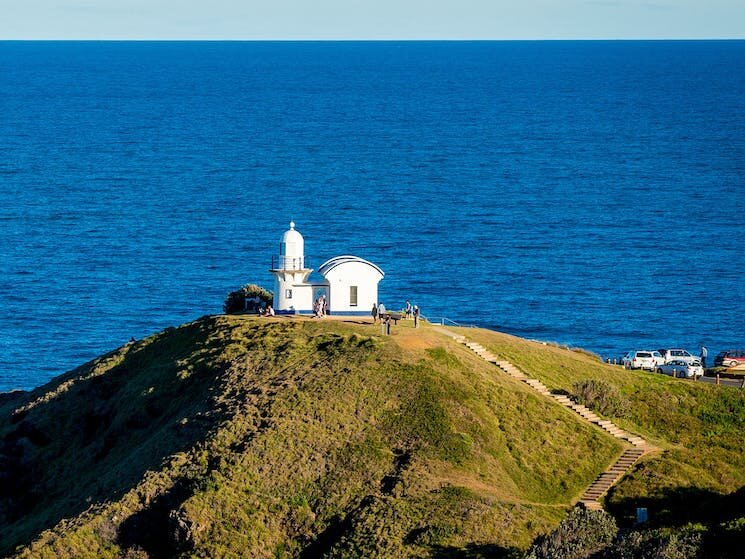 Address: Lighthouse Rd, Port Macquarie NSW 2444
Website: https://lighthouses.org.au/nsw/tacking-point-lighthouse/
Contact Details: +61 2 6581 8111
Operating Hours: Monday-Sunday: Open 24 hours
Entry Fee: Free
Tacking Point Lighthouse is not just a historic landmark; it's an excellent starting point for exploring the natural beauty and activities of the Port Macquarie area, all while appreciating Australia's rich maritime history.
This historic lighthouse, designed by architect James Barnet in 1879, may not be the tallest in Australia, standing at a modest eight meters, but it offers so much more.
The real charm of Tacking Point lies in its location, as it provides breathtaking panoramic views of the Mid-North Coast.
Visitors can embark on a delightful 9.1-kilometer coastal walk starting at Town Green foreshore and ending at Tacking Point Lighthouse. Along the way, you'll be treated to the beauty of Port Macquarie's beaches, native wildlife, and coastal shrubbery.
The Lighthouse Beach, with its seven kilometers of pristine sand and protection from the brisk north-easterly winds, is perfect for surfers.
Pro tips:
• Try a camel safari ride along Lighthouse Beach. It's a unique and fun experience, especially if you have kids with you.
• Stop by the Surf Life Saving Club for a cold drink, ice cream, or a snack. It's a great place to relax after a day of outdoor activities.
7. Trial Bay Gaol
Address: 73 Trial Bay Gaol Access Rd, Arakoon NSW 2431
Website: https://www.nationalparks.nsw.gov.au/things-to-do/historic-buildings-places/trial-bay-gaol
Contact Details: +61 2 6566 6168, [email protected]
Operating Hours: Monday-Sunday: 9 AM-4.30 PM
Entry Fee:
Adult – $11
Concession – $8
Family (2 adults and 2 children) – $30
Trial Bay Gaol, situated in a picturesque coastal setting, is a fascinating historical site along your road trip from Sydney to Brisbane.
This gaol, which opened in 1886 after extensive construction, provides a unique glimpse into the past while offering stunning coastal views that make your visit even more memorable.
As you explore the site, you'll discover that the convicts who once labored here were tasked with constructing a breakwater, intended to create a safe harbor between Sydney and Brisbane, although this ambitious project eventually failed.
You can still see remnants of the breakwater from the guard tower lookout. During World War I, Trial Bay Gaol underwent a transformation, serving as an internment camp for individuals of German descent suspected of being enemy sympathizers.
Today, the historic ruins stand as a testament to those who lived and died within these walls, with a museum and memorial on-site to provide visitors with insights into the life and times of this era.
If you're up for some exercise and adventure, don't miss the nearby Powder Magazine walking track or Monument Hill walking track, both of which offer unique exploration opportunities.
Pro tips:
• Consider joining a guided tour to gain deeper insights into the history and stories of Trial Bay Gaol. The guides are knowledgeable and can answer your questions.
• There are picnic areas nearby, so pack a picnic and enjoy a meal in this historic and scenic setting.
8. Dorrigo National Park
Address: Lyrebird Link, Dorrigo Mountain NSW 2453
Website: https://www.nationalparks.nsw.gov.au/visit-a-park/parks/dorrigo-national-park
Contact Details: +61 2 6652 0900, [email protected]
Dorrigo National Park, located within the Gondwana Rainforests of Australia World Heritage Area, is a remarkable destination that encapsulates eons of natural beauty.
This park is a testament to the splendor of nature, featuring a diverse range of forest ecosystems that shelter a wide array of wildlife, from the elusive red-necked pademelons to the brilliantly hued wompoo fruit-dove and the striking regent bowerbird.
Just a short day trip from Coffs Harbour, Dorrigo National Park invites you to immerse yourself in the wonders of the natural world.
Whether you're birdwatching, unwinding at picturesque picnic spots, discovering hidden waterfalls and rainforest trails, or simply admiring the breathtaking panoramas from the elevated walkway, the park offers an array of outdoor experiences.
This natural haven between Sydney and Brisbane is an essential stop on your road trip, offering a glimpse into the mesmerizing landscapes and biodiversity that make Australia's east coast a must-see destination.
Pro tips:
• Start your journey at the Rainforest Centre, where you can gather valuable information about the park's trails, wildlife, and conservation efforts.
• Fuel up at the Canopy Cafe with a hearty meal or refreshing drink. It's an excellent spot to grab a quick bite before your adventure.
9. Big Banana Fun Park
Address: 351 Pacific Hwy, Coffs Harbour NSW 2450
Website: https://bigbanana.com/
Contact Details: +61 2 6652 4355, [email protected]
Operating Hours: Monday-Sunday: 9 AM–5 PM
The Big Banana Fun Park is not only Australia's original Big Thing but also a hub of entertainment and excitement for all ages. With so much to see and do, this park is a whole bunch of fun and an essential stop on your road trip adventure.
At the Fun Park, you can enjoy a variety of activities, from thrilling water slides to a giant indoor slide, mini-golf, toboggan rides with ocean views, and a state-of-the-art Laser Tag arena.
If you prefer something less active, you can explore Steve McEwan's Reptile World, satisfy your sweet tooth at Coffs Candy Kitchen, and take a tour of the World of Bananas Theatre.
The park also features an Ice Skating rink, a 4D Ride Simulator, and a Demolition Derby. You can also indulge in a Choc Coated Banana from the Cafe and shop for banana-themed gifts at the planet's largest banana-themed gift store.
Pro tips:
• Take a look at the park's offerings and plan your activities. Whether you're interested in water slides, mini-golf, or laser tag, knowing what you want to do will help you make the most of your visit.
• With so much to see and do, take breaks as needed to avoid exhaustion. Rest areas are available throughout the park.
10. Dolphin Marine Conservation Park
Address: 65 Orlando St, Coffs Harbour NSW 2450
Website: https://dolphinmarineconservation.com.au/
Contact Details: +61 2 6659 1900
Operating Hours: Monday-Sunday: 10 AM–2 PM
Entry Fee:
Adults (Ages 16+) – $44
Children (Ages 3-15 years old) – $24
Infants (Ages 0-2 years old) – $24
Family Passes (2 Adults & 2 Children – aged between 3-15 years of age) – $119
Extra Child (with Family Pass Only, Ages 3-15 years old) – $15
Concession Card Holders (Students, Pensioners, Seniors, Veteran – Must show current ID) – $39
Dolphin Marine Conservation Park offers a unique and educational experience for travelers on a road trip from Sydney to Brisbane. At the heart of this attraction is a commitment to marine conservation and wildlife protection.
Visitors can get up close and personal with a variety of marine animals, including dolphins, Australian sea lions, penguins, fish, and turtles.
One of the park's highlights is the opportunity to tour the marine animal rescue and rehabilitation hospital, where you can witness the dedicated efforts to care for and rehabilitate creatures like sea turtles.
The park also shares the rich indigenous culture of the Gumbaynggirr people, providing insight into the Dreamtime story of dolphin origins.
Dolphin Marine Conservation Park inspires visitors to take simple, everyday actions to preserve our oceans and environment, fostering a sense of responsibility for future generations.
With daily in-water and land-based experiences available, a visit to this park not only provides entertainment but also a deeper connection to marine life and the importance of its protection.
Pro tips:
• If you're traveling with a group, take advantage of the group booking options, ideal for school trips or team outings.
• Enjoy breakfast, lunch, or a quick snack at the Creekside Cafe, where you can refuel after a day of exploration.
11. Forest Sky Pier
Please embed: https://www.instagram.com/p/CtGefiPMwyf/
Address: Coffs Harbour NSW 2450
Website: https://www.forestrycorporation.com.au/visit
Contact Details: +61 1300 655 687, [email protected]
Operating Hours: Monday-Sunday: 8 AM–5 PM
Entry Fee: Free
The Forest Sky Pier at Niigi Niigi – Sealy Lookout is nestled within the lush Orara East State Forest, part of the captivating State Forests of the Coffs Coast, located on Gumbayggirr country.
A mere 10-minute drive from Coffs Harbour through scenic banana plantations brings you to this remarkable vantage point, easily accessible by vehicle during daylight hours.
From the Forest Sky Pier, visitors are treated to breathtaking panoramic views that stretch from the vibrant city of Coffs Harbour and extend along the picturesque coastline.
Explorers can enjoy various walking tracks winding through the enchanting rainforest, with options ranging from one to three hours. For those looking to relax, there are conveniently placed picnic tables and restroom facilities.
While at this scenic lookout, visitors can enhance their experience by grabbing a coffee at the Nyanggan Gapi cafe or planning a thrilling adventure at Coffs Treetops, a popular canopy adventure destination.
Additionally, just a short 500-meter walk down the road leads to the captivating Gumgali Track, which culminates at the Korora Lookout.
Pro tips:
• If you or someone in your group has mobility issues, there's a covered picnic shelter for convenience, and the Forest Sky Pier is wheelchair accessible with no steps.
• Walk down to the Gumgali Track to discover the rich Gumbaynggirr culture through sculptures, art, and sound.
12. Lamington National Park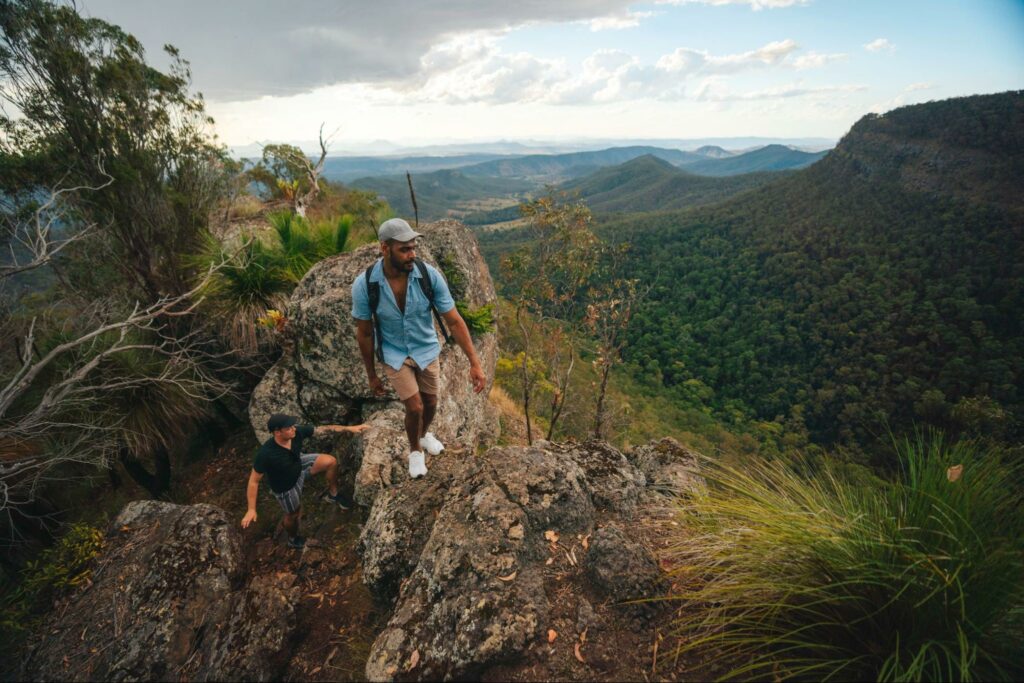 Part of the Gondwana Rainforests of Australia, Lamington National Park offers more than just age-old trees; it's a UNESCO World Heritage-listed treasure with landscapes dating back over 225 million years.
Its historical significance, ancient geology, and diverse flora and fauna are a testament to its unique allure.
As you wander through this park, you'll traverse a landscape that has evolved for millennia, featuring dense forests, cascading waterfalls, and a network of walking tracks that beckon hikers.
With over 160 kilometers of tracks, suitable for all levels of adventurers, Lamington National Park provides a profound connection to nature.
Whether you opt for a gentle stroll on paved trails or embark on more challenging hikes, the park promises moments that capture the essence of its grandeur.
The park boasts over 500 waterfalls, and the Toolona Creek Circuit, including Chalahn Falls, offers an adventure for waterfall enthusiasts.
For accommodations, you have options ranging from camping to eco-friendly lodges, like O'Reilly's Rainforest Retreat, or luxurious tree-top villas.
Local tours by Southern Cross Tours and guided treks by Auswalk Holidays provide insightful experiences that unveil the true essence of Lamington National Park, making it an unmissable gem on your road trip.
Pro tips:
• The park's weather can change rapidly, so be prepared for sudden changes in temperature and rain. Dress in layers and bring waterproof gear.
• Choose walking tracks that match your fitness level and interests. The park offers a variety of tracks, from easy strolls to challenging hikes, so plan accordingly.
13. Moran Falls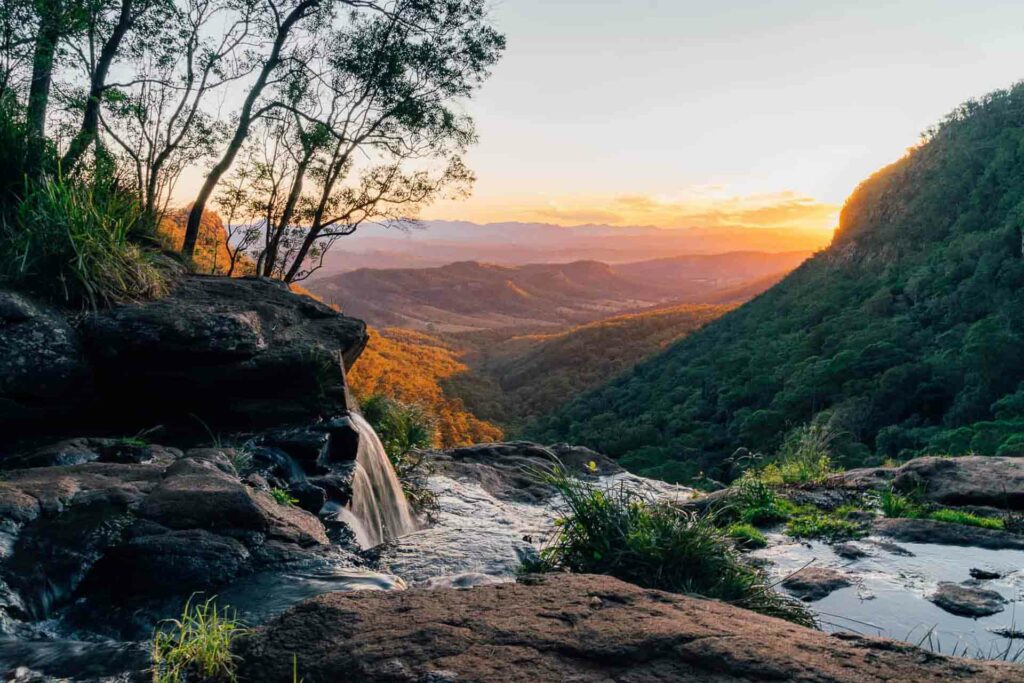 Address: 3582 Lamington National Park Rd, O'Reilly QLD 4275
Website: https://outdoorsplanner.com.au/queensland/morans-falls/
Operating Hours: Monday-Sunday: Open 24 hours
Morans Falls is a natural wonder located near the town of Lamington, offering a breathtaking spectacle of cascading water. The falls plunge over 100 meters into a serene pool below, surrounded by lush rainforests that teem with wildlife.
The rich biodiversity of the area makes it a hotspot for birdwatching and nature enthusiasts.
There are several viewing platforms at Morans Falls, allowing you to get up close to the cascading water, making it a perfect spot for photography and connecting with the beauty of nature.
If you're seeking adventure, you can embark on a hike to the top of the falls, offering stunning panoramic views as your reward. For those who prefer a more relaxed experience, there are ideal spots for picnicking and enjoying a day of leisure.
The refreshing waters of the pool also provide an excellent opportunity to cool off during a hot day.
Pro tips:
• While exploring, stick to marked paths and follow any guidelines. This helps protect the delicate rainforest ecosystem.
• If you decide to swim in the pool at the base of the falls, ensure you are aware of your swimming abilities. Always exercise caution around natural water bodies.
14. Surfer's Paradise Beach
Location: Surfers Paradise, Gold Coast, Queensland
Website: https://www.destinationgoldcoast.com/
Surfers Paradise Beach encapsulates the quintessential Australian beach experience, making it a perfect stop on your coastal road trip. It has two kilometers of pristine golden sand, where visitors can experience the joy of swimming and riding the rolling surf.
The safety of beachgoers is a top priority, with three lifeguard towers strategically placed to watch over designated swimming and surfing zones.
For those with surfing aspirations, catching a wave here is a dream come true. Surfboards are available for hire, and surf lessons make it accessible for all skill levels.
The beach breaks extend the entire length of this coastal paradise, offering ample space to master the art of riding the waves. Experienced surfers will particularly enjoy the conditions on the outer bar, characterized by moderate swells and offshore winds.
The beach is thoughtfully backed by a protective fore-dune, making access easy through signed tracks from the esplanade to the shoreline. Along the way, you'll find seating areas and barbecues, providing a perfect setting for taking in the breathtaking ocean views.
The adjacent foreshore precinct is a vibrant hub, offering a variety of beachside accommodations, alfresco dining options, and night markets.
Pro tips:
• Enjoy a beachfront meal at one of the alfresco dining spots nearby. There's nothing like dining with the sound of waves in the background.
• If you're here in the evening, explore the bustling night markets. You might find unique souvenirs and local crafts.