Categories >
Guides and Tips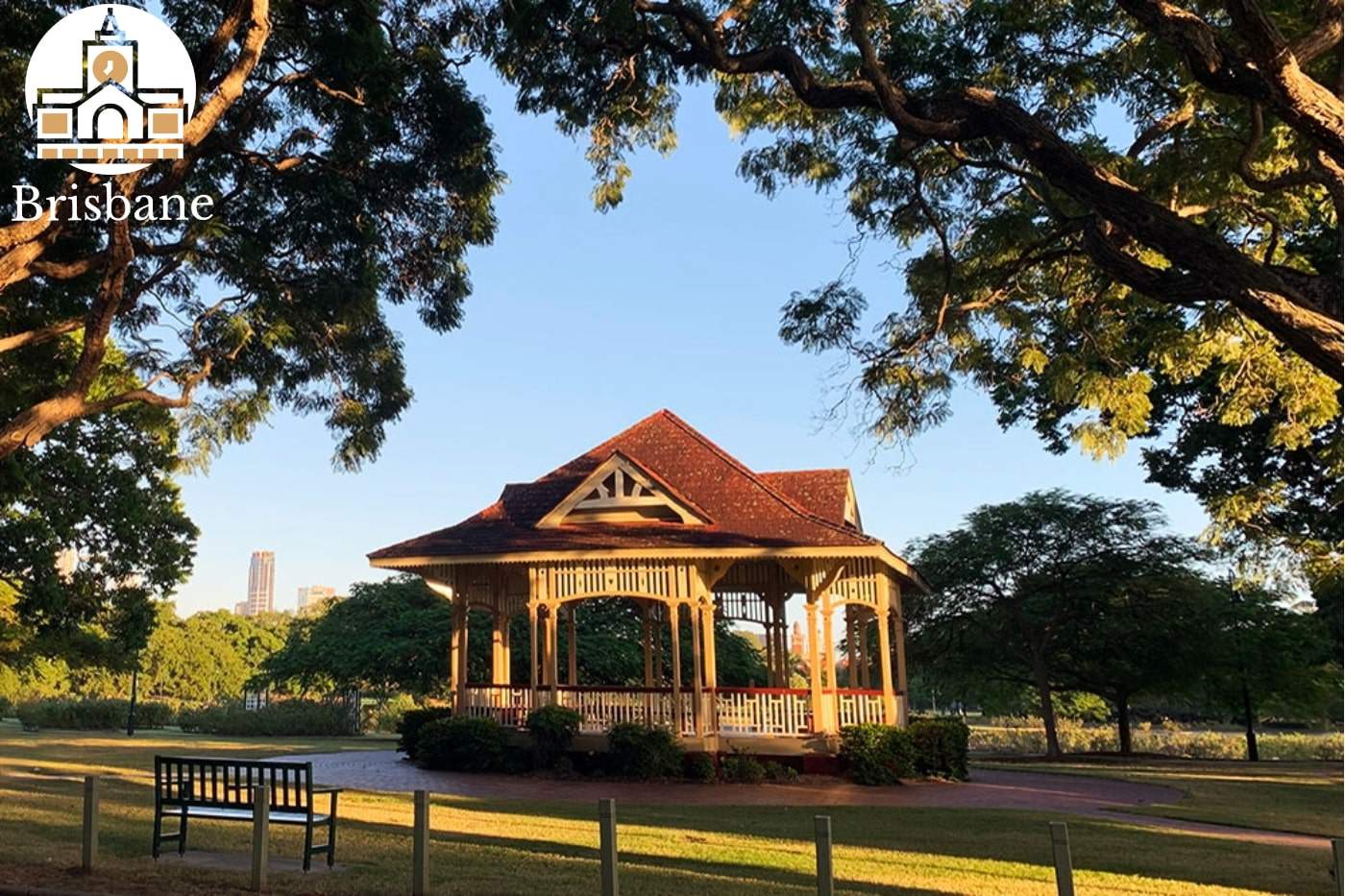 Riverside's Finest: Things to Do in New Farm, Brisbane
Mythical creature fans! Ever heard about the legend of the 'Bunyip', the river monster lurking near New Farm? It's said to keep the waters here shrouded in mystery, though no one's ever snapped a pic!
But the enchantment doesn't stop there. New Farm is a treasure trove of culture, sophistication, and natural beauty, with lots to explore.
Join us as we uncover the wonders that await you in New Farm below!
1. Catch a Show at the Brisbane Powerhouse
Address: Yagara Country, 119 Lamington St, New Farm, QLD 4005, Australia
Website: https://brisbanepowerhouse.org/
Contact Details: +61 7 3358 8600
The Brisbane Powerhouse is a notable cultural and arts precinct located in New Farm, Brisbane. Housed in a beautifully restored industrial power station building, this space serves as a dynamic hub for arts, entertainment, and cultural activities.
But today, it generates a different kind of energy—a creative one. Now, this complex houses a theatre, a concert hall, art galleries, and a bunch of versatile spaces for events and exhibitions.
If you love live performances, you'll also likely be mesmerised by the dance performances and music concerts.
And you won't believe the laughs and culture you'll find here! The Powerhouse is like the comedy headquarters during the Brisbane Comedy Festival, where they bring in the wittiest comedians from all around the globe.
Now, for art lovers, listen up! This place is also your go-to spot for a visual feast with fantastic contemporary exhibitions from local and global artists.
And when your cultural adventure leaves you hungry or thirsty, Brisbane Powerhouse won't disappoint. Whether you're in the mood for a relaxed coffee, fancy riverside dining, or a chill happy hour with friends, this place has dining options to match every vibe.
Pro tip:
When visiting the Brisbane Powerhouse in New Farm, it's best to check out their outdoor events and activities beforehand. In addition to the indoor performances and exhibitions, they often host events and performances in the outdoor spaces, especially during the evenings. 
2. Shop and Dine at Gasworks Plaza
Please embed: https://www.instagram.com/p/CyzXVwKMWII/
Address: 76 Skyring Terrace, Newstead, QLD 4006, Australia
Website: https://www.gasworksplaza.com.au/
Contact Details: +61 7 3062 9439
Operating Hours: Monday – Friday: 6:00 AM – 10:00 PM; Saturday – Sunday: 7:00 AM – 10:00 PM
Gasworks Plaza in New Farm, Brisbane is a busy shopping and dining destination known for its stylish boutiques, retail shops, and wide selection of restaurants and cafes.
Over a century ago, this place stood tall, with its gas-producing machinery lighting up the night sky. Today, Gasworks Plaza is a living testament to transformation – what was once a drab electricity plant is now a dynamic dining and cultural hotspot.
It's the kind of place where you can enjoy a morning coffee with a view, indulge in fresh seafood, bite into delicious burgers, or indulge in the flavours of modern Thai cuisine.
But Gasworks Plaza offers more than just a gastronomic adventure. Here, you can shop for essentials, get a fresh haircut, and even stock up on your favourite spirits.
And if you're lucky, you can catch some live music and art shows that bring a creative buzz to the space.
Pro tips:
Gasworks Plaza is pet-friendly, so feel free to bring your furry friends along! Many cafes and restaurants offer outdoor seating where you can enjoy a meal with your beloved pet.
Keep an eye on the event calendar for special market days. These are fantastic opportunities to discover unique arts, crafts, and local products from Brisbane's creative community.
3. Stay Retro at New Farm Antique Centre
Please embed: https://www.instagram.com/p/CxhIRrxRzpr/
Address: 85 Commercial Rd, Teneriffe, QLD 4005, Australia
Contact Details: +61 7 3852 2352
Operating Hours: Monday – Sunday: 10:00 AM – 5:00 PM
If you're looking for some nostalgia and a glimpse into the past, then Brisbane's New Farm Antique Centre is where you need to be. It's not your typical antique store—it's a living museum where history and craftsmanship come to life!
As you stroll through its doors, you'll appreciate antiques, curiosities, and rare finds that span generations.
Whether you're a collector on a mission, an interior design enthusiast in search of unique decor, or just someone who's captivated by history, this place has something to spark your interest!
But what makes this place truly special is the diversity of items. Here, you'll find quirky knick-knacks, majestic furniture, and everything in between.
And if you love old-school fashion? Well, you're in for a treat at the New Farm Antique Centre!
From retro styles that are making a serious comeback to timeless heirlooms that have been passed down through generations, each piece here has a story to tell.
What's even more delightful is the community that's grown around this antique centre. You'll come across fellow visitors who are eager to share their knowledge and passion for antiques, turning your visit into a chance to learn some more!
Pro tip:
Some stores, like New Farm Antique Centre, offer consignment options, where they sell your item on your behalf in exchange for a commision. This can be beneficial if you're not in a rush to sell your antiques.
4. Visit the Jan Powers Farmers Market
Please embed: https://www.instagram.com/p/Cw6l1YAhKSG/
Address: 119 Lamington St, New Farm, QLD 4005, Australia
Website: https://www.janpowersfarmersmarkets.com.au/
Operating Hours: Saturday: 6:00 AM – 12:00 PM
The Jan Powers Farmers Market in New Farm, Brisbane is a special gem for food lovers. This weekend market is all about celebrating fresh, local, and delicious food.
But it's not just a place to shop; it's an experience that connects you with the people behind the delicious goodies.
As you wander around the busy stalls, don't be surprised if you end up chatting with the friendly sellers. Many of them are happy to share their knowledge and stories, and sometimes even offer some free taste!
You can also level up your weekend adventure with a coffee and a pastry or a mouthwatering breakfast wrap. Feeling international? Try dishes from around the world as well, like Mexican burritos, Japanese bento boxes, or hearty Italian pasta.
Don't forget to explore the artisanal products, like handcrafted chocolates, unique spices, and homemade sauces. Truly, it's a treasure trove of flavours!
This market is family-friendly, too! Kids can enjoy face painting and even hang out in a mini petting zoo!
Pro tip:
To keep your shopping organised at Jan Powers Farmers Market, it's smart to use colour-coded bags. Assign one colour for fresh produce, another for artisanal goods, and a different one for clothing. This makes unpacking at home a breeze!
5. Plan a Staycation at Heal House
Address: 72 Heal St, New Farm, QLD 4005, Australia
Website: https://healhouse.com.au/
If you're looking for a peaceful escape right in the middle of busy Brisbane, Heal House in New Farm, Brisbane is the one for you!
Heal House is like a little oasis for your body, mind, and spirit since it's all about relaxation and rejuvenation. The staff offers various therapies, from massages and acupuncture to energy healing sessions.
To satisfy your need for a stretch, it's good to check out this bed and breakfast's regular schedule of meditation and yoga classes. For nature lovers, there's a beautiful garden to complete your healing staycation as well.
Pro tip:
For extra privacy and a deeper sense of relaxation during your therapy sessions at Heal House, consider booking the Verandah villa at the back of the house.
6. Be Artsy at Edwina Corlette Gallery
Address: 629 Brunswick St, New Farm, QLD 4005, Australia
Website: https://edwinacorlette.com/
Contact Details: +61 7 3358 6555
Operating Hours: Monday – Friday: 10:00 AM – 5:00 PM
The Edwina Corlette Gallery in New Farm, Brisbane is a place where you can view art and have an immersive experience at the same time. Here, you can discover a mix of fresh, up-and-coming artists and well-established ones.
They're the trendsetters in Brisbane's art scene, known for highlighting the best of contemporary Australian art. It's like they have a sixth sense for picking out the finest pieces to share with the world!
If you're an artist, you might love what Edwina Corlette Gallery has to offer. It's supportive of up-and-coming artists, providing a platform to display new creations to a wider audience.
Pro tip:
Hesitant to buy anything? Ask about the art rental programmes Edwina Art Gallery offers! 
This way, you can bring art into your home for a while before deciding to buy it. It's a risk-free way to experience living with art.
7. Play some Barefoot Bowls at Merthyr Bowls Club
Address: 60 Oxlade Dr, New Farm, QLD 4005, Australia
Website: https://merthyrbowlsclub.com.au/
Contact Details: +61 439 504 372
Operating Hours: Tuesday – Wednesday: 12:00 PM – 8:00 PM; Thursday: 10:00 AM – 8:00 PM; Friday: 11:00 AM – 11:00 PM; Saturday: 10:00 AM- 11:00 PM; Sunday: 10:00 AM – 9:00 PM
At the Merthyr Bowls Club in New Farm, Brisbane, you'll find lush green lawns perfect for a relaxing game of lawn bowls. The best part? They've got all the equipment you need, so you can jump right in and start playing.
If you're craving some good interaction, check out their events and gatherings, which make it easy to meet fellow club members. And don't worry if you're not a member yet; visitors are also welcome to enjoy the facilities!
No need to dress up all fancy either. The dress code here is pretty laid-back, so you can keep it casual and comfortable.
Pro tip:
After your game at the Merthyr Bowls Club, treat yourself to the club bistro's Beef and Guinness Pie. It's a crowd favourite that you wouldn't want to miss!
8. Indulge in Delectable Brownies at Dello Mano
Address: Wintergarden Shop K7, 171/209 Queen St, QLD 4000, Australia
Website: https://www.dellomano.com.au/
Contact Details: 1300 033 467
Operating Hours: Monday – Saturday: 9:00 AM – 5:00 PM
Dello Mano is a renowned bakery and patisserie located in New Farm, Brisbane. This family-owned business offers handcrafted brownies, cakes, cookies, and other delectable sweets.
Their brownies are known to be so good that even Ashton Kutcher couldn't resist their charm – he had these delectable delights flown all the way to Paris for his birthday!
But here's the sweet deal: Dello Mano doesn't stop at brownies. They've got a delightful selection of pastries, cakes, artisan bread, and other tasty treats, like their mini Golden Gaytime cakes.
And if you're in the mood for more than just a treat, they've got a cosy spot where you can enjoy a cup of coffee, enjoy a leisurely brunch, and soak in the cafe's delightful atmosphere.
Pro tip:
Brownie lovers, why not order a mixed box in Dello Mano? It lets you sample a variety of brownie flavours all at once, ensuring you don't miss out on any of their delightful creations.
9. Stroll Along Teneriffe Woolstores
Address: New Farm, QLD 4005, Australia
Teneriffe Woolstores, located in the historical Teneriffe district of New Farm, Brisbane, offers a unique blend of modern living spaces within beautifully restored heritage buildings.
Here, you can expect to find spacious and stylish apartments combining heritage charm with contemporary amenities—all set in a trendy and sought-after riverside neighbourhood with a rich industrial past.
These gigantic brick buildings have a history dating back to the 1900s, and they tell a fascinating story of a bustling commerce centre with the Brisbane River as a major transport route.
Their original purpose? Storing and shipping wool—a testament to the area's heritage.
Fast forward to the '90s, and these industrial giants found a new purpose. Today, they stand as architectural marvels, loved by locals and admired by visitors.
Now, they're home to trendy cafes (cafe brisbane), inviting restaurants, charming shops, office spaces, and residential units.
Pro tip:
If you're an artist or enjoy creative pursuits, check out the art supply shops in Teneriffe Woolstores. You might just add something to your artsy tool collection!  
---