Categories >
Guides and Tips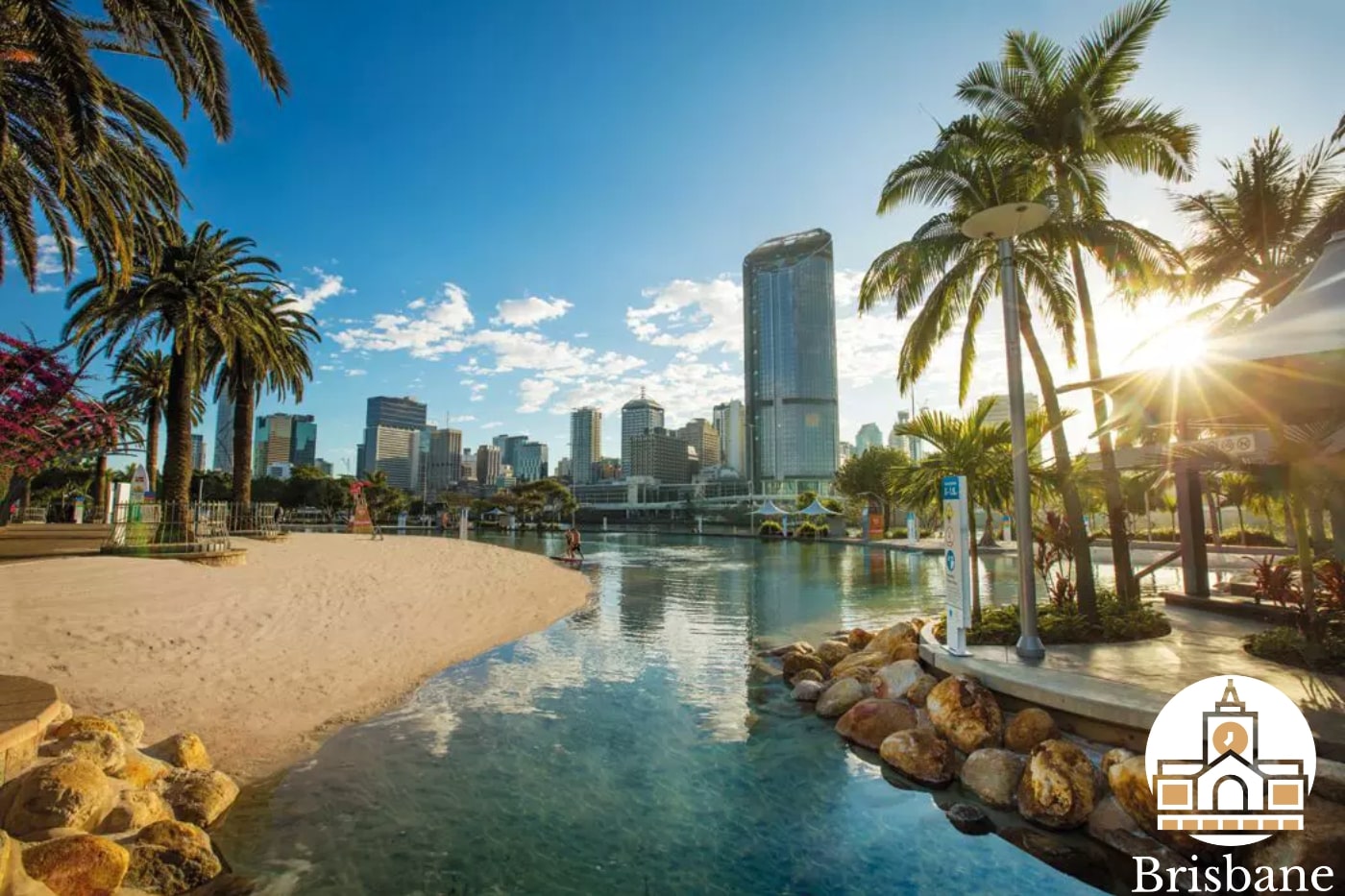 Discovering Delights: Things to Do at South Bank Parklands
Want to see something unique, like a beach made by a man? Well, look no further than the South Bank Parklands in Brisbane. It's home to Streets Beach, Australia's premier inner-city man-made sandy shore!
But beyond that, the South Bank Parklands offers many other quirky attractions and thrilling activities, making it the heart of Brisbane's social scene.
So, grab your flip-flops because we're about to explore this urban oasis below!
1. Strike a Pose at the Brisbane Sign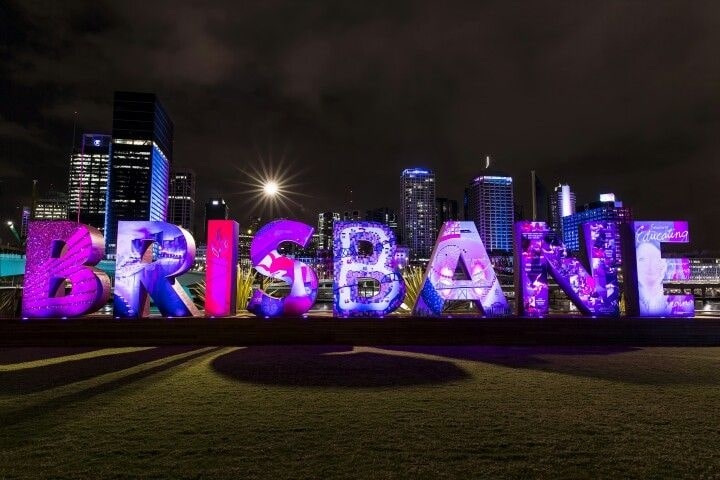 Address: Stanley St Plaza, South Brisbane, QLD 4101, Australia
Operating Hours: Open 24 Hours
When you find yourself at South Bank Parklands in Brisbane, one thing is for sure: you can't miss the iconic Brisbane sign. It's like a big welcome card from the city saying, "Hey, have a great time!"
Picture this: You're strolling along the South Bank, taking in the sights and sounds of this vibrant riverside destination. As you turn the corner, bam! You're greeted by the massive, colourful letters spelling the city.
The best part about this sign, apart from being super photogenic, is its accessibility for all visitors. It signals the start of your South Bank adventure, so it's very memorable.
Whether you're exploring the pristine waters of the lagoon, enjoying a picnic in the lush gardens, or simply taking a leisurely walk along the Clem Jones Promenade, the Brisbane sign is never too far away.
What's more, it's a hub of free entertainment! South Bank is known for its lively atmosphere, and the Brisbane sign is right in the heart of it all.
Depending on when you visit, you might also catch live performances, street musicians, or even impromptu dance-offs.
Pro tip:
For the most stunning photographs at the Brisbane sign, it's recommended to visit before sunset. The soft, warm light during this time will make the sign and your pictures look even more magical!
2. Get Inspired at Queensland Art Gallery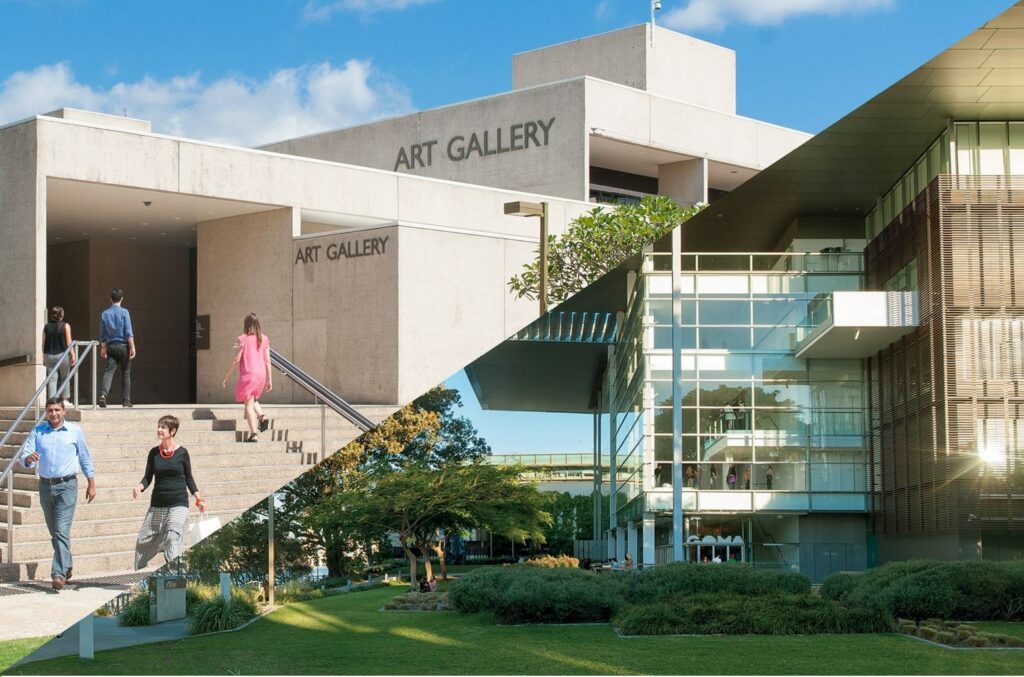 Address: South Brisbane, QLD 4101, Australia
Website: https://www.qagoma.qld.gov.au/
Contact Details: +61 7 3840 7303
Operating Hours: Monday – Sunday: 10:00 AM – 5:00 PM
The Queensland Art Gallery (QAG) in Brisbane's South Bank Parklands isn't your run-of-the-mill art space. It's more like a world of artistic wonders waiting to blow your mind.
As you step inside, you'll find all kinds of art, showing off Brisbane's vibrant art scene. There are lots of attention-grabbing, big sculptures and paintings to explore and appreciate.
But what truly sets QAG apart is its dedication to supporting local artists. You'll spot pieces by talented individuals like Robert Andrew, James Barth, Janet Burchill, and Jennifer McCamley on the walls.
As you wander through the gallery, you'll stumble upon artwork installations that will make you think of life's big questions, often sparked by Queensland's one-of-a-kind character.
For those seeking an engaging rainy day activity that celebrates Queensland's spirit through art, this gallery is a must-visit. It's a journey through creativity, history, and the incredible talent that calls Queensland home.
Pro tip:
Why not turn your visit to the Queensland Art Gallery into a detective game? Make a list of specific artworks or details to find beforehand.
Challenge yourself or your buddies to spot them, adding a fun twist to your visit.
3. Splash, Play, and Relax at Streets Beach
Address: South Brisbane, QLD 4101, Australia
Contact Details: +61 7 3029 1797
Wandering through South Bank Parklands in Brisbane also means having to check out Streets Beach. Here, you'll find a clean lagoon, sandy shores, and lots of greenery.
But Streets Beach isn't your everyday beach—it's Australia's one and only inner-city, man-made beach. It's like a slice of paradise right in the heart of Brisbane.
The cool thing is that it's open all year round! So whether it's sunny or chilly, you can swim, build sandcastles, or just soak up the sun.
Now, here's the best part—this man-made beach isn't just for the grown-ups looking to unwind. It's fantastic for the whole family, and it's totally kid-friendly! There's a special area designed just for the little ones, so you can bet they're in for a splashing good time.
While you're in the clear lagoon water, the sandy shores are also perfect for picnicking, sunbathing, or even a game of beach volleyball. It's a real family affair.
Pro tip:
When you're at Streets Beach, it's good to keep an eye on the water quality and any notices about their water system. This includes any potential water quality issues, maintenance schedules, or special activities that can shake up your experience. 
4. Enjoy a Picnic at The Jetty South Bank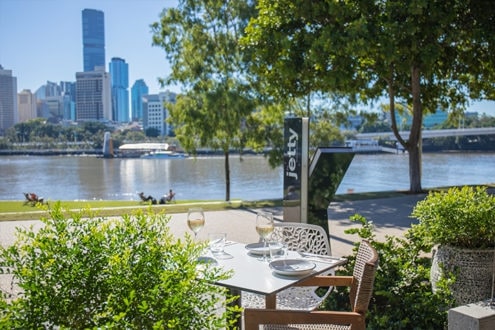 Address: River Quay, Shop/4 Sidon St, South Brisbane, QLD 4101, Australia
Website: https://thejettysouthbank.com.au/
Contact Details: +61 7 3844 8838
Operating Hours: Monday – Thursday: 11:30 AM – 9:00 PM; Friday – Sunday: 7:30 AM – 9:00 PM
Having a picnic at The Jetty South Bank in Brisbane's South Bank Parklands offers guests a breathtaking view of the river. Picture yourself there, unwinding and basking in the simple joys of life.
But that's not all! The Jetty is also a haven for foodies, serving up a delectable range of modern Australian dishes such as their Big Brekky and Tasmanian Mussels.
You may also lounge on the lush grass and bask in the afternoon sun, with the glittering water right in front of you. The Jetty South Bank isn't just a restaurant; it's a perfect picnic spot.
And they get it—most people don't carry picnic mats around. So, they've got you covered with wooden trays. It's these little things that make this place even more charming!
Pro tip:
For a unique twist and an extra layer of flavour in your coffee, try The Jetty South Bank's Broken Bean coffee liqueur and vodka. It's a lovely after-meal indulgence!
5. Take a Plunge at the Boat Pool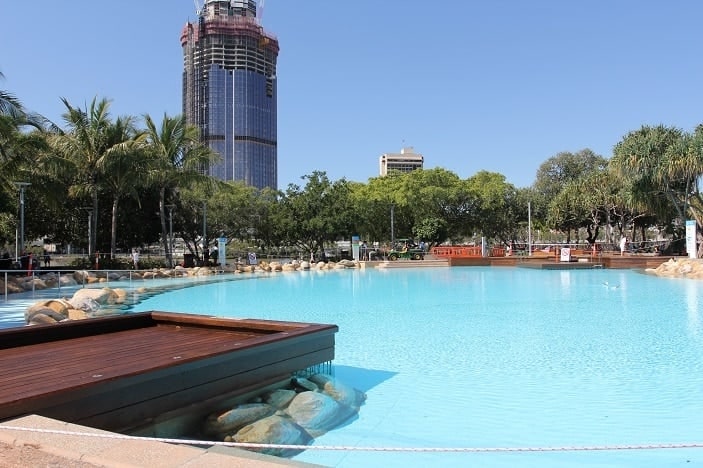 Address: Stanley St Plaza, South Brisbane, QLD 4101, Australia
Website: https://visit.brisbane.qld.au/inspiration/swimming-at-south-bank
Operating Hours: Monday – Sunday: 9:00 AM – 9:00 PM
When it comes to family-friendly water adventures in Brisbane's South Bank Parklands, the Boat Pool is the real deal for a cool experience. It's like the neighbourhood's favourite secret, hiding in plain sight.
The best part? It's a free swimming pool right in the heart of the city! You'll likely hear laughter from children of all ages splashing around and adults taking a dip to escape the Queensland heat.
Now, it's all about making sure you have a worry-free, good time. Just relax because the lifeguards are there to keep an eye on the water. Parents can chill out, knowing their little adventurers are safe.
And guess what? If the sun decides to go all out, you've got shaded seating areas nearby. This is perfect for catching your breath and recharging before the next splashy adventure.
Pro tip:
Make the most of the handrails around the Boat Pool at South Bank Parklands. Encourage your kids to hold onto them as they practise their strokes, giving them both support and a sense of independence in the water.
6. Explore the South Bank Collective Markets
Address: Little Stanley St, South Brisbane, QLD 4101, Australia
Contact Details: +61 422 806 971
Operating Hours: Friday: 5:00 PM – 9:00 PM; Saturday: 10:00 AM – 9:00 PM
If you ever find yourself in Brisbane on a sunny Sunday, you've got to visit the South Bank Collective Markets in South Bank Parklands to explore and purchase from stalls of all shapes and sizes.
Some of them have beautiful handcrafted jewellery that sparkles in the sunlight, while others show off unique clothing and art pieces just waiting to be discovered.
But there's more to it than shopping. Here, you've got the delightful smell of street food, from local treats to international delights, making your taste buds dance.
Plus, local musicians would strum away and transform your leisurely walk into a spontaneous music fest, offering a new tune at every turn. You can even chat with the artists and entrepreneurs, giving you a chance to learn about their creations and stories.
Whether you're hunting for one-of-a-kind treasures, satisfying your cravings, or simply enjoying a laid-back Sunday market (sunday markets Brisbane) adventure, the South Bank Collective Markets is your best bet!
Pro tip:
Make sure to keep your eyes peeled for unique, quirky items. The South Bank Collective Markets is known for surprises, and you might spot unusual treasures like handmade soaps shaped like animals or hats with built-in bottle openers.
7. Go on a Boat Ride with the CityCat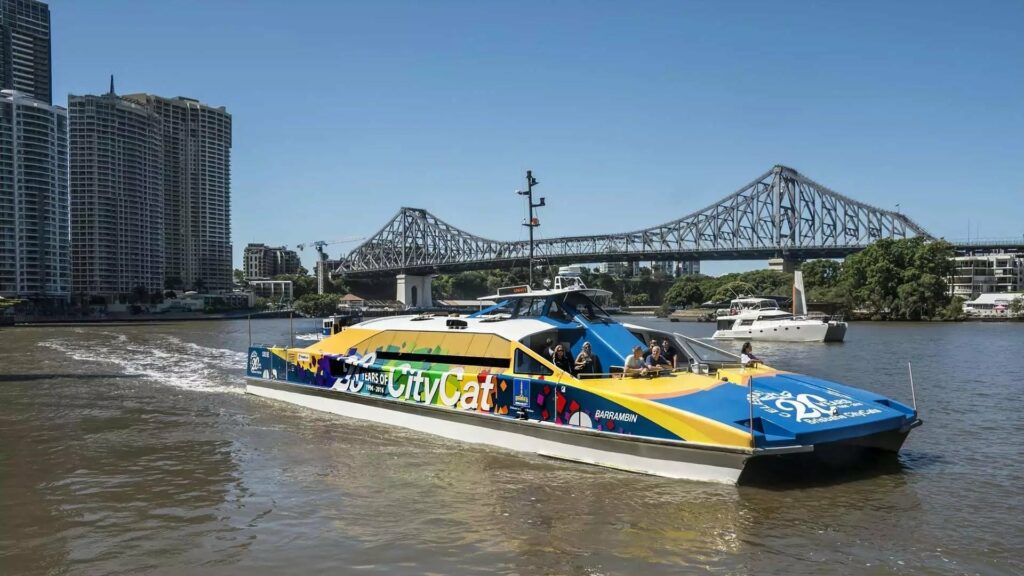 Address: CityCat, CityHopper and Cross River ferry terminals, Brisbane River between UQ St Lucia and Northshore Hamilton
Booking: https://www.getyourguide.com/
CityCat in Brisbane's South Bank Parklands isn't your typical boat—it's the heart and soul of Brisbane's river transport system, and it offers way more than just getting you from point A to B.
Being on the CityCat vessel is like stepping into a moving window into the city's heart. On one side, you've got skyscrapers reaching for the sky, and on the other, lush green parks that are easy on the eyes.
As you glide, you'll see charming riverside neighbourhoods, each with a unique character. Also, keep an eye out for local wildlife like pelicans and dolphins in this watery wonderland!
And if you adore sunsets, you're in for a treat as well. Witnessing the city transform at dusk here is just pure magic. Enjoy a front-row seat on the CityCat as you watch the city lights twinkle on the water as the sun goes down.
Pro tip:
Why not consider timing your CityCat ride during a full moon? The moonlight transforms the river into a magical waterway, and you'll experience the city from a completely different perspective.
It's like a little celestial trick that can turn an ordinary boat ride into a memorable lunar adventure.
8. Stroll Through the Nepalese Pagoda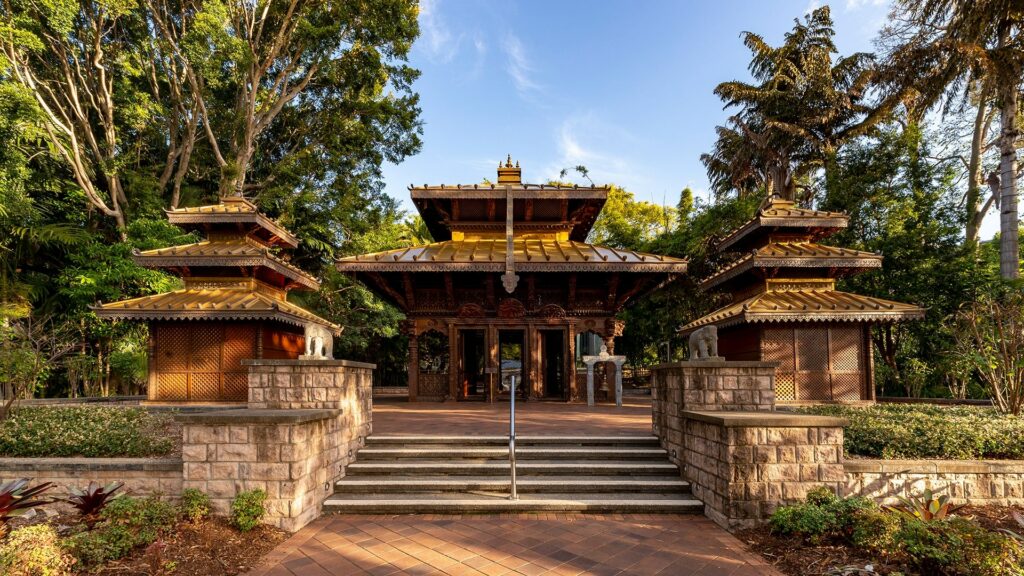 Address: Clem Jones Promenade, South Brisbane, QLD 4101, Australia
Website: http://www.visitbrisbane.com.au/south-bank/
Contact Details: +61 7 3006 6290
Operating Hours: Open 24 Hours
The Nepalese Pagoda is a piece of Nepal in South Bank Parklands in Brisbane, showcasing intricate Nepalese wood carving and symbolising peace.
Standing tall with its three stories, this pagoda is a close replica of the revered Pashupatinath Temple in Kathmandu.
A German architect named Jochen Reier took on the monumental task of handling the design, planning, and production to bring the Pagoda all the way to South Bank for Expo 88.
But for us, the real gem of this story is the 160 Nepalese families who deserve recognition. They poured their hearts and skills into crafting this magnificent piece from a staggering 80 tonnes of timber over two years!
And as you wander through this beautifully carved wonder, it's easy to be captivated by Nepalese artistry. Each panel shares a story, and every detail showcases the dedication of those who brought this piece of Nepal to Australia – be sure to take it all in!
Pro tip:
We recommend bringing a magnifying glass when visiting the Nepalese Pagoda. While the grandeur of the structure attracts many, a magnifying glass allows for a closer look at the intricate wood carvings. You might discover small animals, symbolic patterns, or even the initials of the skilled artisans who crafted this masterpiece.
9. Capture the Bougainvillaea Blooms at The Arbour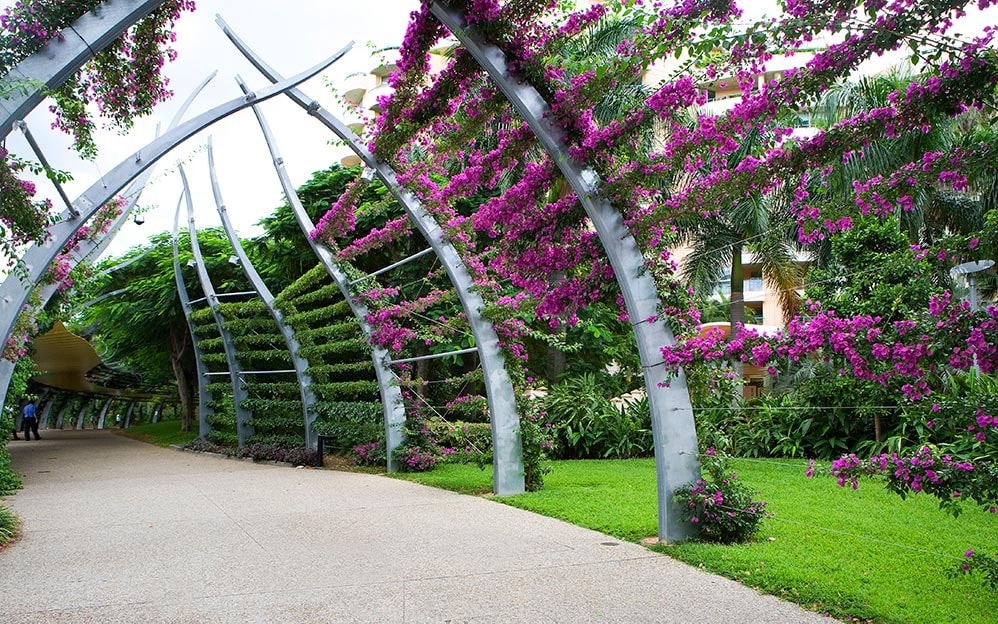 Address: The Arbour, South Brisbane, QLD 4101, Australia
Website: http://www.visitbrisbane.com.au/south-bank/
Operating Hours: Open 24 Hours
Looking for some Bougainvillaea blooms? Well, Brisbane's South Bank Parks have got you covered with a fantastic spot known as The Arbour.
As you walk under The Arbour's leafy roof, you'll find yourself surrounded by pretty blooms in bright pinks, purples, and oranges. It's like stepping into a beautiful painting that nature has brought to life.
The special thing about these flowers is that they change with the seasons. Spring and summer are their time to shine, covering the walkway with a carpet of blossoms. It's the perfect spot for a leisurely walk, a picnic, or just some peaceful moments.
But the beauty of these flowers isn't just for your eyes. They also attract butterflies and bees, creating a lively and delightful scene!
If you're into photography, this place is a dream come true. The way the sunlight plays with the colours is great for capturing beautiful moments.
Pro tip:
When taking photos at The Arbour, try capturing the Bougainvillaea from below, looking up at the sky, for a distinctive and impressive angle.
10. Marvel at Scenic Vistas from The Wheel of Brisbane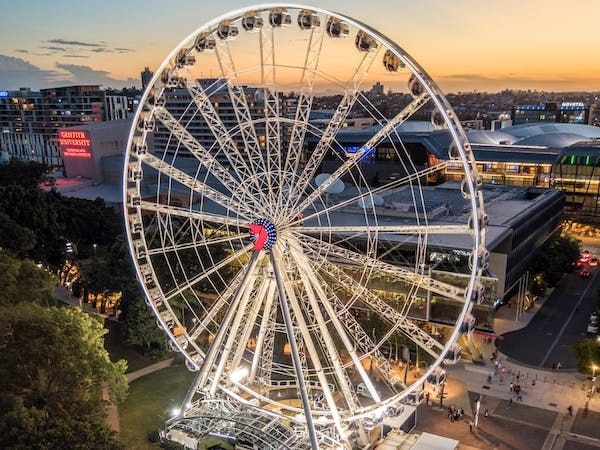 Address: Russell St, South Brisbane, QLD 4101, Australia
Website: https://www.queensland.com/us/en/things-to-do/attractions/
Contact Details: +61 7 3844 3464
Operating Hours: Monday – Sunday: 10:00 AM – 10:00 PM
The Wheel of Brisbane made its debut in 2008 as part of the city's bicentennial celebrations. Standing at a height of 60 metres (197 feet), this ferris wheel quickly became a notable feature in South Bank Parklands.
The Dutch company SDC designed and built this giant Ferris wheel. Of course, they didn't just ship it over from the Netherlands in one piece; it came in sections and got pieced together right here in Brisbane!
Now, picture this: you hop into one of the 42 comfy capsules on the Wheel of Brisbane. From up there, you get the full 360-degree view of the city – the Brisbane River, the busy downtown area, and the peaceful South Bank Parklands!

And if you squint, you might even spot the distant Glass House Mountains.
As the sun sets, the wheel lights up with a spectacular LED show and becomes the star of the South Bank night scene. Riding it in the evening is like stepping into a romantic fairy tale, and the city lights below just add to the enchantment.
Pro tip:
For an unforgettable experience, consider booking a private capsule at The Wheel of Brisbane.
Whether it's a special date, anniversary, or even a proposal, having your own exclusive space while enjoying the breathtaking views can make the moment truly exceptional!
---