Categories >
Guides and Tips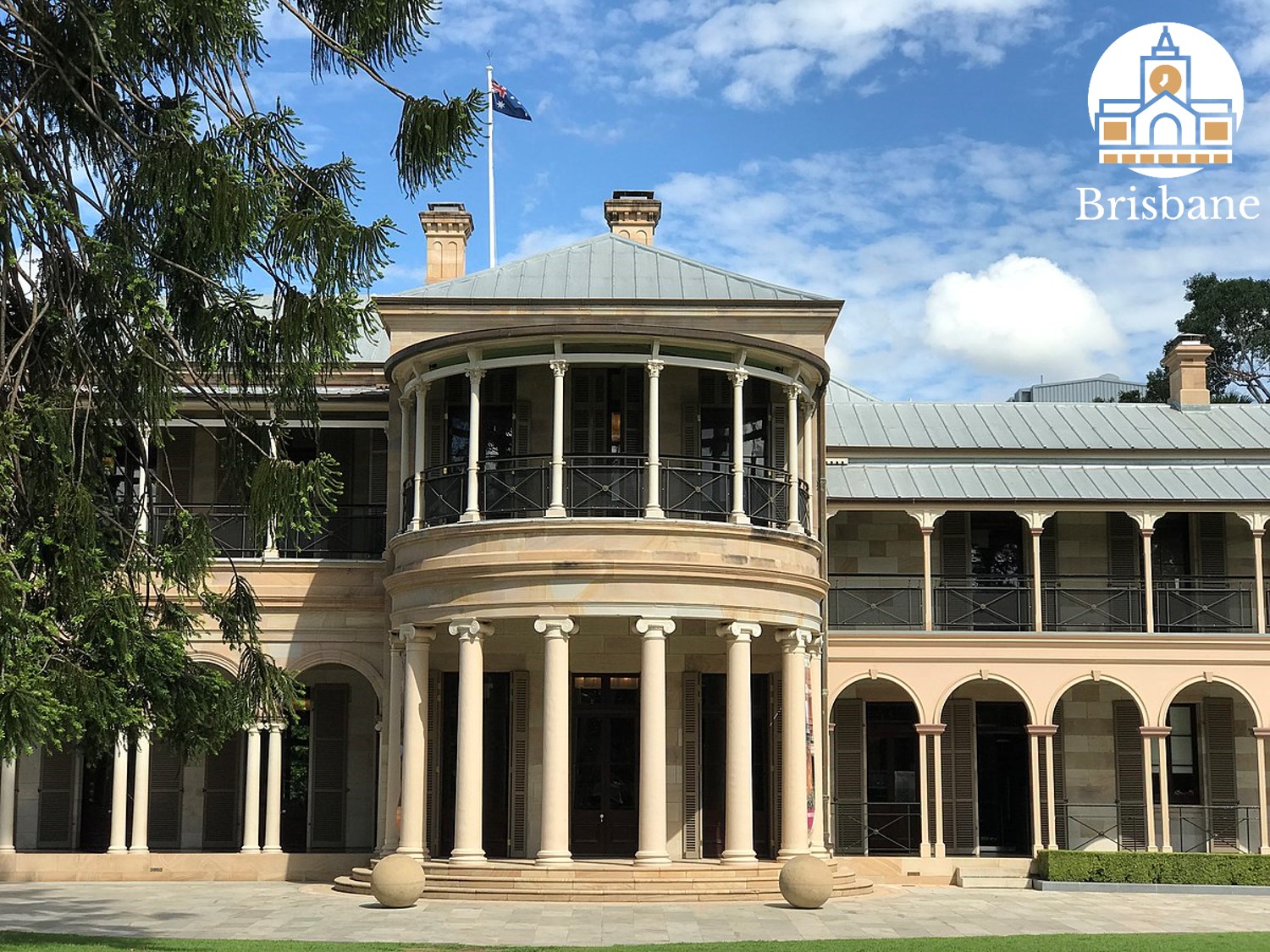 Looking Back: A Guide to the Historic Homes in Brisbane
Care for a history lesson without the long lectures or homework? Then you ought to visit a historic home in Brisbane and explore the rich history behind every building (and maybe see a ghost or two)!
To enter the doors of Brisbane's historic homes is like opening a book to learn about the city's bygone period. From grand colonial-era mansions to charming homesteads, every brick, window, or even kitchen tool can whisper stories about the early life in the region.
These architectural treasures serve as living testaments to Queensland's evolution, so visiting these homes is a unique and exciting way to discover more about its history!
Peruse our guide to the historic homes in Brisbane that you should definitely visit!
Newstead House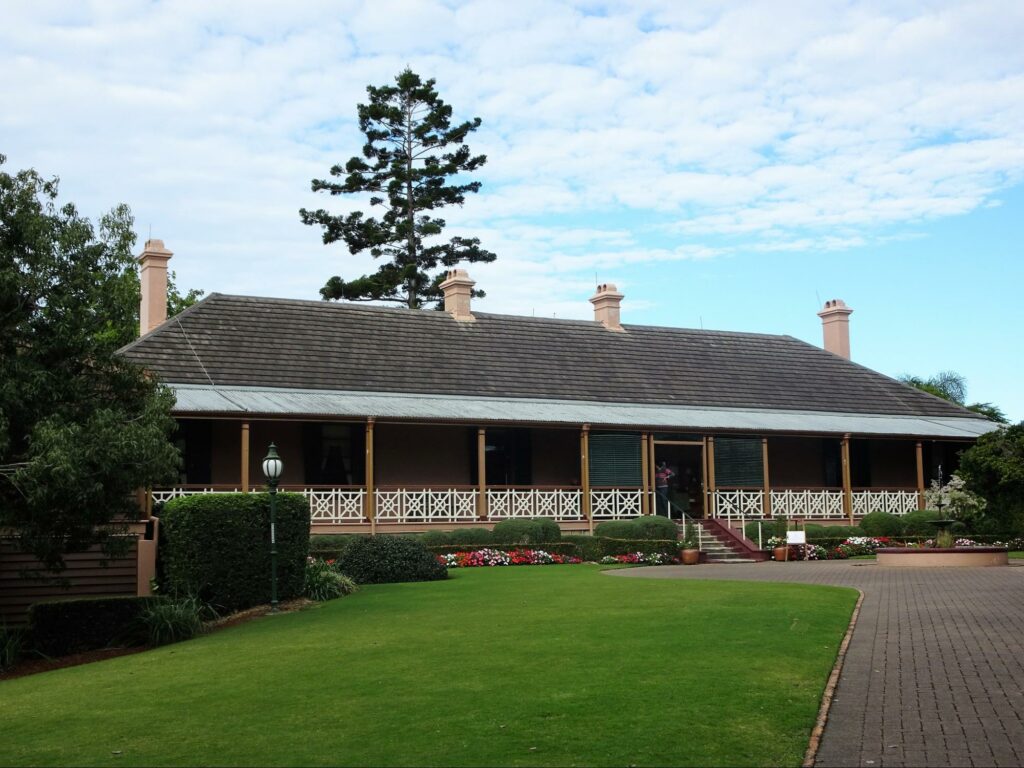 Website: https://newsteadhouse.com.au/
Location: Newstead Park Cnr Breakfast Creek Rd &, Newstead Ave, QLD 4006
A picturesque mansion, the Newstead House boasted the reputation of being the finest home in the Moreton Bay colony. It was built in 1846 and is now the oldest surviving European residence in Brisbane.
The elegant home stood witness to centuries of change and progress in the region. It was also known to have hosted lavish parties and was considered to be the center of Brisbane's social life during that time.
Patrick Leslie, a prominent settler in Queensland, originally built the Newstead House. Its design is a striking example of Colonial-Georgian architecture, with a distinctive brick facade, grand veranda, and large sash windows.
Over the years, the house has undergone several renovations and expansions. It's also set in a prime location on the banks of the river which not only provides breathtaking views, but historical significance as well, being a hub for early transport and trade.
In 1971, the Newstead House first opened to the public as a house museum where visitors could visit the rooms, roam the gardens, and learn about its history. It also hosts several cultural events and gatherings annually.
Pro Tip: 
• The Newstead House is currently undergoing renovation as part of the Newstead House Conservation Project by the Queensland Government. So unfortunately, the building is temporarily closed. 

Wolston Farmhouse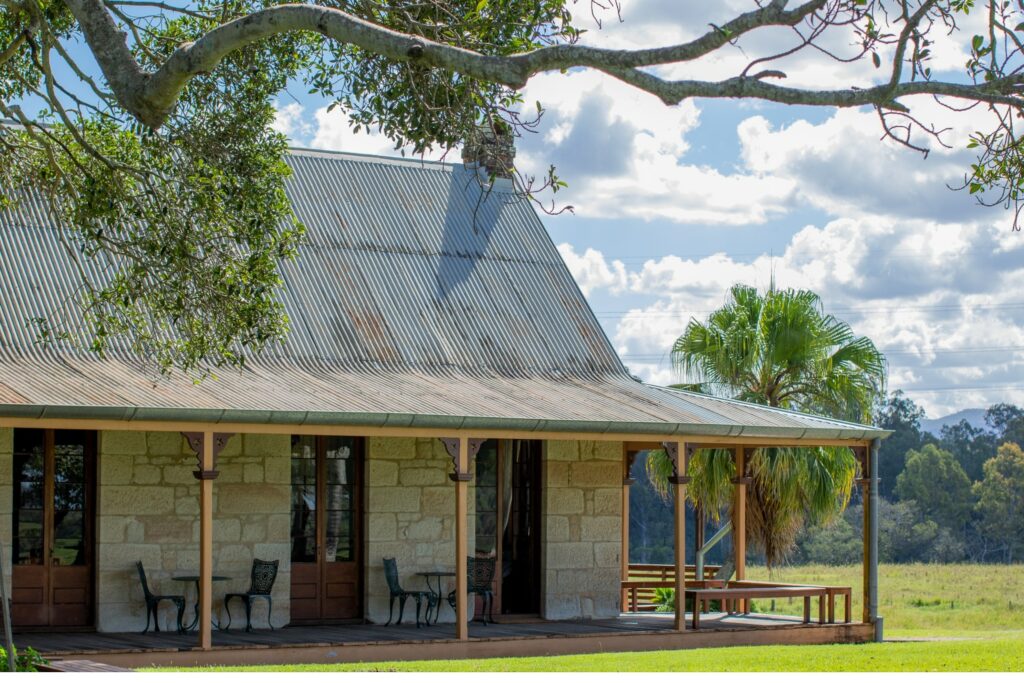 Website: https://nationaltrustqld.org.au/visitor-sites/Wolston-Farmhouse
Location: 223 Grindle Rd, Wacol QLD 4076
Nestled in the charming suburb of Wacol, the Wolston Farmhouse is one of Brisbane's oldest surviving residences. It's located between Brisbane and Ipswich with stunning views of the Brisbane River!
The Wolston House, as it was formerly known, was originally owned by Dr. Stephen Simpson. The construction of this idyllic homestead set in a large pastoral land started in 1852 and it was continued by Matthew Goggs in the 1860s.
Today, it stands as a historic home that was added to the Queensland Heritage Register in 1992. It bears the distinction of being the first ever property operated by the National Trust of Australia in Queensland.
This home has a rustic charm, giving off the vibes of a classic 19th-century homestead with expansive verandas that treat you to sweeping country sceneries. It has six rooms that contain a collection of period artifacts, such as sausage stuffers and silverware.
On the lower level, you can find a meat room and the maid's quarters. Interestingly, this part of the house is naturally cooler where you could feel the shivers with its eerie atmosphere, and perhaps, even encounter a touch of the paranormal!
If you're interested in exploring its haunted heritage, they also hold paranormal nights, so keep your eyes peeled for announcements!
The Wolston Farmhouse is open to the public on Open Days, just check their Facebook page for the latest updates. This picturesque farmhouse can also be booked for events such as weddings and other special occasions.
Pro Tip:
• Take note that standard fees ($12 for adults, $5 for kids) apply to enter this heritage home. But entrance is free for members of National Trust Queensland. 
• The Wolston Farmhouse also hosts high tea provided by Tranquil Tea House. Here you can indulge in sweets and sandwiches while sipping tea amidst a scenic landscape. 

Your entrance to the farmhouse is already included in the fee along with a guided tour, if available. 
Ormiston House

Website: https://www.ormistonhouseqld.com.au/
Location: 277 Wellington Street, Ormiston, QLD 4160
The Ormiston House is in the heart of the Redlands, considered to be one of the finest pieces of colonial architecture in Queensland. Built in 1862 by Hon. Captain Louis Hope, it's known to be the birthplace of the Australian Sugar Industry.
Hope built the very first sugar crushing mill in Queensland in 1864, and in September that year, the region's first commercially milled sugar was produced there.
The property also contained a slab hut, a structure that survived through the years. However, other structures such as the sugar mill, a tramway, wells and waterholes, barn, stockyard, salt pans, water tanks, and a jetty no longer remain.
The beautifully restored home sits in a sprawling garden overlooking Moreton Bay. Louise Hope also designed the gardens for both native and exotic plants to thrive, which include a variety of fruit-bearing plants.
The Ormiston House Restoration Association was established in 1967, wherein they assigned a sub-committee dedicated to researching and restoring the heritage gardens. Today, the garden maintains both its horticultural and historic significance.
Inside the Ormiston House, you'll step back in time into the early colonial era with interiors that showcase simplicity and elegance. It features a high ceiling, fireplaces, wide verandas, and decorative lights – a perfect setting for high tea!
And speaking of high tea, they also serve tea on the veranda for $8. They're open every Sunday from 12pm – 4pm, while entrance fee is $8 for adults and $5 for kids.
Pro Tip: 
• If you wish to schedule a visit for your family or group of friends, weekday tours are available as well. The tours are priced at $8, while you can enjoy Devonshire Tea for $16. 
• The Ormiston House can also host private functions such as birthday parties, baby showers, bridal showers, or meetings. High Tea for 15 or more people is $40 per person. 
Parliament House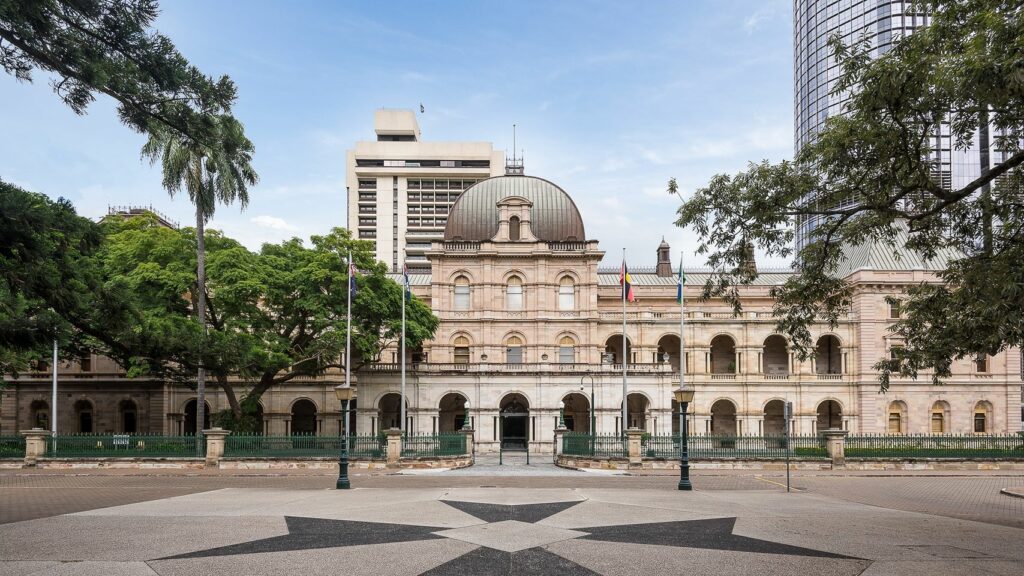 Website: https://www.parliament.qld.gov.au/
Location: 2A George St, Brisbane City QLD 4000
The iconic Parliament House in Brisbane on the corner of George and Alice Streets in the CBD, is a premier heritage building with a rich history. The masterfully reconstructed building is a testament to Queensland's past and present.
It was built in 1868 and showcases Queensland's history as it plays a significant role in the state's legislative process. The Queensland Parliament is still Australia's only remaining state parliament without an Upper House.
The Parliament House stood witness to significant political events, legislative debates, and the evolution of Queensland's political landscape throughout its history.
You can step into the heritage building and watch the sessions of the Queensland State Parliament from the visitor's gallery where you can also take a free guided tour.
The building is just right next to the Queensland University of Technology and has a gorgeous view of the City Botanic Gardens. So it's a perfect place to take a historic and nature walk into neoclassical halls and amidst lush greenery.
Pro Tip:
• Don't forget to bring a government-issued ID on your visit as it's required upon entry to the building. 
Old Government House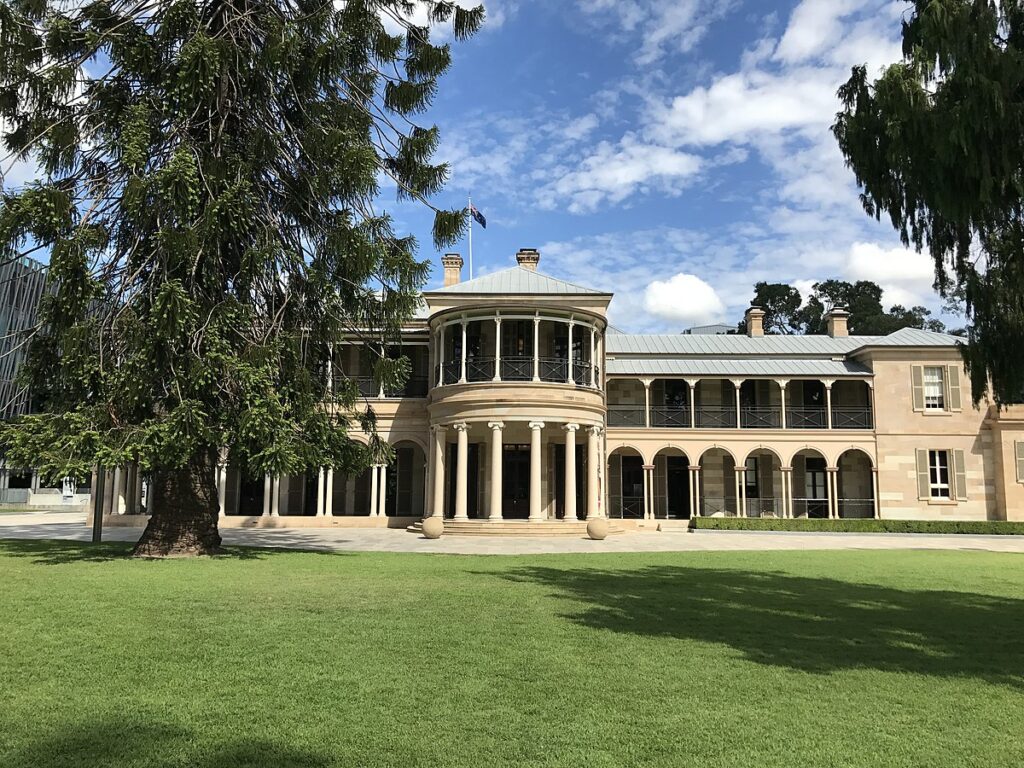 Website: https://www.ogh.qut.edu.au/
Location: 2 George St, Brisbane City QLD 4000
The Old Government House offers a glimpse of the region's colonial past, situated at Gardens Point within the grounds of the Queensland University of Technology.
In 1859, when Queensland separated from New South Wales, one of the new Parliament's first acts was to provide a "fitting home" for the first governor of the colony.
The structure would also act as an official governmental office. In Brisbane's early days, it was a prominent center of colonial life.
Charles Tiffin was the architect who designed the building in 1960 and implemented a number of adjustments to the Greek revival style to better adapt to the Brisbane climate.
Tiffin played a pivotal role in Australia's Victorian-era architecture and continued to work on designing over 300 public buildings in Queensland. Joshua Jeays, a Leicester-born carpenter who went on to become a developer, an alderman, and mayor of Brisbane, built the house and it received much praise upon its completion in May 1862.
Beyond its main function as the governor's residence, the Old Government House held a significant position in the early days of the colony.
The building's majestic architectural design and prominent location made a striking spectacle for those arriving by ship. It also stood as a remarkable testament for the colony's potential for prosperity.
The Old Government House was first occupied by Queensland's first governor, Sir George Bowen and his family. Over a period of nearly 50 years, a total of eleven governors and their families lived in the vice-regal residence.
Pro Tip: 
• Admission is free at the Old Government House and visiting hours are Tuesdays to Fridays at 10am to 4pm and Sundays at 10am to 2pm. 
• You can also request for a guided tour every Tuesday, Thursday, and Friday from 10:30am. These guided tours are free but make sure to book early as slots are limited. 
Government House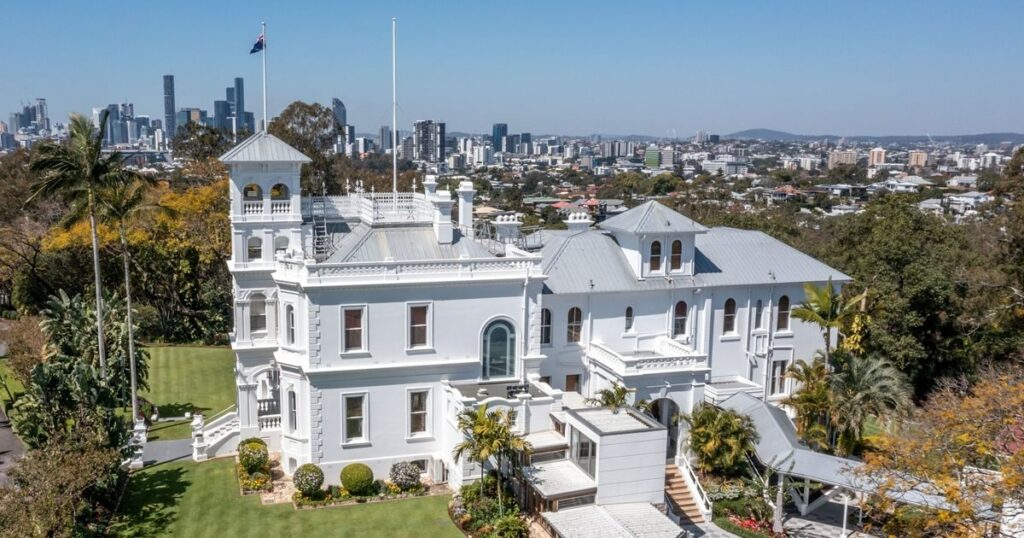 Website: https://www.govhouse.qld.gov.au/government-house/visit-government-house
Location: 168 Fernberg Rd, Paddington QLD 4064
The Government House, also known as the "Fernberg" (or distant mountain in German) was one of the earliest houses built in the Paddington area.
This stately mansion situated on a hill is one of Brisbane's most distinctive buildings with its Italianate style of architecture and elegant facade.
In 1909, the Queensland Government decided that a new and larger government house should be built. While construction of the new government house was underway, a search to find temporary accommodation for the Governor began.
The Fernberg in Paddington was selected for a three-year lease in 1910, but the Queensland Government decided to purchase the property with 41 acres of land.
Thus, the construction at Victoria Park was discontinued and Fernberg became the Queensland Governor's official residence up to the present time. It also serves as a shining symbol of the State's rich culture, history, and prestige.
Surrounding Fernberg are heritage-listed gardens that are steeped in history and culture, as well as environmental significance. The grounds consist of 10 hectares of formal gardens and remnant original bushland, along with a small vegetable patch.
The grounds, surrounded by flora of historical and botanical significance, have served as a venue for functions and events at Government House for over 100 years.
Today, Queenslanders and visitors can enjoy its sprawling greenery as the gardens are carefully maintained by the Office of the Governor's dedicated horticultural staff.
Pro Tip: 
• You can book a free guided house tour (February to December) and garden tour (May to September) of the Government House here.
• You might also meet the Governor during the tour! Take note that the governor should be addressed as "Your Excellency" when there's an opportunity for a greeting. 
---