Categories >
Other Services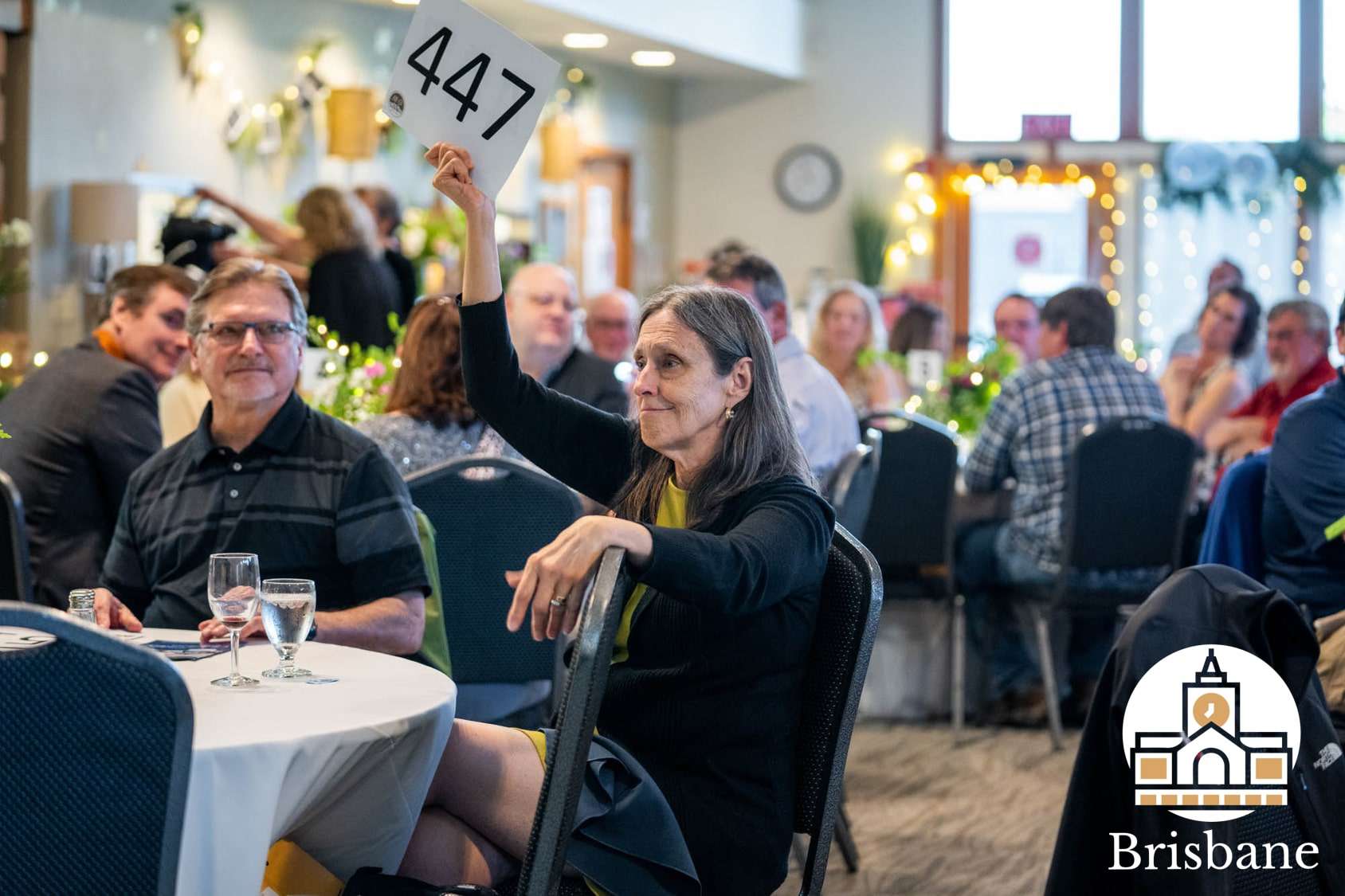 5 Best Auction Houses in Brisbane
Our Criteria for the Best Auction Houses in Brisbane
1. Apollo Auctions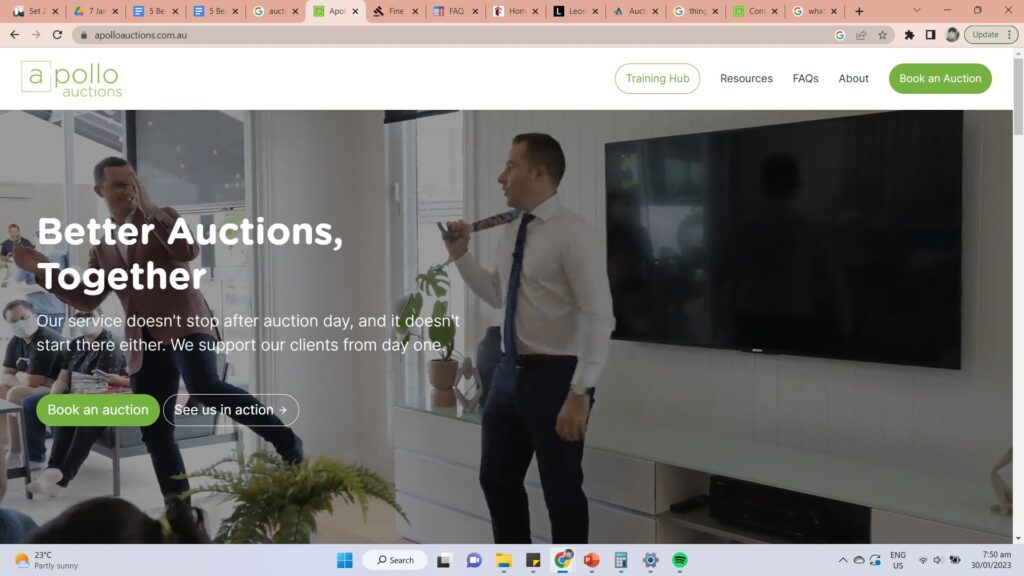 Services: Property Auctions, Buy & Sell, Auction Competition, Monthly Auction Report, Trainings for Auctioneers & Real Estate Agents
Website: https://apolloauctions.com.au/
Address: PO Box 588 Sandgate QLD 4017
Contact Details: office@apollopg.com.au / 0488 588 455
Operating Hours: Monday – Friday, 8:30am – 5pm
| | |
| --- | --- |
| Google reviews score | 4.9/5 |
| Facebook reviews score | 5/5 |
| Total reviews | 4.8/5 |
| Score consistency | 4.9/5 |
| | |
| --- | --- |
| Auction Items | 5/5 |
| Services | 5/5 |
| Quality | 5/5 |
| Customer Service | 5/5 |
Only independent auctioneering company that organizes auctioneering competitions
Guarantees professionalism and integrity 
Pest and building inspection should be done before auction day
No registered bidders at times
Apollo Auctions is one of the best auction houses in Brisbane as they provide other services apart from buying and selling. They auction real estate properties with a team known for their dynamism and experience.
They're an independent auction house with locations in Australia and New Zealand. And what's interesting is, they're the only independent auctioneering company that stages annual auctioneering competitions that aim to test the skills of participants.
If you're an aspiring auctioneer, this is the perfect platform to challenge yourself and develop your skills. Qualified judges are there to provide feedback on areas that need improvement.
Apart from their annual competition, you'd be confident that auctioneers at Apollo are some of the best and most professional ones out there as they undergo expert training.
Being an auction house for real estate properties, it's good to know that they also provide training for real estate agents.
So if you're looking to buy or sell your property at an auction, we think you're going to be in good hands with Apollo Auctions.
If you're seriously considering a property, we also recommend that you organize a pest and building inspection before auction day so you won't have to worry about any issues once you successfully win a bid.
2. Pfeffer's Auctions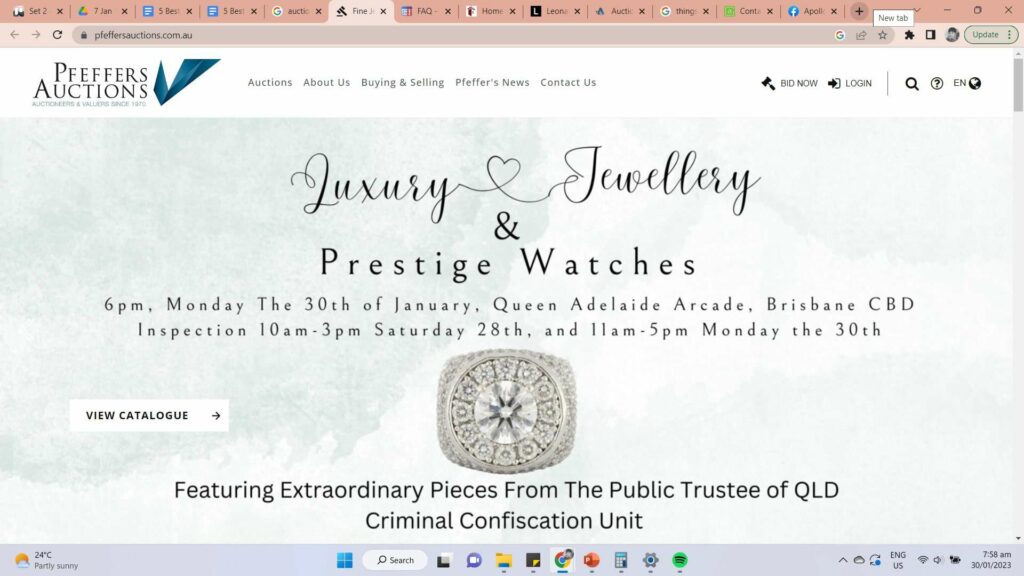 Services: Jewelry, Antiques, and Collectables Auctions
Website: https://www.pfeffersauctions.com.au/
Address: Shop 9-10, Queen Adelaide Building, 90-112 Queen St., Brisbane, QLD 4000
Contact Details: info@pfeffersauctions.com.au / 07 3210 0029
Operating Hours: Monday – Friday, 9:30am – 5pm; Saturday, 9:30am – 4pm
| | |
| --- | --- |
| Google reviews score | 4.6/5 |
| Facebook reviews score | 4.6/5 |
| Total reviews | 4.2/5 |
| Score consistency | 5/5 |
| | |
| --- | --- |
| Auction Items | 5/5 |
| Services | 5/5 |
| Quality | 5/5 |
| Customer Service | 5/5 |
Over 40 years in the jewelry auctions industry
Website is complete, detailed, and up-to-date with auction catalog and schedule
Online, phone, and absentee bidding are accepted
80 – 100 lots are auctioned per hour, so it's best to check website or visit before auction day
Street parking only onsite
An exceptional choice if you're looking for jewelry auctions is Pfeffer's Auctions. They're a family owned and operated business specializing in jewelry, antiques, and collectables for over 40 years.
We think they're a well-trusted auction business with Shane Pfeffer and his son at the helm. Shane began his auctioneering career in the 1960's.
They sell a diverse selection of jewelry pieces such as engagement and dress rings, gold and silver, luxury watches, antique treasures, and unique bespoke pieces.
It's great that every piece can be inspected before auction day so buyers can browse through the catalog and see which pieces are worth bidding for. This is also critical for buyers so they'd see first-hand the quality and authenticity of the items.
We also love that their website has an up-to-date auction catalog and schedule, which includes information on each item. The conditions of sale are also specified, so it's a really useful tool for bidders.
If you can't make it to the auction day onsite, you have the option to bid online or via phone. Absentee bidding is also accepted.
And if you're planning to bid onsite, it's best to check their website and visit before auction day as every event is action-packed with 80-100 lots being auctioned per hour.
3. McDonald Auctions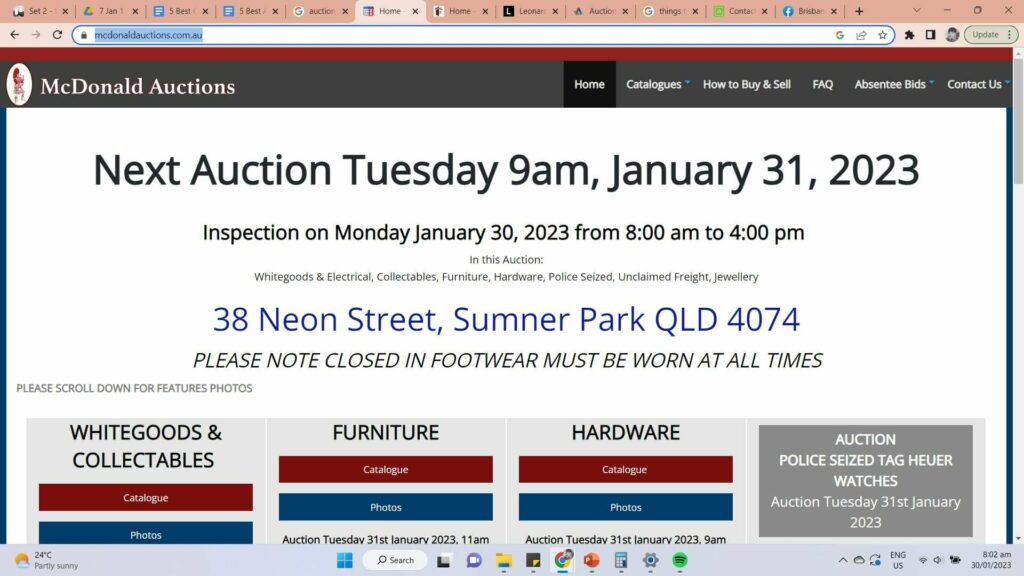 Services: Whitegoods & Collectables, Electrical, Furniture, and Jewelry Auctions
Website: https://www.mcdonaldauctions.com.au/
Address: 38 Neon Street, Sumner Park QLD 4074
Contact Details: 07 3376 0016
Operating Hours: Monday, 8am – 4pm; Tuesday – Thursday, 8am – 4:30pm; Friday, 8am – 2pm
| | |
| --- | --- |
| Google reviews score | 4.6/5 |
| Facebook reviews score | 0/5 |
| Total reviews | 4.2/5 |
| Score consistency | 4.6/5 |
| | |
| --- | --- |
| Auction Items | 5/5 |
| Services | 4.5/5 |
| Quality | 4.7/5 |
| Customer Service | 4.8/5 |
Diverse selection of products auctioned every Tuesday
Fixed schedule weekly for inspections, auctions, transport and delivery of goods
Doesn't provide transportation/delivery services
Website does not contain detailed product information
If you're looking for furniture, white goods, and hardware at affordable prices, then McDonald Auctions is a great choice.
They have a diverse assortment of items that you can buy or sell. Worthy of note is that they also buy and sell jewelry as well as police seized and unclaimed freight items.
Keep in mind, though, that they charge 22% commission for every item sold, plus a $5 handling fee.
If you need to transport large items, you'll have to hire someone or move them on your own as they don't have transport or delivery services available.
But we like that they have a fixed schedule weekly. Item inspections for buyers are on Mondays, auction days are Tuesdays, while goods to be sold should be delivered by Wednesday or Thursday and will be up for auction on the next available Tuesday.
If you're the successful bidder, take note that a 15% buyer's premium would apply to your purchase and full payment should be settled by 4pm on the auction day.
We also recommend maximizing their scheduled inspection every Monday to see the items first-hand.
While their website also features a product catalog, it doesn't include photos and only shows a list with a one-liner info about each product.
So it's best to follow their scheduled inspections so you'd be sure about placing your bids.
4. Roxbury's Auction House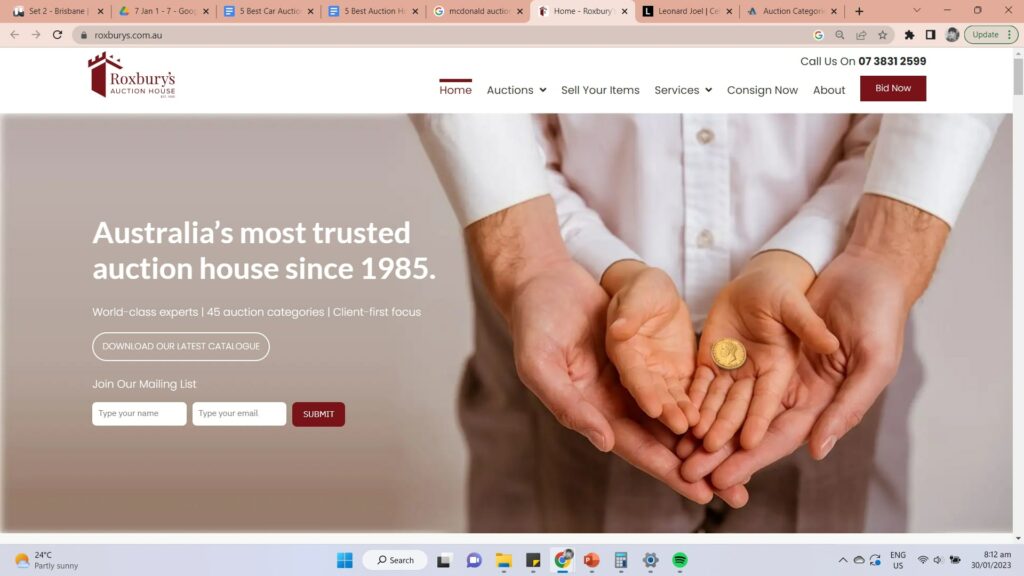 Services: Antiques, Cards & Stamps, Coins & Banknotes, Collectables, Jewellery & Luxury Brands, Medals & Militaria, Vault Services, Valuations & Appraisals, Estate Management, Grading Services
Website: https://roxburys.com.au/
Address: 8/576 Kingsford Smith Drive, Hamilton Brisbane QLD
Contact Details: +61 7 3831 2599
Operating Hours: Monday – Friday, 9am – 5pm; Saturday – by appointment
| | |
| --- | --- |
| Google reviews score | 4.9/5 |
| Facebook reviews score | 5/5 |
| Total reviews | 3/5 |
| Score consistency | 4.9/5 |
| | |
| --- | --- |
| Auction Items | 5/5 |
| Services | 5/5 |
| Quality | 4.8/5 |
| Customer Service | 4.8/5 |
Comprehensive range of services beyond auctions
Perfect for numismatic collectors and antique enthusiasts
Free app available for download for online biddings
App needs some improvement on features and info
Some instances wherein scratches on coin were not disclosed
Roxbury's has been a trusted auction house since 1985 with world-class auctioneers and services beyond auctions.
Apart from buying and selling, it's quite impressive that they also offer grading services, vault services, shipping and transportation, valuations and appraisals, consignments, as well as estate management.
We recommend their collection of auction pieces for serious treasure hunters and antique enthusiasts.
They have a myriad of rare and valuable pieces that are sure to capture a keen collector's eye. This includes antique pieces, jewelry and luxury brands, cards and stamps, coins and banknotes, historical memorabilia, and medals and militaria.
Meanwhile, if you're looking to sell some items but unsure about their value, Roxbury's has some of the best valuation and appraisal experts.
What's great about them is that they provide comprehensive services and tailor their approach depending on the client's needs. They also provide expert advice on how to manage your assets effectively in order to maximize returns.
Additionally, it's very convenient that they have an app available for free that you can use to bid wherever you are.
However, some customers pointed out that the app lacks some features such as tracking of shipping and information on the lots that were won.
5. Leonard Joel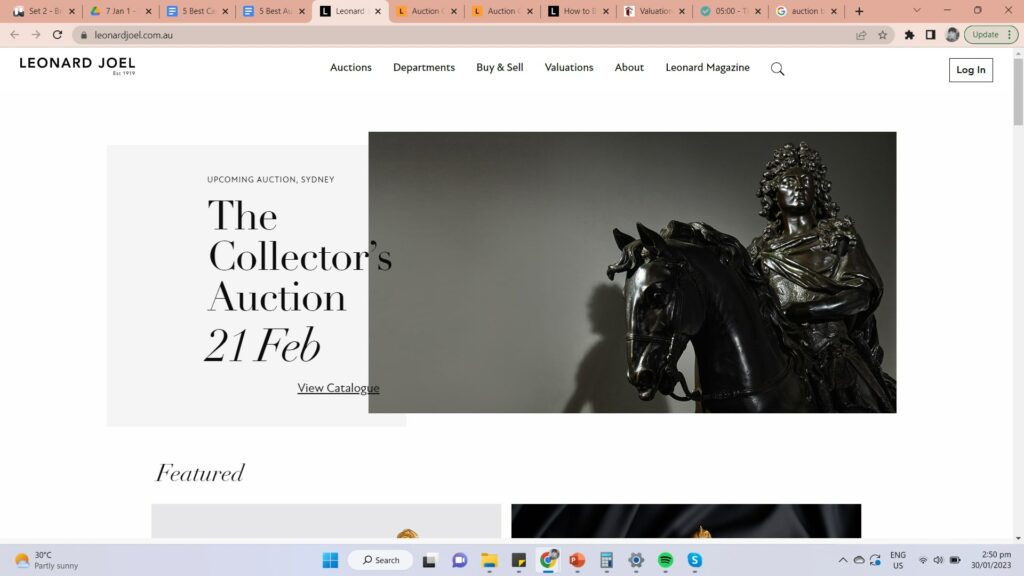 Services: Art, Collectables, Decorative Arts, Jewelry, Luxury, Modern Design, Buy & Sell, Valuations
Website: https://www.leonardjoel.com.au/
Address: 201 Latrobe Terrace, Paddington QLD 4064
Contact Details: info@leonardjoel.com.au / +61 412 997 080
Operating Hours: Wednesday – Friday, 9am – 5pm
| | |
| --- | --- |
| Google reviews score | 5/5 |
| Facebook reviews score | 3.7/5 |
| Total reviews | 5/5 |
| Score consistency | 3.7/5 |
| | |
| --- | --- |
| Auction Items | 5/5 |
| Services | 4.8/5 |
| Quality | 4.7/5 |
| Customer Service | 4.5/5 |
Great auction house for collectors and designers
Premier auction house since 1919 with some of the rarest collections
Website is complete with auction schedule and item details
Viewings and auctions are usually either in Sydney or Melbourne
Some reports of poor management at other locations
25% buyer's premium
Another excellent choice for discriminating collectors is Leonard Joel which has been around for more than a century.
Established in 1919, Leonard Joel is a premier auction that houses some of the rarest pieces of jewelry, timepieces, fine art, prints and multiples, modern design and more.
They're also well-known for The Auction Salon which showcases over 1,000 lots every week. You can check the auction calendar on their website for the updated schedules.
However, viewing and auctions will either be at their Sydney or Melbourne showrooms. But they have a Brisbane office in Paddington if you wish to make inquiries or if you're looking to consign items for auction.
Their premier auctions attract a broad market of buyers and sellers, from collectors to interior designers.
They have a website that's easy enough to navigate wherein you can view items that include an estimated value, detailed description, and photos.
Information on the schedule and viewing and auction venue are also provided. We also find it convenient that online, phone, and absentee biddings are also allowed.
If you're a successful bidder, take note that the buyer's premium is 25% for every lot sold, which is higher than most.
Another thing that customers shared is that the management at their other locations need to be improved as they've experienced poor communication and handling.
FAQs About Auctions
---
That wraps up our list of the best auction houses in Brisbane! From real estate and electronics to fine jewelry, art, and collectables, there's definitely plenty of interesting finds!
---