Categories >
Construction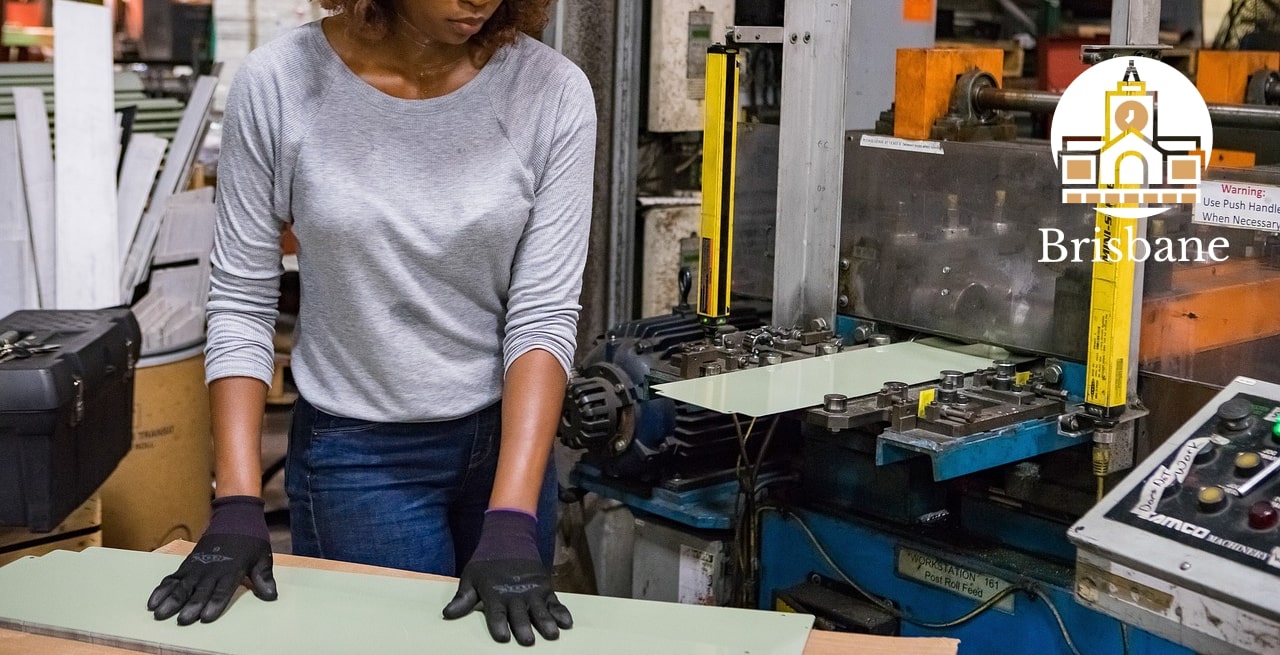 5 Best Steel Fabrication in Brisbane
How We Picked the 5 Best Steel Fabrication in Brisbane
1. Metallon Steel Fabrications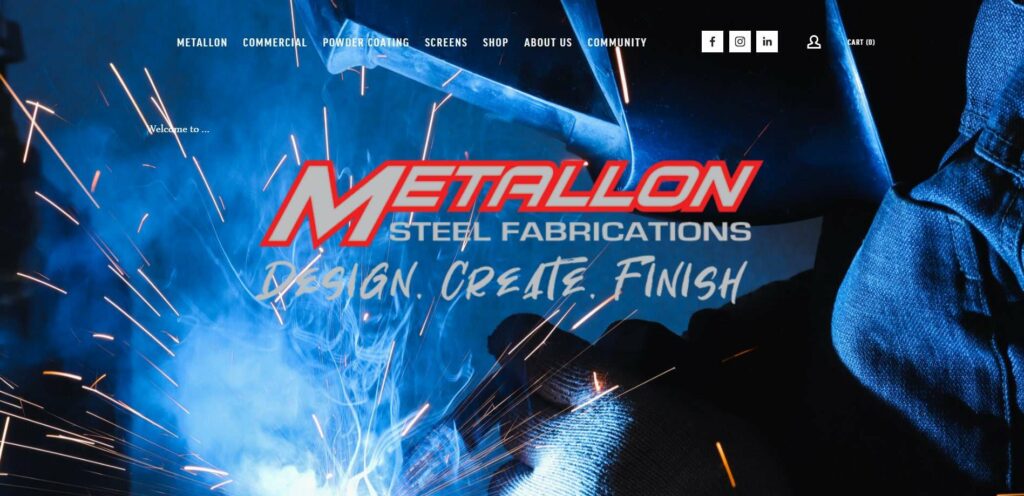 Services: Light and Heavy Fabrication, Steel Processing, Guillotine Cutting, Sheet Metal Fabrication, Aluminium and Stainless Steel Welding, Restaurant Fitouts
Website: https://www.metallonfab.com.au/
Address: 32 Terrence Rd, Brendale QLD 4500, Australia
Contact Details: (61) 7 3865 7865
Operating Hours: Monday – Friday: 7:00 AM – 4:00 PM
| | |
| --- | --- |
| Google reviews score | 4.9/5 |
| Facebook reviews score | 5/5 |
| Total Reviews | 4.75/5 |
| Score consistency | 4.8/5 |
| | |
| --- | --- |
| Location | 4.75/5 |
| Expertise | 5/5 |
| Quality of Products | 4.75/5 |
| Flexible Costing | 4.75/5 |
| Communication | 4.5/5 |
Has a wide range of fabrication services
Uses up-to-date machinery
Busy phone lines
No response if you get a quote online
If you're looking for a company that can handle both small and big projects, we recommend Metallon Steel Fabrications. It's a family-owned business so you can expect a friendlier and more personal approach when dealing with the company.
Metallon is kind of difficult to contact because lines seem to be a little too busy at times, but once you're able to connect, you'll immediately feel welcome. The customer service representative is warm and friendly, allowing you to ask questions without hesitation.
We think you'll love how quick the guys at Metallon work. Projects are always done meticulously (their attention to detail is outstanding), even the custom-made ones, and are delivered promptly on time.
The company's prices are reasonable and can suit all types of budget. Metallon is willing to adjust to the client's needs, so feel free to inform the company how much you can spend.
Metallon also offers a wide range of fabrication services, which means they can cater to several types of clients. In fact, to your convenience, it has all the services you might need for your next structural projects.
Metallon also prides itself for using up-to-date machinery. As a client, this gives you peace of mind because using modern equipment in projects means all of its products are high-quality.
2. Metro Steel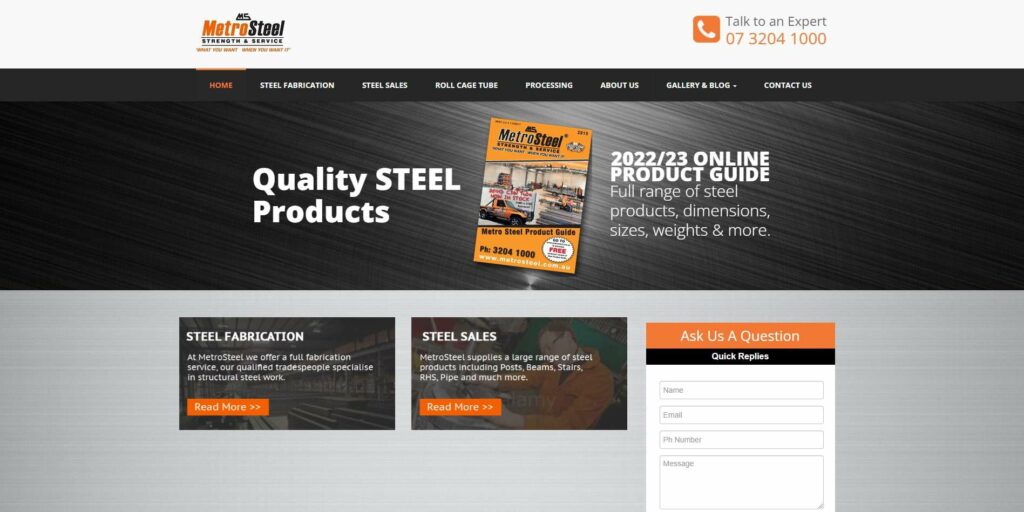 Services: Steel Fabrication, Steel Processing
Website: https://www.metrosteel.com.au/
Address: 109 Kabi Cct, Deception Bay QLD 4508, Australia
Contact Details: (61) 7 3204 1000
Operating Hours: Monday – Friday: 7:30 AM – 4:30 PM
| | |
| --- | --- |
| Google reviews score | 4.7/5 |
| Total Reviews | 4.25/5 |
| Score consistency | 4.5/5 |
| | |
| --- | --- |
| Location | 4.5/5 |
| Expertise | 4.75/5 |
| Quality of Products | 5/5 |
| Flexible Costing | 4.75/5 |
| Communication | 4.75/5 |
Accommodates projects with tight deadlines
Can make anything for you as long as its steel 
Might need consistent follow up about requested quote
Might be difficult to arrange deliveries schedule suited with your schedule
Metro Steel's metal solutions are top-tier, the reason why it's considered as one of the best steel fabrication companies in the area. The company has already acquired small and big clients, which gives you an idea about the quality of their services and products.
We think you'll appreciate that the company can fabricate anything as long as it's steel, which is pretty much what you're looking for in a steel fabrication company. It means the company always tries to provide what you need as much as it can.
You'll also love that Metro Steel accepts projects with tight deadlines. It will find a way to accommodate you in its already tight schedule so you'll be able to meet your own deadlines as well.
Metro Steel offers same-day delivery services in most cases, which is extremely helpful if you're far from the area. But since the products and services are highly in-demand, you might have some difficulty booking a schedule in line with yours.
The company needs to improve its speed when it comes to providing requested quotes since some clients need to consistently follow up to get them. But other than these little mishaps, Metro Steel is a pretty good company to bring your business to.
3. iFab Steel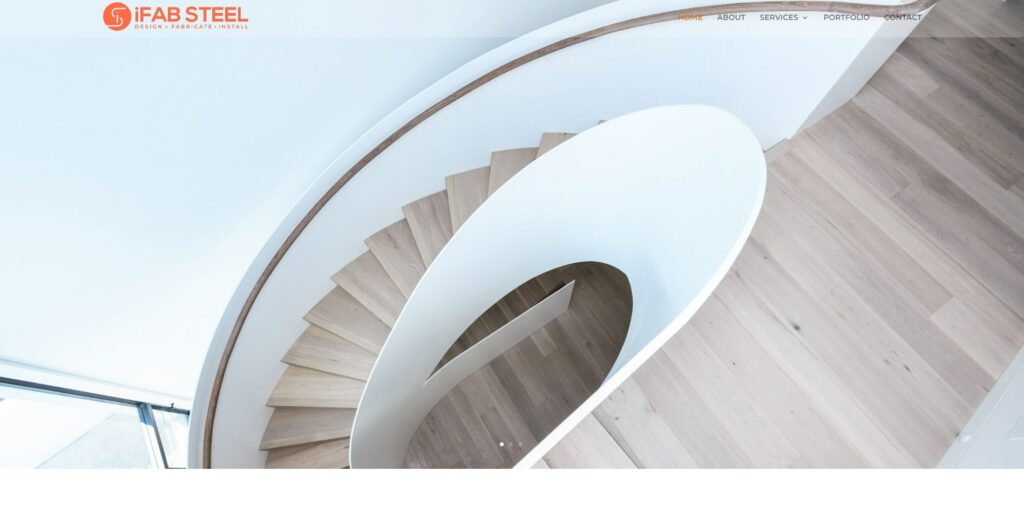 Services: Steel Design, Steel Fabrication, Steel Installation
Website: https://www.ifabsteel.com.au/
Address: 15 Ada St, Coopers Plains QLD 4108, Australia
Contact Details: (61) 7 3706 0767
Operating Hours: Monday – Friday: 7:00 AM – 4:00 PM
| | |
| --- | --- |
| Google reviews score | 5/5 |
| Total Reviews | 4.75/5 |
| Score consistency | 4.8/5 |
| | |
| --- | --- |
| Location | 4.75/5 |
| Expertise | 5/5 |
| Quality of Products | 5/5 |
| Flexible Costing | 4.5/5 |
| Communication | 4.5/5 |
Uses augmented reality software the design
Several options for any type of budget
Lack of information on website
So many clients 
What we think makes iFab Steel special is its augmented reality software, which allows the team to tweak designs in real time. It's a next-level design process that, for us, makes it easier for the end products or projects to be visualized by clients.
Another advantage of using this type of software is that it has the ability to create really beautiful designs. iFab's clients appreciate how they're given several design options regardless of the budget they have so they can choose which suit their tastes.
We think you'll also appreciate the company's safety-first policy. This way, you're assured that their steel solutions are always made with the clients' safety in mind, so the quality is foolproof and long-lasting.
This is one of the reasons why clients keep coming back to them. In fact, some of those clients went to them for personal needs, but came back to hire them for their commercial needs.
The company has so many clients that you'll probably find yourself lining up to get their services. It might be a little inconvenient on your part, but the satisfaction you'll get for your requirements is pretty much worth the wait.
We notice though that the website lacks a little more information about what the company can really provide. If you want to know what iFab Steel can really do for you, it's best to call them or visit them.
4. Rockpress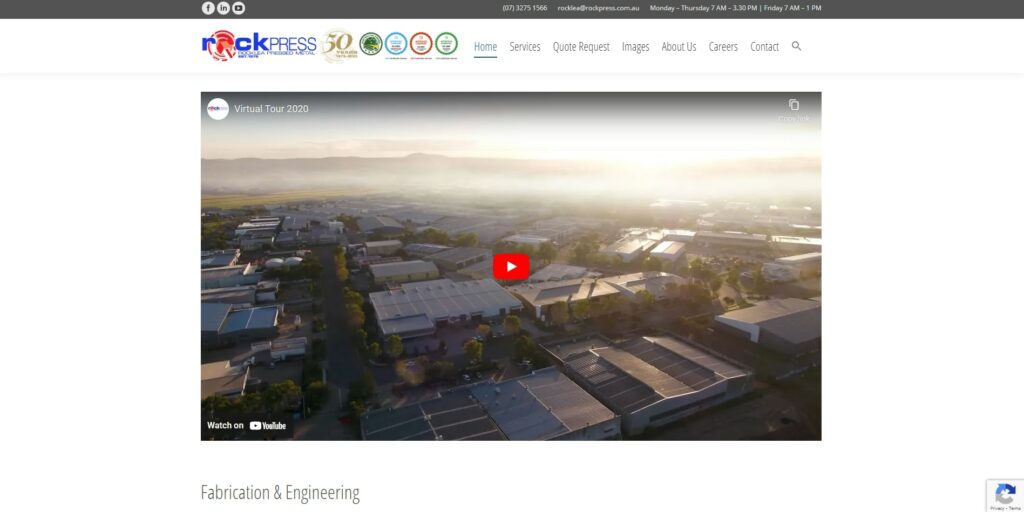 Services: Sheet Metal Fabrication, Heavy Fabrication, Cad/Cam Drafting
Website: https://www.rockpress.com.au/
Address: 37 Colebard St E, Acacia Ridge QLD 4110, Australia
Contact Details: (61) 7 3275 1566
Operating Hours: Monday – Thursday: 7:00 AM – 3:30 PM; Friday: 7:00 AM – 1:00 PM
| | |
| --- | --- |
| Google reviews score | 4.5/5 |
| Total Reviews | 4.5/5 |
| Score consistency | 4.5/5 |
| | |
| --- | --- |
| Location | 5/5 |
| Expertise | 5/5 |
| Quality of Products | 5/5 |
| Flexible Costing | 4.75/5 |
| Communication | 4.25/5 |
Commitment to protecting the environment
Keen attention to details
Doesn't meet deadlines at times
Misses pieces on a large order
There are several things that make Rockpress one of the top steel fabrication companies in Brisbane. But what makes it special is what it does outside of its business–Rockpress helps protect the environment with its supportive efforts.
We all love a brand with an advocacy, and a company that helps protect the environment is one thing you can appreciate. As a client, it'll be more satisfactory on your part to hire the services of a company that knows its responsibilities.
In addition to this, Rockpress is known to cater to everything its clients need even up to the smallest details. Clients love that the company has the right equipment and tools to do so, which makes it easier to deliver the exact end-products the clients want.
We only find a couple of improvements the company needs, one of them not being able to meet deadlines at times. This is understandable, and the company always tries to do something about it, but clients will appreciate it if the deadlines are met at all times.
Another one it can improve on is how it organizes large orders as there are some pieces missing at times. However, as long as Rockpress is informed, it immediately fabricates the missing piece and sends it on time–just shows how much it values its customers.
5. Earlybird Steel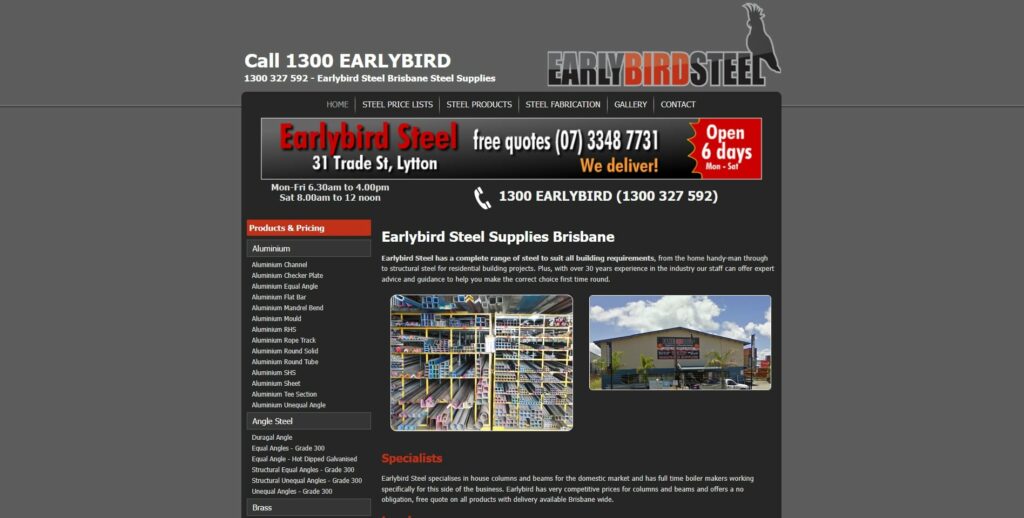 Services: Steel Fabrication
Website: https://earlybirdsteel.com.au/
Address: 31 Trade St, Lytton QLD 4178, Australia
Contact Details: (61) 7 3348 7731
Operating Hours: Monday – Friday: 6:30 AM – 4:00 PM; Saturday: 8:00 AM – 12:00 PM
| | |
| --- | --- |
| Google reviews score | 4.4/5 |
| Total Reviews | 4.25/5 |
| Score consistency | 4.3/5 |
| | |
| --- | --- |
| Location | 4.5/5 |
| Expertise | 4.5/5 |
| Quality of Products | 4.5/5 |
| Flexible Costing | 5/5 |
| Communication | 4/5 |
Offers free quotations
Opens 6 days a week
Occasional mistakes in delivery location
Some of the staff are not knowledgeable about the products
Earlybird Steel offers free quotations, so you can get your costings for free without committing to the company yet. This will allow you to assess first if the company is what you really need for your personal or commercial requirements.
You can also see the prices on the website so you'll have an idea about the cost of everything. Still, it pays to double check by calling or emailing just to be sure.
Speaking of prices, most clients love how lower the company's prices are compared to other suppliers. The quality isn't sacrificed despite the low-cost rates, which is why many locals keep coming back to get their steel products from Earlybird.
Earlybird Steel is open during Saturday, which is a plus when you're too busy to inquire during the weekdays. This gives more flexibility, at least on the client side, since not everyone can afford to set aside time during weekdays.
One problem we see though is that some of their staff lack training about the products and services that they sometimes make mistakes in recommendations to clients. The company should train them more to avoid inconvenience to customers.
You might have to brace yourselves for occasional mistakes in delivery locations, which has been an issue with some clients. White it is bothersome, Earlybird Steel makes sure to rectify its mistakes immediately, so you'll still get your products on time.
FAQs About Steel Fabrication
---
And our list ends here! We hope our little review will help you decide on which steel fabrication company suits your needs. It's still best to check them out one by one so you can ask for more details and clarify information you need to clarify.
---