Categories >
Guides and Tips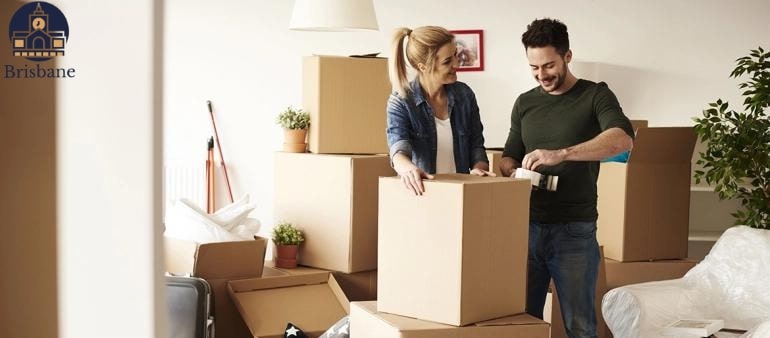 Moving Interstate Checklist: How to Plan Your Move
Moving houses, especially when transferring to a different state, can be considered as one of the most stressful life events. For most of us, it is a time-consuming process, which requires thorough planning and patience.

Luckily, there are plenty of ways to make this difficult task a whole lot simpler. As with any tedious task, preparation is key.
What's the best way to plan a move?
Since there are a lot of things to consider, putting up a checklist is the best way to make sure everything will be covered. Not only should you consider the actual moving process, but you'll need to make preparations for the time before and after the big day as well.

In this article, we will help you simplify the process to avoid further stress along the way. We'll walk you through the essential things to take note of and we'l'l also dicuss how much this might all cost.

With that said, if you're ready, let's get moving! 
Before the Move
One good way to prevent stress from building up is by planning at least two months before you move to your new home. Here are some suggestions:
Research the new neighbourhood remotely
Naturally, it is ideal to research more about the location and neighbourhood of your new state to find more information. On top of that, gather some tips on how to navigate the new city safely, as well as improve your sense of direction.
Visit the new state before moving
If possible, it is highly recommended to make at least one trip to your new state before the actual move. In doing so, you can get a glimpse of the location, including the different types of neighbourhoods in the area.
Gathering maps and brochures can also help in knowing what establishments, hotspots, and tourist attractions are near your new place.
Documentation and filing
Stay organised by filing all important moving-related documents, such as inventory documentation, utility documents, personal records, and receipts.
Make sure to keep them in a binder or bin with their proper labels so you can easily go through them whenever needed. Keeping a digital copy uploaded to your storage drive or the cloud is also recommended.
Create your inventory checklist
As you get near to your actual moving date, preparing a timetable will serve as a good guide for important tasks and dates.
Create a spreadsheet of all the things you need to move, sell, or donate.
Start with the things that you wanted to let go so you can start selling them on different online platforms. You can also go over the things that you would want to give away for free.
Set a budget
Moving interstate doesn't come cheap, but you can definitely avoid breaking the bank any further. Make sure to list all necessary moving expenses.
Also, remember to set aside a good amount of money for emergencies and other unexpected expenses.
Update postal details / cancel and update services
We all know that we use a lot of services such as water, electricity, and internet. Make sure to create a general list with their contact information.
Contact these service providers about the actual move to ensure that no further costs will be tabbed under your name,
Don't forget to notify the post office about your plan to move to another state by visiting your local post office or filling out the Australian Post mail redirection form online.
Choose the best removalist in the area
Moving to a new state can be hard, especially without the help of some professional movers. Make sure to check all the reliable and trustworthy movers in the area.
We recommend contacting at least three companies to review and compare their quotations and services.
Shop for packing supplies
It's important that you start purchasing moving supplies days before you pack your stuff at home. Make sure to buy sturdy boxes, packing tape, scissors, permanent markets, and even bubble wraps.
Protect your valuables
For jewellery and other valuables, it is recommended that you keep them in a safe box to avoid it from getting lost. You may also opt to give them to a trusted relative for safe keeping.
Plan your itinerary and moving schedule
Print your inventory checklist to ensure that everything is accounted for. Make sure to lock in a schedule with your chosen removalists who can help you with a more seamless and stress-free move.
Start packing
You can strategically pack your items on a per room basis. For instance, you may gather all kitchen items together, which can definitely contribute to a faster unpacking later on.
Make things more organised by assigning specific coloured boxes or coloured labels for each home section.
During the Move
Now that you're almost set to moving out, we've listed down some areas that you need to check before actually leaving your old place.
You may start doing these tasks at least 48 hours before the moving schedule.
Clean the fridge
Defrost and clean your fridge at least 24 hours before the actual move. Make sure to take out all leftovers to avoid spoilage, too.
Clean all empty rooms
Make sure to clean up all the rooms in your old house. You can opt to hire some cleaners to help you get the house neat before the removalists gather all your belongings.
Double check all boxes and packages
Check all the packages and boxes you've prepared and make sure they are properly labeled. Count all boxes and make sure to keep a list with you.
You may also align this list with your movers so they can keep this in check while moving.
Set aside one month of essentials
Possible delivery delays from the movers are possible due to weather, traffic, or other unforeseen factors. Hence, it's advisable to bring essentials such as clothes, medications, and personal care items with you.
Consider preparing a month-long worth of essentials, just to be on the safer side. Remember to also wear your most comfortable clothes during the move.
Final walkthrough
There's no harm in going over your checklist from time to time. In doing so, you are more confident that all tasks and items have been attended to.
On top of that, supervise your removalists and make sure to provide clear instructions so you can move efficiently.
After the Move
The journey doesn't stop once you've reached your new home. Good news is that you can expect a smooth unpacking process if you were able to tick all the boxes before and during the move.
You can start doing these tips so you can ease into your home day by day.
Double check all utilities
Check all utilities and supplies once you get into your new place. Check if the electricity, water, and internet are all working.
Unpack items
Once you have all the items from your movers, make sure to go over your masterlist with them to check if all your furniture and other precious items have been delivered.
Check if nothing has been damaged or misplaced before letting the removalists leave your place. Make sure to also check all electrical appliances if they are working properly.
Once you're satisfied with their service, you may start unpacking.
Invite good ventilation
It is recommended to air out your new place by opening the windows and doors. In doing so, you can invite good ventilation in your home.
Secure all important documents
Make sure to keep your receipts, contracts, and other important files in a safe place in your new home. 
Tips for Picking a Removalist
As we've previously mentioned, it's best to check from a list of reputable moving companies that can help you with a more seamless interstate move.
In this section, we've provided some tips that you should consider when choosing the right removalist for you.
Take note of how much you are moving
Before requesting the moving company to check your space for a quotation, make sure to create a list of major items in each section of your home.
Dimensions for larger items, such as living room appliances, kitchen equipment, as well as garage and outdoor items have to be taken into account as well.
Obtain 3 different quotations
Make sure to get at least three different cost estimates from various companies. Check for their list of services and provisions that will fit your moving requirements.
Check all other factors that can greatly impact the quotation, such as distance between pick-up and drop-off points, amount of items, and insurance.
Also, remember to not always go for the cheapest quotation. You don't want to risk your most-loved items with a company that has no good reputation.
Check for accreditations
This is the best way to check if the company has a proven track record. Check if the company is a member of the Australian Furniture Removalist Association.
This will tell you that the company ensures to meet the industry's strict guidelines in terms of interstate moving.
Storage provisions
You can't always control the timing of access to your new property. Hence, it's important to find moving companies that have secure storage provisions.
Make sure to check for short-term and long-term plans so you can prepare a proper budget for it.
Customer reviews
Aside from asking your colleagues or friends for recommendations, you may also check what the company's previous clients say about them.
For a more comprehensive and unbiased review, you may check our recommendations on the top removalists in Brisbane.
How much does it cost to move?
Since moving interstate is not something you do on a regular basis, you may be wondering how much of the budget you should be allocating for your big move.
On an average, removalists may charge around $5,850 for a moderate-furnished two-bedroom house.
To give you an idea, we've summarised the average costs for interstate moving from Brisbane to Sydney. Keep in mind that these are only average computations.
| | |
| --- | --- |
| Total Move Size | Amount |
| 0 – 10m3 | $1,350 |
| 10m3 – 15m3 | $1,750 |
| 15m3 – 22.5m3 | $2,600 |
| 22.5m3 – 30m3 | $2,950 |
| 30m3 – 37.5m3 | $3,800 |
| 37.5m3 – 45m3 | $4,150 |
| 45m3 – 52.5m3 | $5,000 |
| 52.5m3 – 60m3 | $5,350 |
Meanwhile, we've also checked the average cost of moving interstate from Brisbane to another city. This is based on a moderate-furnished two-bedroom house.
| | | | |
| --- | --- | --- | --- |
| From | To | Range | Average |
| Brisbane | Melbourne | $1,500 – $2,375 | $1,937 |
| Brisbane | Darwin | $4,275 – $6,750 | $5,512 |
| Brisbane | Perth | $3,525 – $5,500 | $4,512 |
| Brisbane | Adelaide | $2,625 – $3,825 | $3,225 |
| Brisbane | Hobart | $3,900 – $5,535 | $4,717 |
Other aspects such as the size and amount of furniture will definitely play a big role. To some, additional expenses for flights and accommodations have to be in full consideration, too.
| | |
| --- | --- |
| Item | Amount |
| Storage facility | $200 – $400 / month |
| Flights & accommodations | $1,200 – $3,500 |
| Balcony lifts / lowers | $250 |
| Special big items (i.e. pool tables, fish tanks, concrete table tops, gun cabinets) | $250 – $1,000 |
| Piano | $350 |
| Specific arrival / delivery times | $350 |
| Full insurance coverage | $2,000 for a $50,000 household value |
---
That's about it for our checklist on how to plan your move! We hope you got some handy tips to help you turn a tedious task into a much easier one.

Remember, making a checklist is the best way to handle a move, especially since there are a lot of "moving parts" involved, so to speak. So if you want to ensure a stress-free and foolproof experience, we highly suggest taking the time to write things down.