Categories >
Guides and Tips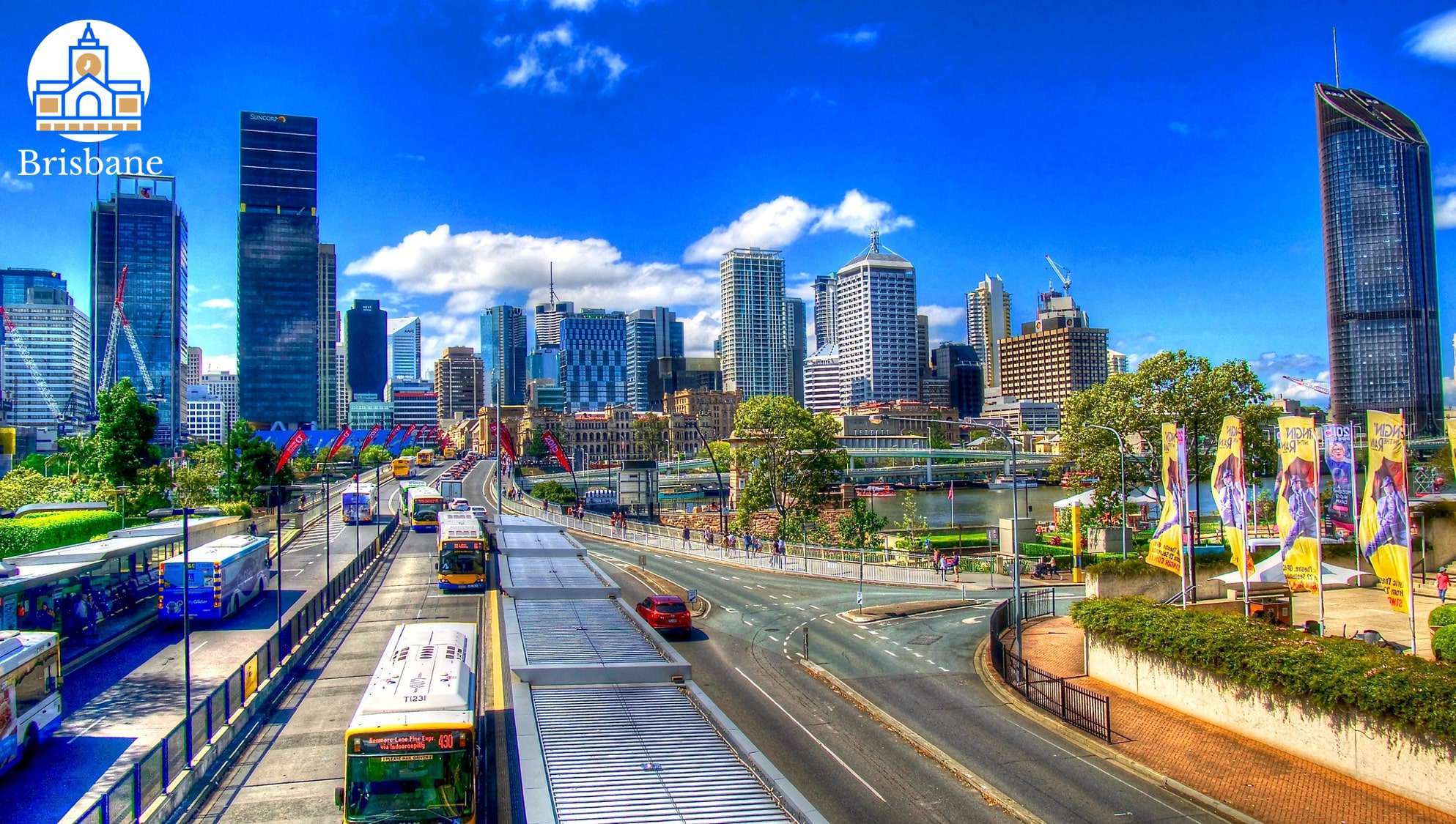 Complete Guide to Brisbane's Public Transportation
One of the top concerns for tourists and for someone moving to a new place would be, "how do we get around?" Luckily in Brisbane, we have lots of public transport options!
You can get around using Brisbane's extensive public transportation system that includes buses, trains, ferries, taxis, Uber, and bikes!
It's great that the city has a safe, convenient, and reliable transport infrastructure complemented by riverside views and lush greenery amidst the urban landscape. This makes walks truly enjoyable, too!
If you're planning on visiting or if you're thinking of making the move to Queensland's capital, it's important to know how to get from point A to point B and back.
To help you out, here's a complete guide to public transportation in Brisbane!
Go Card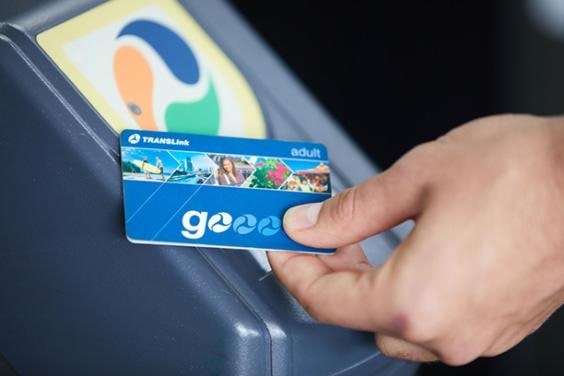 Commuting within, around, and outside of Brisbane is made more convenient and budget-friendly thanks to the Translink Go Card!
The Go Card is your access to quick and easy travel in Brisbane and South East Queensland whether by bus, train, tram, or ferry. It serves as your electronic ticket which you can conveniently top up and use on your trips.
You can search for the nearest retailers to load your card or you can also top up via phone call and online.
We recommend purchasing a card as it's also at least 30% cheaper than buying single paper tickets every time you take public transport.
When coming from the Brisbane airport, you can take the Airtrain using your Go Card as well.
It's also good to take note that you can get discounted fares with your Go Card at 20% off during non-peak hours.
Off-peak times are on weekdays from 8:30am to 3:30pm and 7pm to 6am the following day. This discount is also applicable on weekends (all day) and public holidays (all day).
Seniors also get free ride perks during off-peak hours as long as they have their senior Go Cards.
Currently, the Go Card can be used for traveling to and from Ipswich, the Redlands, Moreton Bay, Sunshine Coast, and the Gold Coast.
Free Transport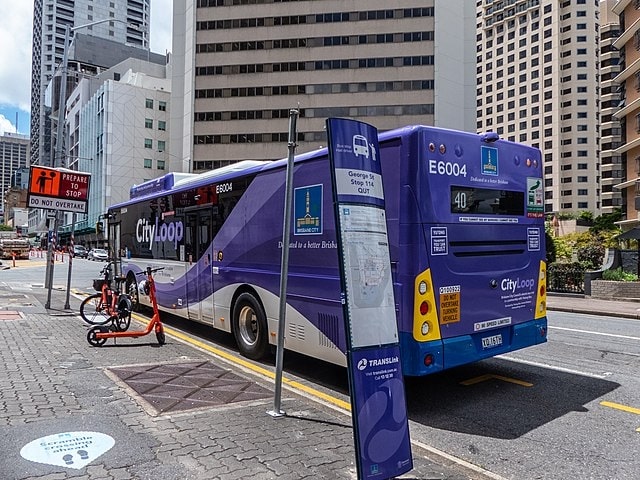 It's great that you can even save more through Brisbane's free transport offerings such as free bus rides through the City Loop, Spring Hill Loop, and South Brisbane Loop. You can also cruise down the Brisbane River for free through the City Hopper ferries.
The Brisbane City Council buses can easily be spotted through their corresponding bus stop signages with their assigned colors. Purple for the City Loop, yellow for Spring Hill Loop, and green for the South Brisbane Loop.
You can check out their approximate schedule below, as well as popular stops around the city that you might want to include in your itinerary.
ROUTE
SCHEDULE
POPULAR STOPS
City Loop
Route 40 (clockwise): Monday – Friday 7am – 6pm, approx. every 10 minutes
Route 50 (counter-clockwise): Monday – Friday 7am – 6pm, approx. every 10 minutes
• Stop 96A Alice Street near QUT (Queensland University of Technology)
• Central Station
• City Hall
• Botanic Gardens
• Queen Street Mall
• Riverside
Spring Hill Loop *
Route 30: Monday – Friday 6am – 9:15pm; Saturday & Sunday 7:56am – 9:15pm, approx. every 10 minutes
• Central Station
• Post Office Square
• St Andrew's War Memorial Hospital
• Brisbane Private Hospital
• Old Windmill Observatory
South Brisbane Loop **
Monday – Sunday, 10am – 11pm
• Queensland Theatre
• Davies Park
• Brisbane Backpackers Resort
• Brisbane State High School
• GOMA-Gallery of Modern Art
• South Bank
• South Brisbane Station
*
The Spring Hill Loop is part of a two-year trial by the Brisbane City Council
**
The South Brisbane Loop is part of a 12-month trial by the Brisbane City Council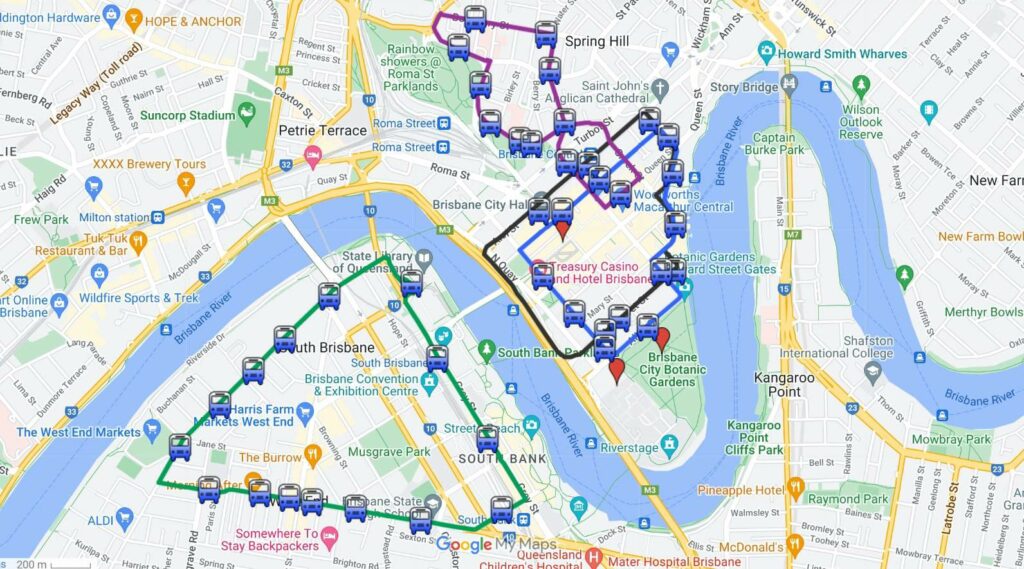 At the same time, the City Hopper offers free ferry rides to seven stops along the Brisbane River between North Quay and Sydney Street in New Farm.
You can catch the City Hopper every 30 minutes. It runs from Sunday to Thursday between 5:30am and midnight, and on Friday and Saturday evenings.
Buses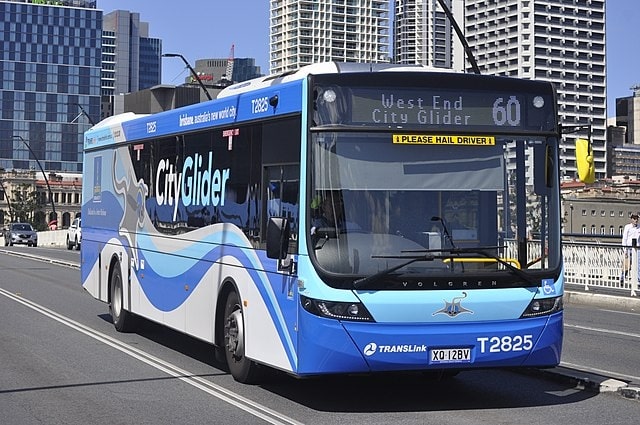 Buses are also a convenient and efficient way to get around the city and its surrounding neighborhoods.
You can expect high-frequency bus service from the CityGlider buses with routes that travel from West End to Teneriffe (blue), as well as Ashgrove to Coorparoo (maroon).
It's also convenient that the CityGlider buses connect you to Brisbane's busways and rails, CBD attractions, and new inner-city residential developments.
The CityGlider runs 24 hours on Fridays and Saturdays and 18-hour services from Sunday to Thursday.
Blue CityGlider Routes
Maroon City Glider Routes/Popular Stops
West End to South Brisbane via Montague Road, Mollison and Melbourne Streets
Across the Brisbane River on the Victoria Bridge
Through the city via Adelaide Street
Fortitude Valley, to or from Newstead, using Wickham and Ann Streets
• Ashgrove Village shopping precinct
• Caxton Street food and cultural precinct
• Coorparoo Square entertainment precinct
• Cultural Centre
• King George Square
• Langlands Park
• Paddington boutiques and cafes
• South Bank Parklands
• Stones Corner outlet shopping
• Suncorp Stadium
• The Gabba
(source: Brisbane City Council)
It's also worth noting that the Brisbane buses are easily accessible for all passengers with its low floors, wheelchair ramp, as well as designated spaces for two wheelchairs.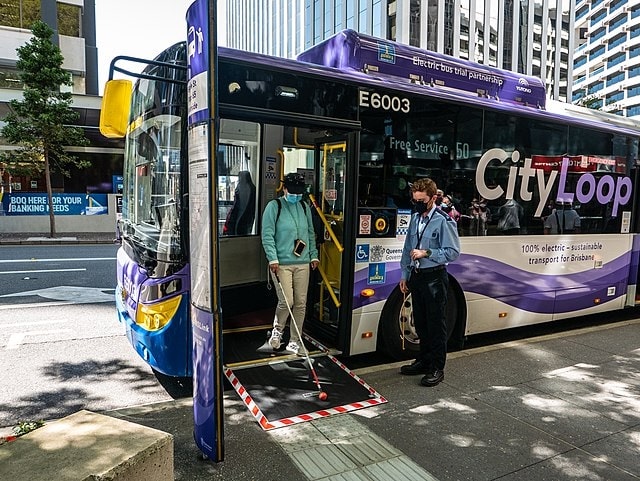 In addition, all buses are equipped with telephone services for visually impaired passengers who need assistance with Council bus services. They can be reached at 07 3403 8888.
Trains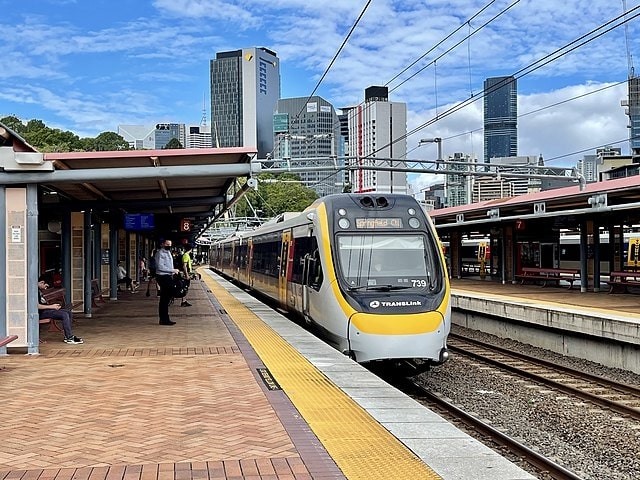 The Brisbane rail network is another great transport option to see the city's different attractions and also gives you convenient access to its surrounding suburbs.
The South East Queensland Rail operates in the city and its major stations are Central Station on Ann Street and Roma Street Station.
You can reach attractions such as the Gallery of Modern Art or the Queensland Museum from both stations, as well as Fortitude Valley and South Bank.
This integrated rail network extends from the Brisbane center to Ferny Grove, Caboolture, Doomben, Gympie, Shorncliffe, and Kippa-Ring to the north; Benleigh and Varsity Lakes to the south; west to Richlands and Ipswich, and east to Cleveland.
Before your trip, take note that you can already load your Go Card for a seamless journey.
Ferries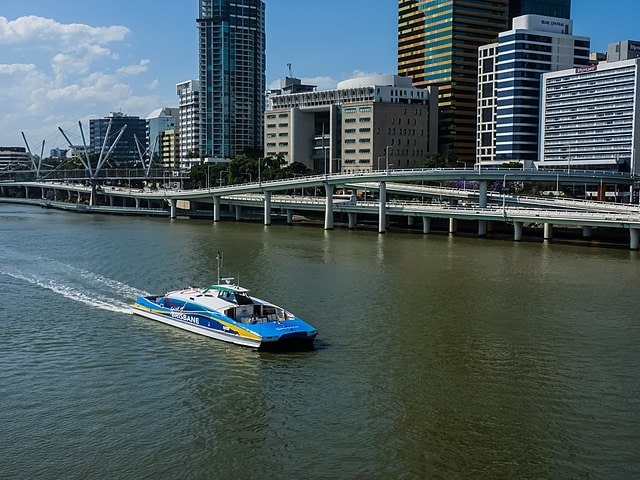 In the heart of the Queen City is the Brisbane River, and what better way to explore its amalgam of urban and lush surrounds than hopping on a ferry!
Riding the CityCat or the CityHopper can take you to some of the best attractions and dining destinations in Brisbane.
Hop on the CityCat using your GoCard and see the Botanic Gardens, then dine at Eat Street Northshore. The CityCats have a capacity of 170 and have toilet facilities, dedicated areas for wheelchair, bikes, and mobility scooters.
Meanwhile, you can ride the CityHopper for free which has seven stops between North Quay in South Bank and Sydney Street in New Farm. It also stops by Howard Smith Wharves which has an array of dining and entertainment options.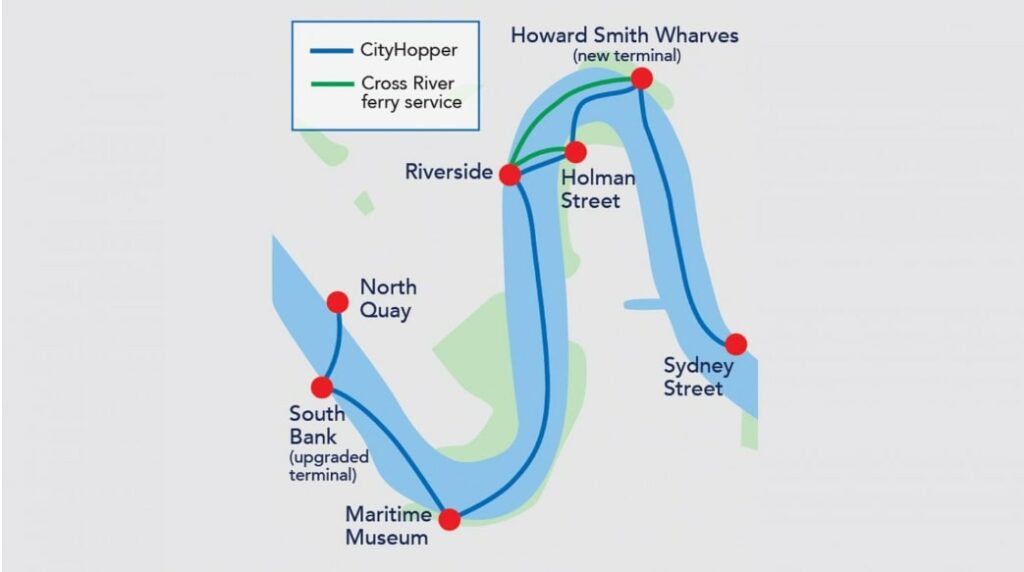 Taxis
It's also easy to get around Brisbane via taxi through its two major taxi services, 13cabs and Black & White Cabs.
Hailing or booking a taxi is ideal especially if you need a ride late at night. There are taxi ranks usually located in busy areas so it would be easy to get a ride after a night out.
For more convenience, you can call the taxi company, or better yet, just book through your smartphone using ridesharing apps such as GoCatch, Uber, DiDi, and Ola.
Driving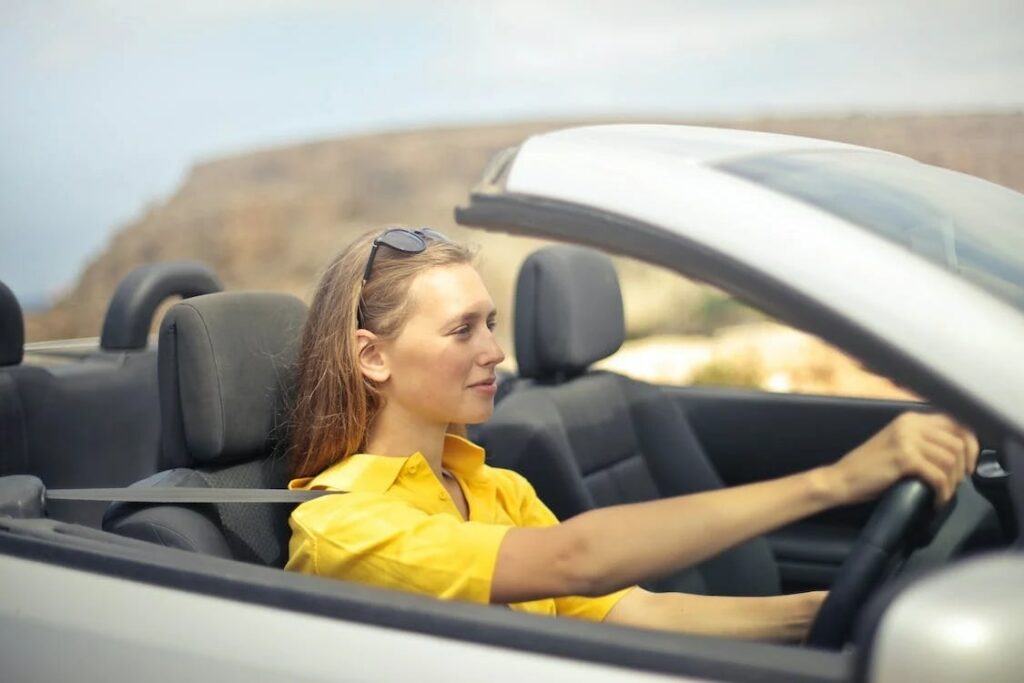 Driving a car around Brisbane is easy and simple, too. Just be aware of any parking fees in the area and at your accommodation.
You can find two car parks conveniently located within close proximity to everything in the Brisbane CBD, at Wickham Terrace and King George Square.
A great option where you can save on gas and parking fees is by choosing a park 'n' ride system, and it's great for the environment, too!
You can find a TransLink parking that's located near a public transport stop and take the bus, train, or ferry from there. Just search for the nearest TransLink car park here.
Bikes

A fun and healthy way to explore Brisbane is by riding a bike! It's great that it's pretty easy and safe to cycle around the city as it has designated bike paths that are separate from the road.
If you want to use a bike as your main transport around the CBD, it's best to use the CityLink Cycleway and Bicentennial Bikeway. You can safely access the inner-city traffic-free with its protected bike lanes.
Looking to bike for exercise and leisure? There are even plenty of other bikeways around the city and surrounding suburbs that you can try!
If you're a beginner, we recommend going for the Kangaroo Point Bikeway for a stress-free and car-free ride. Even better, the bikeway takes you to scenic views and lots of shaded paths by the riverside!
The most popular bikeway for enthusiasts would probably be the Brisbane River Loop which is ideal for more experienced cyclists.
The route combines bikeways, roads, and some busy streets for 40 kilometers in total, and the best part is, you can even stop for a caffeine fix along the way!
If you need to rent a bike, there are lots of bike hire services in the city such as Riverlife Adventure and Epic Cycles. For e-bikes and e-scooters, you can access them through the apps Beam or Neuron.
Walking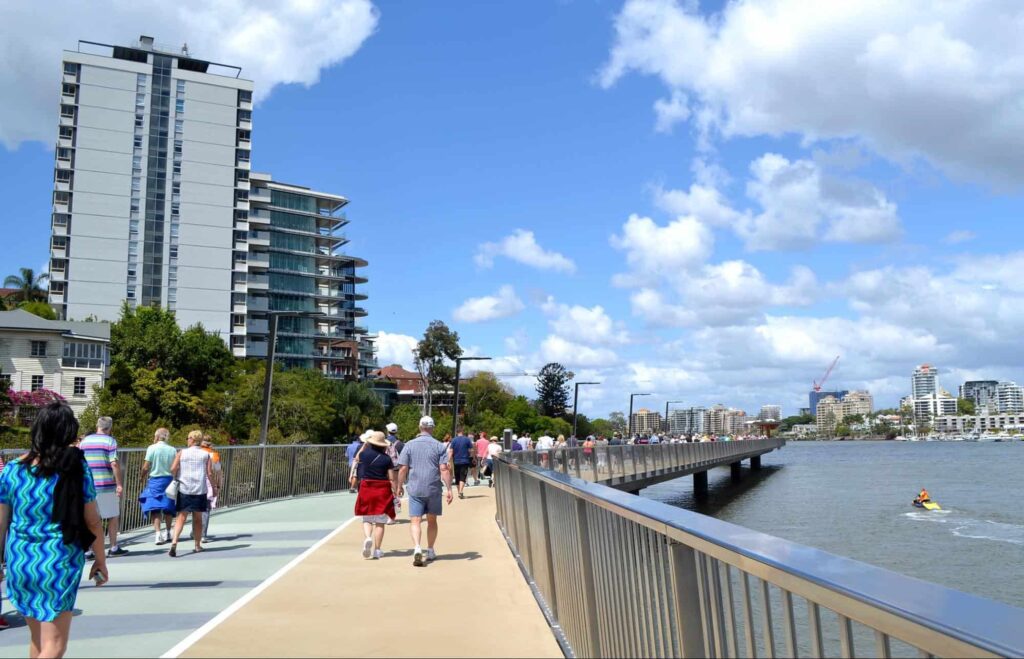 Brisbane is definitely a walkable city with sidewalk access in its CBD, pedestrian walkways, and plenty of greenery all around. The riverside paths are a perfect place to start and you can even find a cafe or restaurant that you'd like while you're at it.
Just make sure to wear comfortable walking shoes and bring a light bag, a hat, and an umbrella, too – and you're good to go!
---