Categories >
Guides and Tips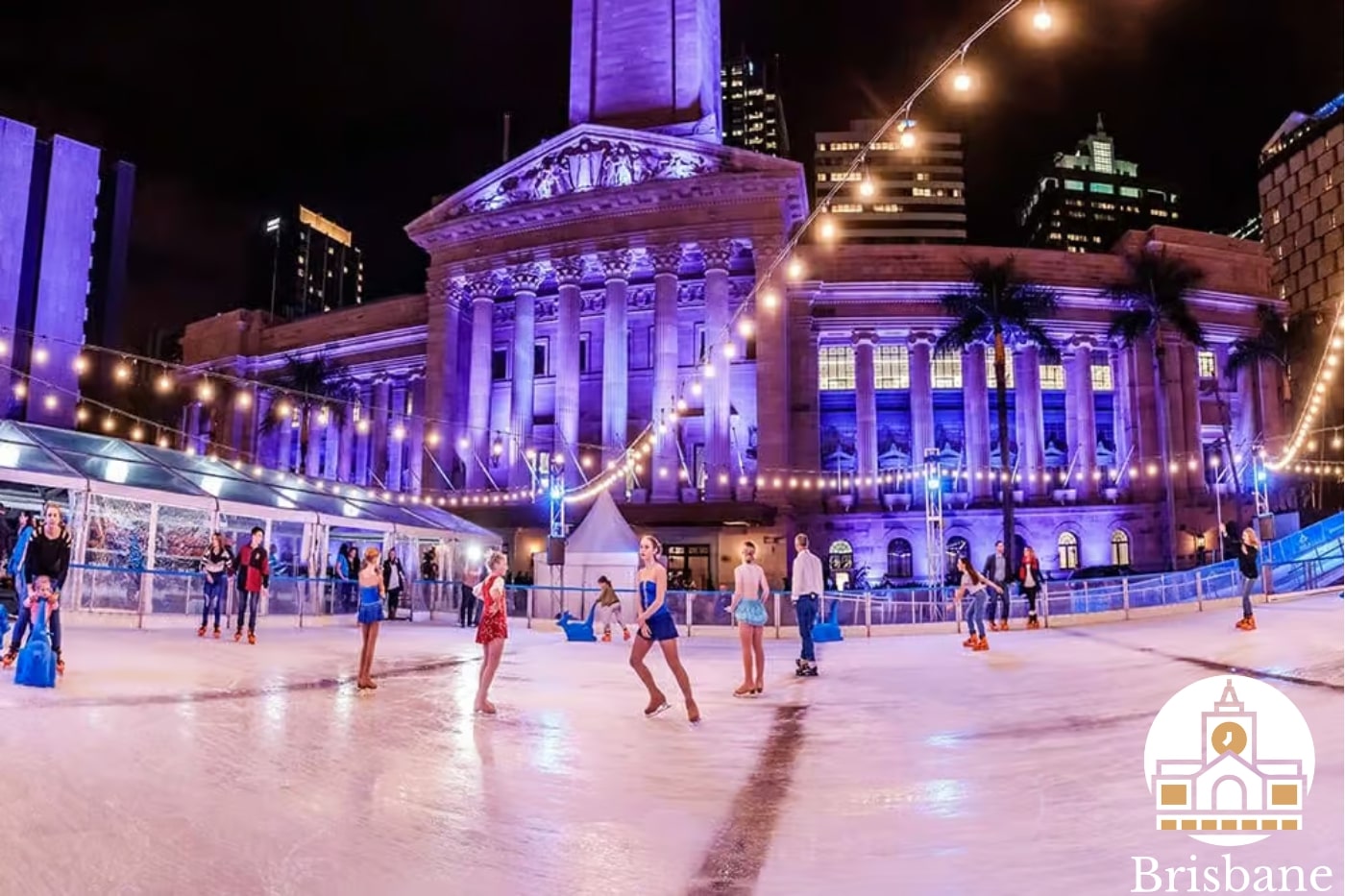 Chilled Delights: What Does Winter Look Like in Brisbane?
Did you know that while Brisbane's snow is a rare sight, it still offers something unique? The city's winter, which falls from June to August, also happens to be the citrus season!
This makes it a delightful time for fresh, juicy oranges, mandarins, and grapefruits—but that's just the tip of the iceberg!
If you want to see more thrilling winter attractions in Brisbane, read our guide below for an unforgettable chilly season.
What's the winter weather like in Brisbane?
Winter in Brisbane is a charming blend of mild temperatures, sunny skies, and a laid-back atmosphere.
It's a pretty cool time of the year—not 'brrr' cold, but cool in a good way. The average daily temperatures range from 8.6°C to 18.3°C (47°F to 65°F), providing a comfy climate for all.
Though it's not your typical freezing winter, it's a mix of great outdoor fun and cool events. The best part is you can enjoy the lovely parks and riverside walks without the scorching summer sun!
Does it snow in Brisbane?
No, it doesn't really snow in Brisbane. Brisbane has a subtropical climate with mild winters, and snowfall is extremely rare in this region.
While some parts of Australia (way down south) might see snow during the winter months, Brisbane keeps it cosy with mild, dry winters.
You might get a bit of frost on the ground during the coldest parts of winter, but real snow? Nah, not here.
At what time of the year does winter occur in Brisbane?
Winter in Brisbane happens from June through August. These are the cooler months—a break from the scorching summer heat!
You'll enjoy milder temperatures, which are just perfect for outdoor adventures, leisurely strolls, and taking in the city's lively culture.
What is the coldest recorded temperature in Brisbane?
As per historical weather records, Brisbane had one of its coldest days on July 12, 2014, with the temperature dropping to 2.6°C at 6:41 in the morning.
In a more recent observation from the Bureau of Meteorology, the chilliest morning in Brisbane for the year 2022 was recorded at 6°C.
Also, the coldest day in 2022 happened on July 5th, when the high temperature was just 14°C. Now, that might sound pretty mild compared to what others call winter, even in the southern parts of Australia.
Who is likely to enjoy winter in Brisbane?
Winter in Brisbane is well-suited for folks who enjoy mild, sunny weather when it's cooler. If you're into outdoor fun, cultural happenings, and a slower vibe, this season's your jam!
This place is perfect for families, hikers, and really anyone who's up for some outdoor fun without melting in the summer sun. And if you're looking to enjoy a subtropical winter with a special kind of charm, Brisbane is just the spot for you!
Can you swim in the ocean in Brisbane during the winter?
Yes, you can swim in the ocean in Brisbane during the winter months. The water might not be as toasty as in the summer, but it's still pretty nice.
Locals and visitors alike keep hitting the beaches and enjoying the waves, even when it's a bit cooler. So, don't forget your swimmers!
Top Things to Do in Brisbane during Winter Season
Don't let a little morning frost or a nip in the air stop you from enjoying Brisbane in the winter. Get cosy, and let's explore all the cool places this chilly season has to offer below!
1. Practise Ice Skating at King George Square's Rink
Address: Adelaide Street and Ann Street in Brisbane, QLD, Australia
Schedule: https://www.brisbane.qld.gov.au/things-to-see-and-do/council-venues-and-precincts/king-george-square
King George Square in Brisbane is a go-to hub for various winter activities in Brisbane. Iconic landmarks, including Brisbane City Hall, the Ann Street fountain, and the Treasury Casino, surround this lively spot.
It's a place where culture, business, and people all come together, making it perfect for events and fun times.
Now, when winter rolls in, King George Square turns into a winter wonderland. Right at the heart of this icy magic is the beloved ice skating rink!
Imagine lacing up your skates and gliding through the city. You can be a pro or a newbie, and it's all good fun! Historic buildings surround the rink, giving you a fairytale experience.
With twinkling lights, decorations, and the delicious smell of winter treats in the air, you'll be in full holiday mode! Moreover, there are food stalls with hot chocolate, wine, and yummy snacks waiting for you.
Pro tip:
While they have skates for rent at King George Square, consider bringing your own socks for extra comfort. It's a small thing that can make a big difference in how your skates feel.
2. Enjoy French Cuisine at The Wet Bar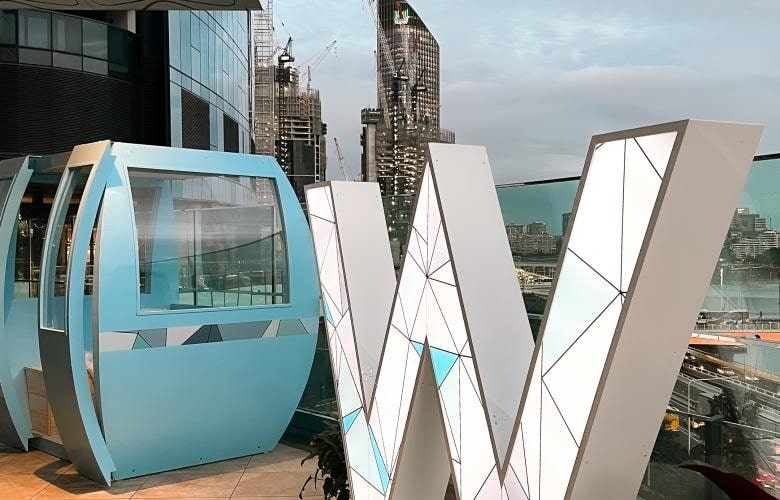 Address: Level 4/81 N Quay, Brisbane City, QLD 4000, Australia
Website: https://www.marriott.com/en-us/hotels/bnewh-w-brisbane/
Contact Details: +61 7 3556 8833
When winter comes, the Wet Bar at the W Hotel Brisbane transforms into an Apres Ski paradise. With the city's glittering skyline in the background, it feels like a European winter wonderland.
The bar's location offers one of the most breathtaking views in Brisbane, from the riverbanks to Mount Coot-tha and beyond. It's like being at an alpine retreat with the world at your feet!
In the heart of this snowy escape, there's a purpose-built gondola, the perfect place to relax and enjoy a selection of winter cocktails.
They pair it with a menu that draws inspiration from the French Alps. Imagine indulging in a three-cheese fondue and sipping on Spicy Chocolat Chaud, a French-style hot chocolate. So yummy!
Pro tips:
• Be open to exploring Wet Bar at W Hotel's special winter cocktail menu, featuring unique and cosy drinks like hot toddies and spiced mulled wine.
• Also, don't hesitate to ask the friendly staff for their recommendations or any off-menu winter creations!
3. Raise a Glass at Veuve Clicquot Igloo Bar
Address: Customs House Terrace, 399 Queen Street, Brisbane, QLD 4000, Australia
Operating Hours: Thursday – Friday: 4:00 PM – 10:00 PM; Saturday – Sunday: 1:00 PM – 10:00 PM
Tucked in the historical Customs House in Brisbane, the Veuve Clicquot Igloo Bar turns it into a cosy, romantic spot that's ideal for winter.
Inside your private igloo, you'll find warmth and luxury. Enjoy the finest bubbles from Veuve Clicquot while indulging in a locally sourced tasting menu that'll tickle your taste buds.
From Moreton Bay croissants to Tasmanian Pacific oysters, each dish is a culinary masterpiece, adding sophistication to your bubbly igloo experience.
They've also got a bunch of wines, beers, and awesome cocktails to choose from. Whether you love champagne or something else, you'll likely find a drink you'll love.
Remember, the Veuve Clicquot Igloo Bar at Customs House is a limited-time thing during the winter. Don't miss the chance to taste history and explore plenty of drink options while chilling in your private igloo!
Pro tips:
• Get a little creative at Veuve Clicquot Igloo Bar and have some fun by mixing your champagne into classic cocktails like mimosas or a French 75; it adds a delightful twist to your drinks!
• If you can't finish the whole bottle, that's fine too. Just ask the friendly folks at the bar for a wine preserver to keep it fresh for tomorrow. Cheers!
4. Drink Wine at the James Street Food & Wine Trail
Address: James Street, Brisbane, QLD, Australia
When winter hits Brisbane, you've got to head over to James Street, a lively spot known for fantastic dining and fine wines. No need to drive to another winery (winery Brisbane) because this place has vino from all over.
The James Street Winter Food & Wine Trail, an annual event here that many folks look forward to, takes over this bustling boulevard. It's your ticket to a delicious journey through Brisbane's food scene during the winter season.
Imagine four days filled with fun, from rooftop yoga to leisurely champagne lunches. You get to taste some of the most mouthwatering menus in town, all in the cosy winter.
And there are special events happening alongside the fantastic James Street eateries, creating a culinary adventure open to all. It's the perfect setting to soak up the winter vibes!
Pro tips:
Begin with white wines before moving to reds at the James Street Food & Wine Trail. They're lighter and help you appreciate the subtle flavours!
5. Look at Some Whales at Tangalooma Island Resort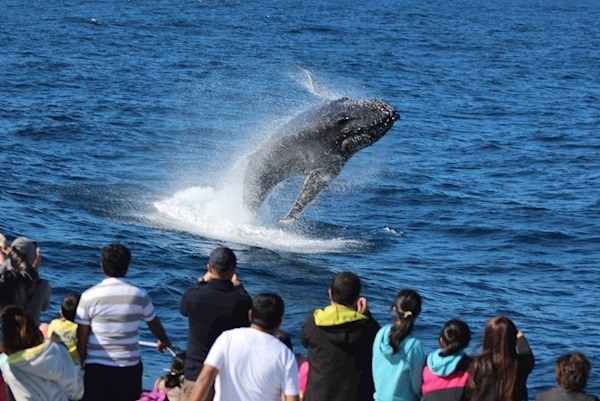 Address: Tangalooma, Moreton Island, QLD 4025, Australia
Website: https://www.tangalooma.com/
Contact Details: 1300 652 250
Tangalooma Island Resort, on Moreton Island just off Brisbane's coast, offers a one-of-a-kind winter experience—whale watching! They make the most of this natural show by running whale-watching cruises from June to October.
During this time, you can see these incredible creatures breaching, tail-slapping, and having a blast in the crystal-clear waters, all against the stunning backdrop of Moreton Island.
What sets Tangalooma Island Resort's whale-watching apart is its kid-friendly approach. Bring your little ones along, and they can enjoy interactive presentations and fun quizzes.
And here's the cherry on top: Tangalooma Island Resort has tonnes for families to do. You can explore beautiful beaches, try sand tobogganing (kids love it!), and even feed wild dolphins at sunset.
Pro tips:
• Keep it hush-hush when you spot a whale at Tangalooma Island Resort. Noise can scare them away, and we want to enjoy the show.
• Make sure to follow the guidelines from tour operators and naturalists. Keep a safe distance from the whales to protect their well-being and safety.
6. Cheer on your Favourite Football Team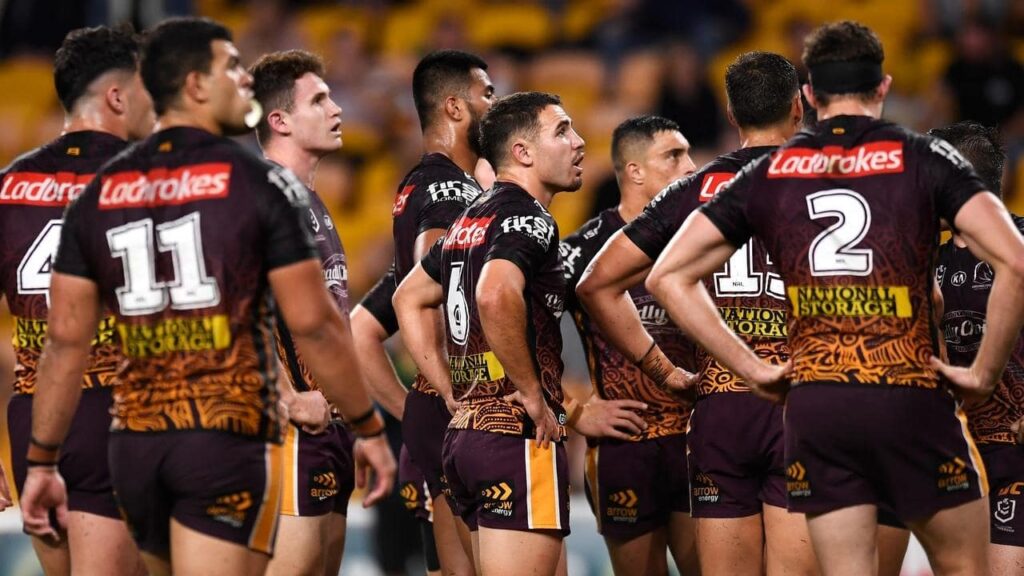 Winter in Brisbane means football season is in full swing, with two big teams to root for: the Brisbane Broncos and the Brisbane Lions.
They play different games—National Rugby League (NRL) and Australian Football League (AFL). The Broncos usually hit the field at Suncorp Stadium in Milton, while the Lions call the GABBA in Woolloongabba their home turf.
But if you've never been to a game in Brisbane, this is your chance! You'll soak up the thrilling atmosphere with passionate fans all around.
What's more, there are bars, restaurants, and clubs near the stadiums for some pre-game and post-game fun. And the best part? Tickets are budget-friendly, starting at around $15 for students.
Pro tips:
• Get into the game spirit, but remember to be respectful to other fans, even if they're cheering for the opposing team. We encourage friendly banter, but keep it fun!
• If you're new to the sport, take a moment to grasp the basic rules. It will make the game much more enjoyable when you know what's happening on the field.
7. See Ekka Brisbane at the Brisbane Showgrounds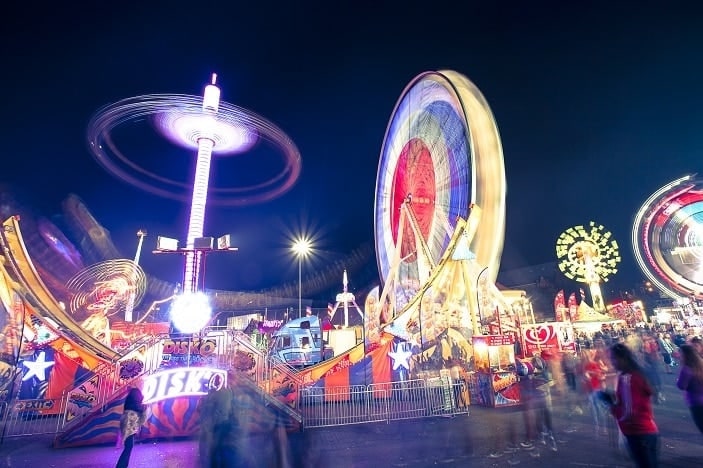 Address: Brisbane Showgrounds, 600 Gregory Terrace, Bowen Hills, QLD, Australia
Schedule: https://www.ekka.com.au/
Cost: From $35 (adults), $20 (5-14 years)
The Ekka, or the Queensland Royal Show, is a cherished winter tradition in Brisbane. This yearly event is all about celebrating agriculture, having a blast, and coming together, making it perfect for kids and anyone up for a fun day out.
For kids and kids-at-heart, the Ekka means thrilling carnival rides and the excitement of showbags. The sprawling carnival grounds are packed with rides that range from heart-pounding to family-friendly.
Now, let's talk about some of the amazing things you can enjoy at the Ekka. First, there are showbags – a classic Ekka tradition. These bags are loaded with toys and yummy treats!
And speaking of treats, one of the sweetest highlights is the strawberry ice cream. You might love that it's made from local strawberries and is a must-try for all ages!
The Ekka also proudly shows off Queensland's farming and agricultural skills. Your kids can get up close to farm animals, catch thrilling equestrian competitions, and dive into the rich farming heritage of the region.
Pro tip:
Don't miss the chance to explore all the extra fun stuff at the Ekka. They've got farmyard nurseries for the little ones, live music and entertainment for everyone, and super cool exhibitions.

Plus, you can catch incredible performances and join in interactive displays that turn learning into an exciting adventure.
---