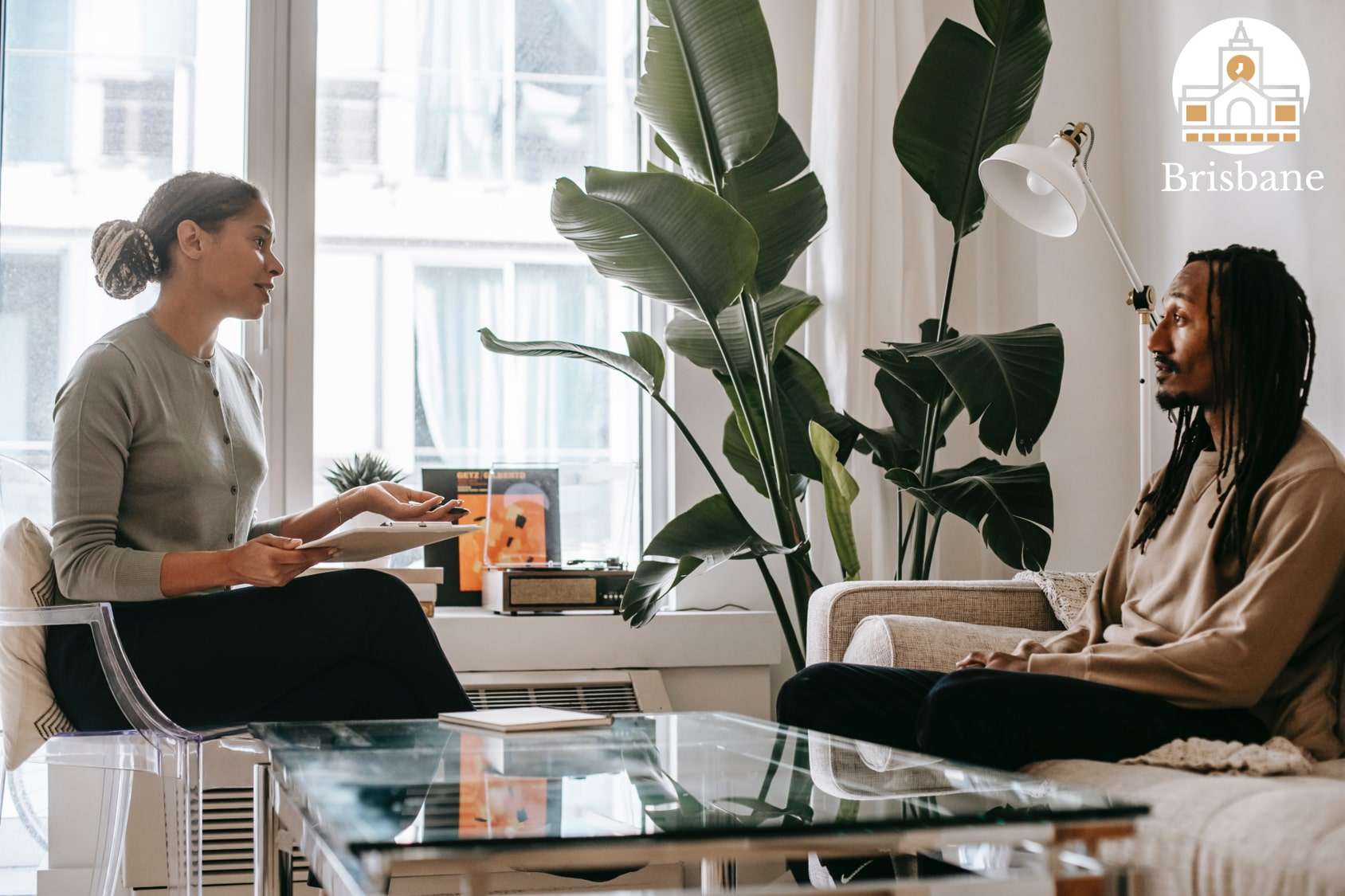 5 Best Hypnotherapy Centers in Brisbane
How We Picked the Best Hypnotherapy Centers in Brisbane
1. Brisbane Hypnosis Centre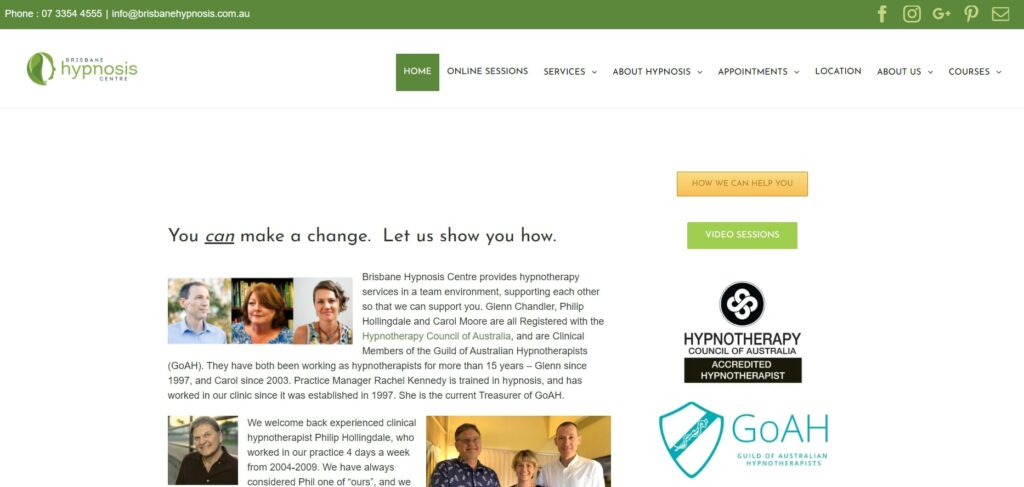 Services: Hypnotherapy for Quitting Bad Habits, Pain Management & Control, Anxiety & Panic Disorders, Fears & Phobias, Healthy Weight Loss & Balanced Eating, Hypnotherapy for Children, Self-hypnosis Training
Website: https://www.brisbanehypnosis.com.au/
Address: 510 South Pine Road, Everton Park QLD 4053, Australia
Contact Details: 07 3354 4555
Operating Hours: Monday, 12:00nn – 7:30pm
Tuesday – Wednesday, 10:00am – 5:30pm
Friday, 10:00am – 5:00pm
Saturday, 9:00am – 4:00pm
Thursday & Sunday – Closed
| | |
| --- | --- |
| Google reviews score | 5/5 |
| Facebook reviews score | 5/5 |
| Total reviews | 3/5 |
| Score consistency | 5/5 |
| | |
| --- | --- |
| Services | 5/5 |
| Certification | 5/5 |
| Quality of Sessions | 4/5 |
| Rates | 5/5 |
Offers free course on "Hypnosis for the Seriously Curious"
Offers flexible payment plans
Quit Smoking program is more expensive
Closed Thursdays and Sundays
Brisbane Hypnosis Center has been providing hypnotherapy services since 1997. They're one of the best places to go to if you're looking for a team environment to support you through your journey.
The team of hypnotherapists has been working together for over 20 years, which is great to know. This gives clients more trust and confidence in their team of experts.
Their services help with bad habits such as smoking, alcohol, and gambling, as well as different types of anxiety, eating disorders, and sugar addiction.
It's good that they cover a lot of issues, and what's interesting is, they don't follow any trademarked approach. That means they recognize that every person is different, there's not one technique that can be applied to everyone.
So the first step in their process is to get to know you more, so they will be able to identify which approach would suit you best.
We think this is great as there's really no one size fits all when it comes to therapy. But maybe if you're someone who would like things to be a bit more predictable with a set method, then their approach might not be for you.
If you're booking your first session with them, it will cost $195 for 2 hours and $120 for 1-hour follow-up sessions. If you want more time, you can also extend up to 90 minutes for $150, which is already a good deal.
However, their Quit Smoking sessions are more expensive at $295 for 2 hours. But the good news is, they provide flexible payment options.
2. Aspire Hypnotherapy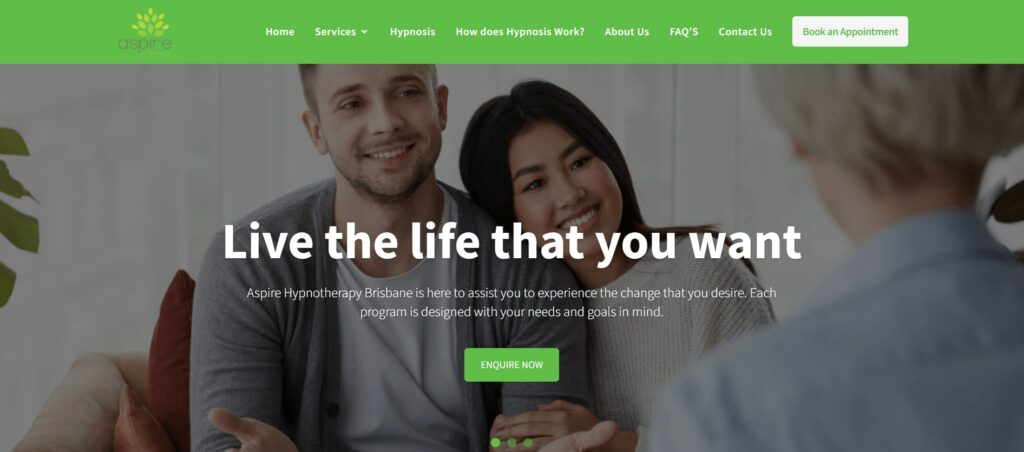 Services: Hypnotherapy, Couples Counseling, Relationship and Marriage Counseling, Stop Smoking, Separation and Divorce Counseling, NDIS Programs, Separation & Divorce Counseling
Website: https://www.aspirehypnotherapybrisbane.com.au/
Address: Takes Care Specialist Centre, 11 Cleveland Street, Greenslopes, 4120 QLD
Contact Details: 0432 681 321
Operating Hours: Monday – Saturday, 9am – 6pm
| | |
| --- | --- |
| Google reviews score | 5/5 |
| Facebook reviews score | 0/5 |
| Total reviews | 4/5 |
| Score consistency | 5/5 |
| | |
| --- | --- |
| Services | 5/5 |
| Certification | 5/5 |
| Quality of Sessions | 4/5 |
| Rates | 4/5 |
Makes use of rapid change programs
Provides recording of hypnotic conditioning session 
Sessions are short
Prices vary
Aspire Hypnotherapy is one of the best hypnotherapy centers in Brisbane because it also offers a variety of services.
The practice is led by Michael Brook who uses rapid change programs that enable effective hypnotic conditioning.
The hypnotic trance will be recorded during each session so the client can listen to the recording before sleeping for at least 14 days.
We think having the trance conditioning session recorded will be quite effective as clients can continue this mind conditioning even outside of their therapy sessions.
Their services can help you with quitting smoking, losing weight, stress and anxiety, and reducing phobia.
Apart from hypnotherapy sessions, Michael also provides counseling for couples, marriage, and relationships. From what we've heard, Michael is very welcoming and makes couples feel comfortable about opening up during sessions.
If you prefer online sessions, they offer it at $180 for 1 hour and 10 mins. For in-person hypnotherapy sessions, they charge $220 for an hour while initial consultations would be for 45 minutes with varying rates depending on the issue that you wish to address.
We expected the sessions to be longer at least for the price. But he does provide recordings, so it could already serve as an extension of your sessions.
3. Gregory Hypnotherapy and Counseling Brisbane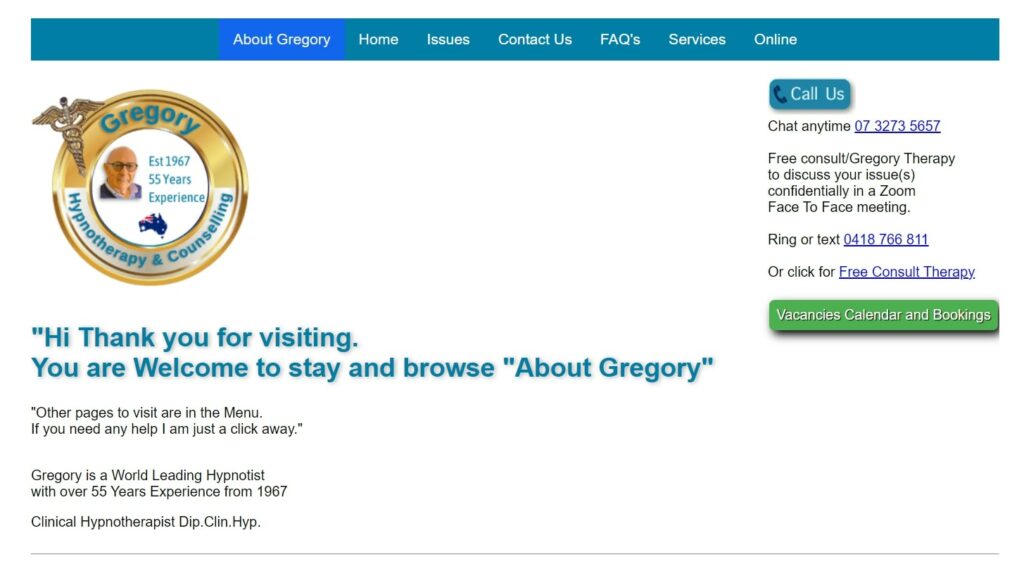 Services: Hypnotherapy for Quitting Smoking & Other Habits, Weight Loss Hypnosis, Fears Phobias, Self-confidence & Self-esteem, Stress & Anxiety, Pain Relief Hypnosis, Motivation Exercise, Eating Disorders, Gambling
Website: https://gregoryhypnotherapy.com/about-gregory.html
Address: Driftwood St, Sunnybank Hills QLD 4109, Australia
Contact Details: 07 3273 5657 / 0418 766 811
Operating Hours: Open 24/7
| | |
| --- | --- |
| Google reviews score | 4.8/5 |
| Facebook reviews score | 5/5 |
| Total reviews | 4/4 |
| Score consistency | 5/5 |
| | |
| --- | --- |
| Services | 5/5 |
| Certification | 5/5 |
| Quality of Sessions | 5/5 |
| Rates | 4/5 |
More than 55 years experience
Open 24/7
Clinic doesn't accept credit card payments
Only 2 vacancies available per week for new clients
We included Gregory Hypnotherapy on our list because of his over 55 years of experience in the field. He opened his first clinic in 1967, and surprisingly, his clinic is open 24/7.
This kind of dedication is pretty impressive. It's great to know that there's a therapist available anytime when you need them.
Another reason why we included Gregory on our list is because his beginnings as a hypnotherapist intrigued us.
He started as a stage hypnotist and got featured on TV in 1967 where he helped over a thousand people quit smoking. That same year, he opened his clinic and bookings immediately got full for months.
It's also great that he has a wide range of services from quitting bad habits to pain relief hypnosis, and offers sessions for individuals, couples, children with parents, and online sessions as well.
One downside that we saw is that his initial consultation fee is quite expensive at $380. But the good news is, your second session is free. So it's like paying for $190 per session, which is within the average rate for this service.
For succeeding sessions that will be booked within 30 days from the previous session, the rate will be $180.
If you're thinking about booking a session with Gregory, just take note that his current schedule only has two available slots a week for new clients. So it's best to book right away once you see an opening.
4. Phoenix Hypnotherapy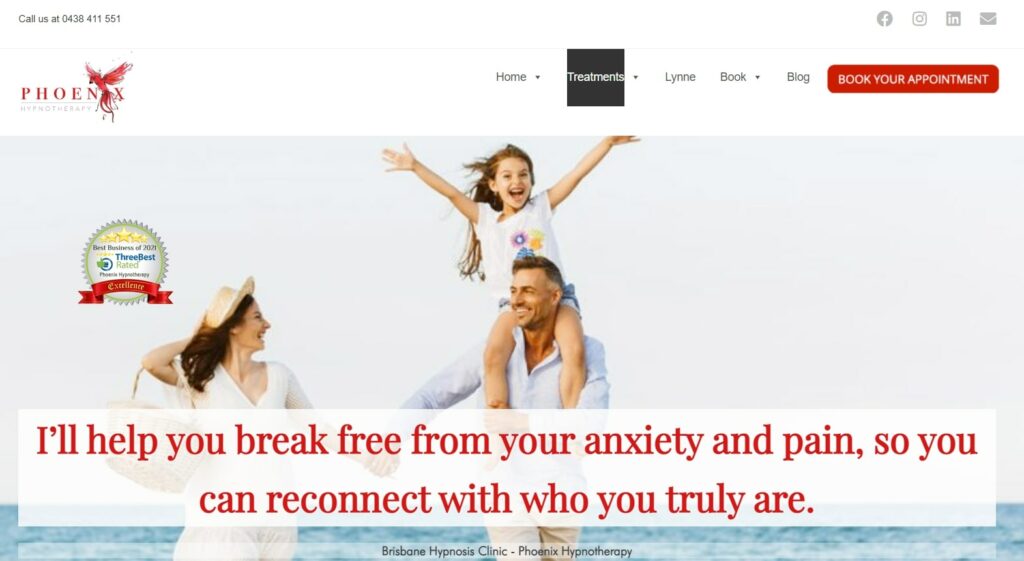 Services: Hypnotherapy for Anxiety, Trauma, Phobias, PTSD, Quitting Smoking, Weight Loss, Children's Anxiety, Chronic Pain, Sports Performance, Pregnancy, and Reiki Healing
Website: https://phoenixhypnotherapy.com.au/
Address: 2/16 Doig St, Cleveland Qld 4163
Contact Details: 0438 411 551
Operating Hours: Tuesday, 9:00am – 8:00pm
Wednesday, 9:00am – 5:00pm
Thursday, 9:30am – 8:00pm
Friday, 9:30am – 4:00pm
Saturday, 9:00am – 1:00pm
| | |
| --- | --- |
| Google reviews score | 5/5 |
| Facebook reviews score | 5/5 |
| Total reviews | 4/5 |
| Score consistency | 5/5 |
| | |
| --- | --- |
| Services | 5/5 |
| Certification | 5/5 |
| Quality of Sessions | 5/5 |
| Rates | 4/5 |
Calm and tranquil environment for adults and children
Offers reiki healing sessions
Closed Mondays and Sundays
Deposits are non-refundable
Phoenix Hypnotherapy is one of our top choices because of its variety of services that are not offered by other centers.
The practice is led by accredited hypnotherapist, Lynne Lumley. We love that she's passionate about helping clients reconnect to their true self by breaking away from their pain and struggles.
It's also good to know that she is handling clinical supervision with one of the leading authorities on hypnosis in the world, Dr. Rob McNeilly.
Dr. McNeilly has had the privilege of being Dr. Millton Erickson's student, who is a highly influential hypnotherapist and psychiatrist. This is quite an impressive background.
It's great that the clinic addresses a wide range of issues, from anxiety and trauma, to sports performance and pregnancy.
Apart from hypnotherapy, Lynne also offers reiki healing sessions, which we think is a good complement to hypnotherapy especially if you're trying to heal from chronic pain and trauma.
In addition, the clinic also provides clinical hypnotherapy and psychotherapy for children. It's nice that sessions start with reiki healing and some play time as well, so your child can feel safe and comfortable.
There are different issues that can be addressed for kids such as anxiety, bed-wetting, stomach issues, anger management, separation anxiety, and bullying, among others.
A drawback that we saw is that they have limited operating hours and are closed on Mondays and Sundays.
Another thing is, deposits are also non-refundable so be sure to not miss your appointment or cancel 24 hours prior so you won't be charged a late cancellation or no-show fee.
5. Inspire Hypnotherapy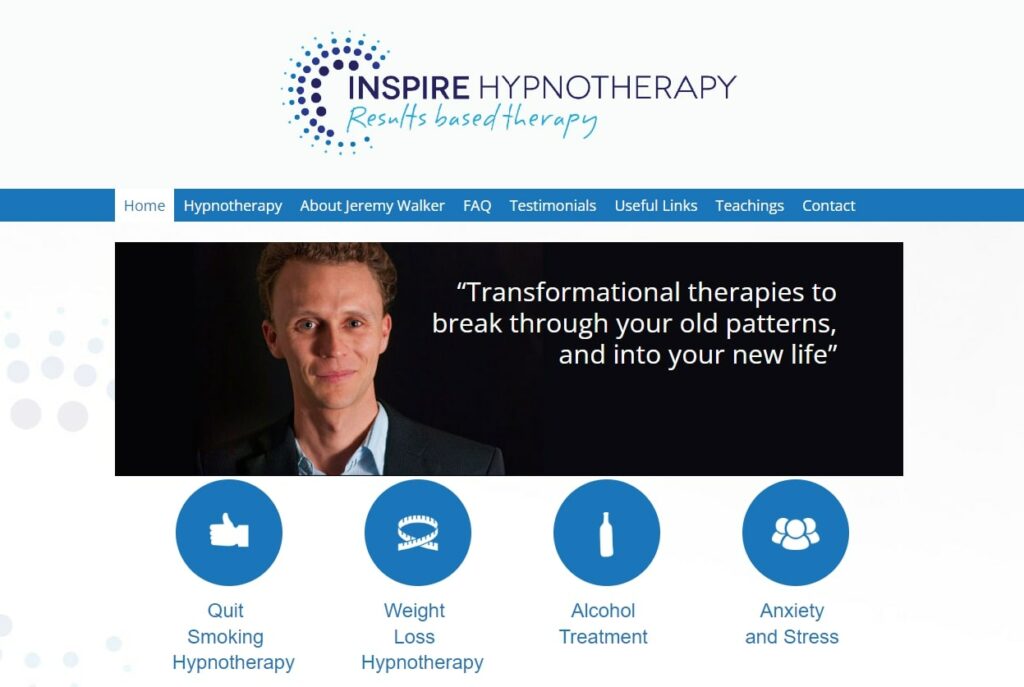 Services: Hypnotherapy for Bad Habits, Weight Loss, Anxiety & Depression, Alcohol Problems, Sleep Problems, Relationships, Goal Setting
Website: https://inspirehypnotherapy.com/
Address: 52 Jeffcott Street, Wavell Heights QLD
Contact Details: 1300 089 099 / 0448 284 724
Operating Hours: Open 24 hours
| | |
| --- | --- |
| Google reviews score | 5/5 |
| Facebook reviews score | 3/5 |
| Total reviews | 3/5 |
| Score consistency | 4/5 |
| | |
| --- | --- |
| Services | 5/5 |
| Certification | 5/5 |
| Quality of Sessions | 5/5 |
| Rates | 4/5 |
Quit Smoking program comes with unlimited sessions at $595
Free 30-minute consultation
Open 24 hours
Single session is more expensive compared to others
Session time is short
Another clinic that you can rely on 24/7 is Inspire Hypnotherapy. The center is led by Jeremy Walker, who is an experienced hypnotherapist and also practices psychosomatic therapy.
Apart from those, Jeremy is also trained in sleep therapy, NLP or Neuro-Linguistic Programming, and the Demartini Method.
He works with couples and individuals who seek help with addiction, smoking, alcohol, weight loss, anxiety, stress and time management, and relationships. He also offers free consultation for 30 minutes, which is great.
We appreciate that his approach is non-judgemental and believes that it's important to make learning a continuous process for long-term wellness.
For each session, his intention is for clients to have an expanded awareness and clarity and improved confidence to achieve their personal goals. He first assesses what works and what does not before continuing with the sessions.
It's great that he offers session packages with prices depending on the issue you need to address.
For weight loss or virtual gastric band programs, he has 2-session and 4-session packages at $395 and $795, respectively.
The quit smoking program is priced at $595 for unlimited sessions until you feel completely satisfied. We think this is the best deal so far when it comes to quit smoking programs.
Meanwhile, for anxiety, panic attack, and alcohol reduction programs, the cost is $595 which covers three sessions.
For other services, the rate is at $210 for single sessions, which seems a bit expensive, although it's still within the average.
If the issues that you wish to address come with package deals, then we think it's best to avail them here. However, for other services, it might be better to look elsewhere.
FAQs About Hypnotherapy
---
And that's it for our picks of the best hypnotherapy centers in Brisbane! We'd love to know if you were able to try one of our recommendations or if you have other suggestions which we can check out as well.
Just drop us a line down below!