Categories >
Guides and Tips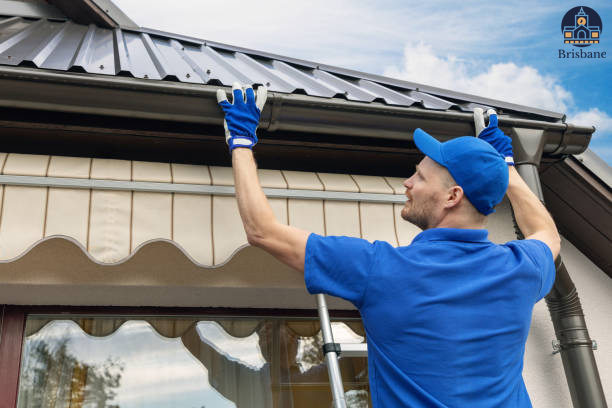 A Comparison Between Square and Round Gutters
When it comes to guttering, the two most common options are square and round gutters. While gutters add an aesthetic appeal to your home, they have a functional purpose too, as they steer rainwater away from the foundations of the property.
Here, we will have a comparison between the square and round gutters so that you can have a thorough evaluation and see which one is right for you.
What are round gutters?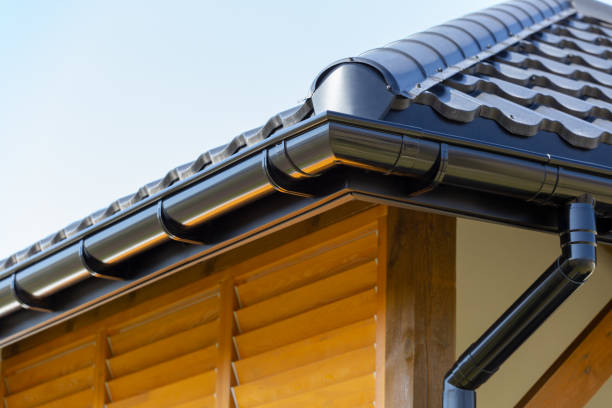 Round gutters are also known as half-round gutters. As the name suggests they look like a circle that has been cut in half when you look at it from the side.
It can be completely semi-circular or it can have a straight back. With its clean and smooth shape, it goes well with pretty much any type of home or building, both historical and modern.
This kind of gutter has a wide diameter and thus, has excellent water-carrying ability. While they can be made from various materials, steel gutters are still the most common
Moreover, you can ensure that round gutters will last a long time since they are also durable. It has a smooth interior with lesser creases and thus, less prone to corrosion.
Add an aesthetic appeal to your home with its clean and classic design.
Its larger diameter allows for a better water flow even during the most torrential of rainstorms.
It is more durable with its smooth interior, which means fewer creases in which water can collect and thus, less prone to corrosion.
Easy to clean as they are less prone to clogging with minimal creases and sharp edges.
Low maintenance since it is less likely to leak compared to other types of gutters.
More difficult to install.
It is more expensive since this type of gutter requires special threaded rods and hanger brackets to install to your home.
Not as readily available on the market. You may need to source it if you opt for this kind of gutter.
What are square gutters?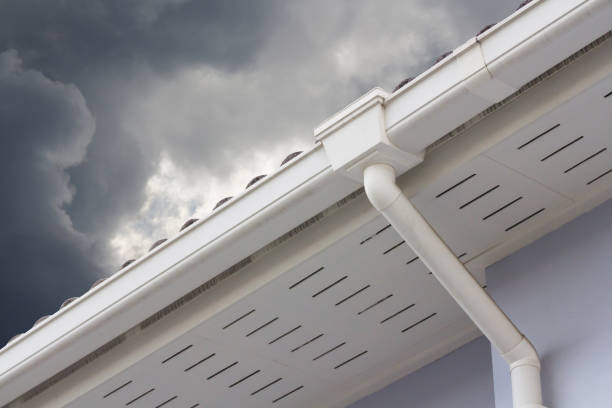 Also known as box gutters, these gutters have a square shape. These are large gutters that look less decorative but easier to clean. These are commonly used in commercial buildings where functionality is more important than appearance.
If a building has a large amount of water runoff, a square gutter is a great choice since it can handle more water compared to other types. Square gutters are available in two formats: lo-square with 110mm in height and hi-square with a height of up to 130mm.
These can be made of various materials which are available in the market today such as Zinc, aluminum, and galvanized steel.
Ideal for large constructions like commercial buildings.
Can channel more water due to its wider dimensions.
Sturdy and durable given proper maintenance.
Not visually pleasing as compared to other styles of gutters.
Prone to leaks if not properly installed.
The Climate in Brisbane and the Choice of Gutter Type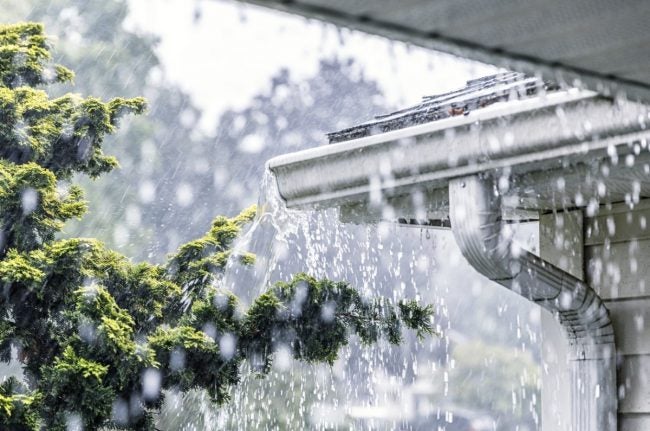 In Brisbane, rain falls throughout the year and the wetter season can last 7.2 months, usually from October to May. February is the month with the most rain, having an average rainfall of 139.7mm.
There is no doubt that the roofs of Brisbane houses and buildings face harsh climate conditions, including heavy rains and summer storms. With these, choosing the right gutter for your home or property is vital to ensure that it is kept in the best condition.
Round gutters are very common among homes and residential properties in Brisbane as they have high rainfall-carrying capacity. With its curved base, many homeowners choose this type as it is very effective for self-cleaning and has low maintenance.
On the other hand, many commercial buildings in Brisbane use box gutters to accommodate bigger building sizes and flat roofs. Box gutters are typically bigger in size and thus, can handle a large amount of rainwater, even during rainstorms.
Different Types of Guttering Materials
Before installing gutters in your home, you have to be aware that there are various materials used to manufacture them. Choosing which material to use will affect your budget, gutter maintenance, and the appearance of your home or property.
Here are the most popular types of gutter materials:
Vinyl Gutters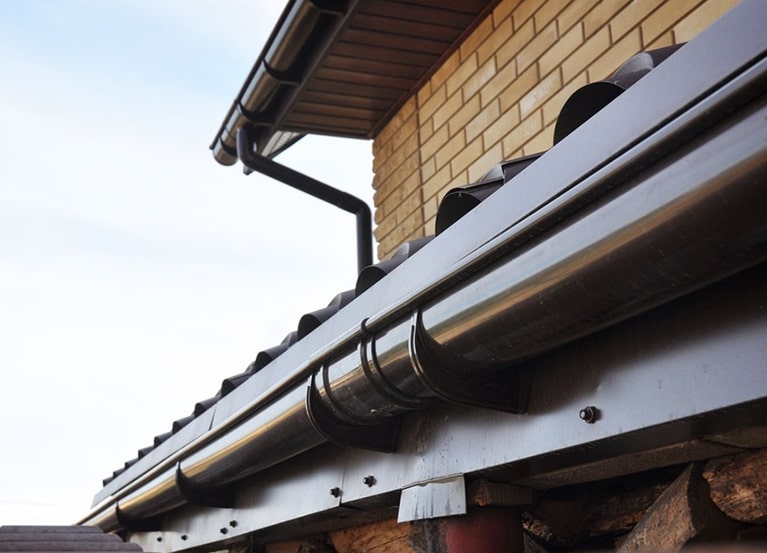 This is the most common type of guttering material and is made from PVC and plastics. While these are easy to install, they aren't very durable as they tend to deteriorate particularly quickly in wet climates.
Aluminum Gutters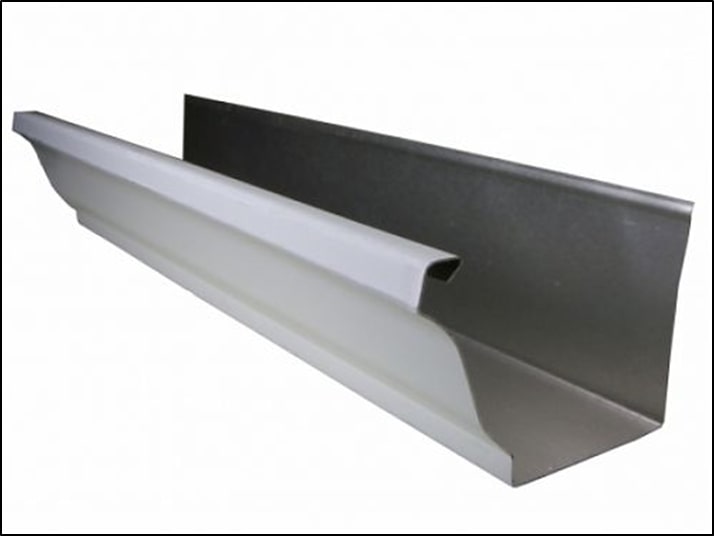 Aluminum material is rust-resistant but susceptible to cracking as they're lightweight. It is a good option for DIY installation and has an average lifespan of 10 to 20 years.
Galvanized Steel Gutters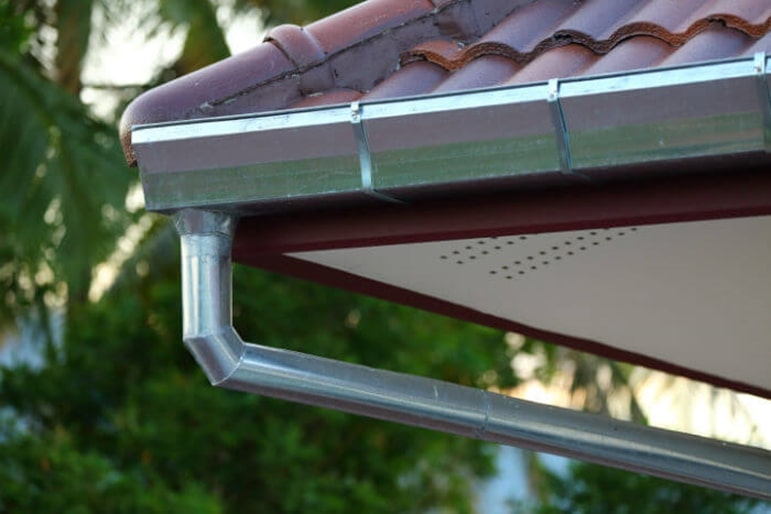 Compared to aluminum, galvanized steel is a more durable material and can withstand wet climates with heavy rainfall. They have an average lifespan of 20 to 30 years. However, this type of gutter requires professional installation.
Zinc Gutters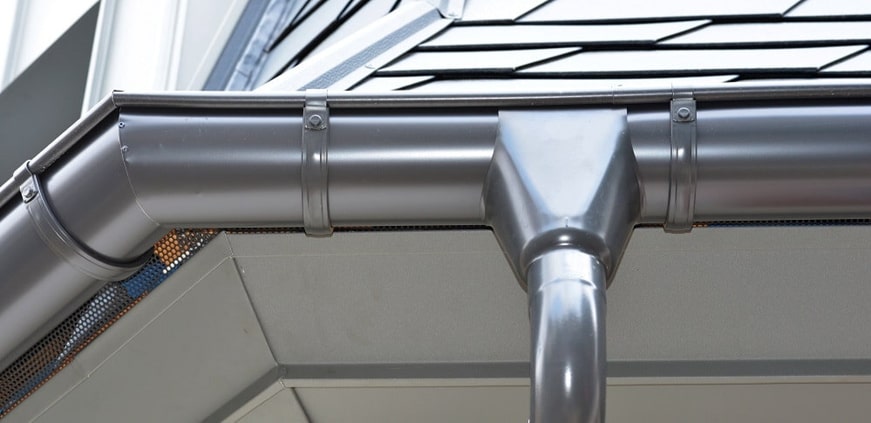 Zinc gutters are good-looking gutters with a longer lifespan of up to 80 years. They don't rust and are low-maintenance. Over time, zinc gutters form a protective zinc carbonate layer or patina which results in its anti-corrosive properties.
Average Prices of the Different Gutter Types and Materials
While there are different types of gutter that you can choose from, the price of each type also varies as they are manufactured differently. Below are the average price per meter for square and round gutters.
| | |
| --- | --- |
| Gutter Type | Average Price Per Meter |
| Square | $30 |
| Round | $20 |
On the other hand, the type of guttering material is also another factor that determines the price. Here are different types of guttering materials and the average price per lineal meter of each.
| | |
| --- | --- |
| Guttering Material | Cost Per Lineal Meter |
| Vinyl (PVC) | $30-$35 |
| Zincalume | $30-$50 |
| Colour-Coated Zincalume | $45-$70 |
| Stainless Steel | $80-$160 |
How Much Does Professional Gutter Installation Cost in Brisbane?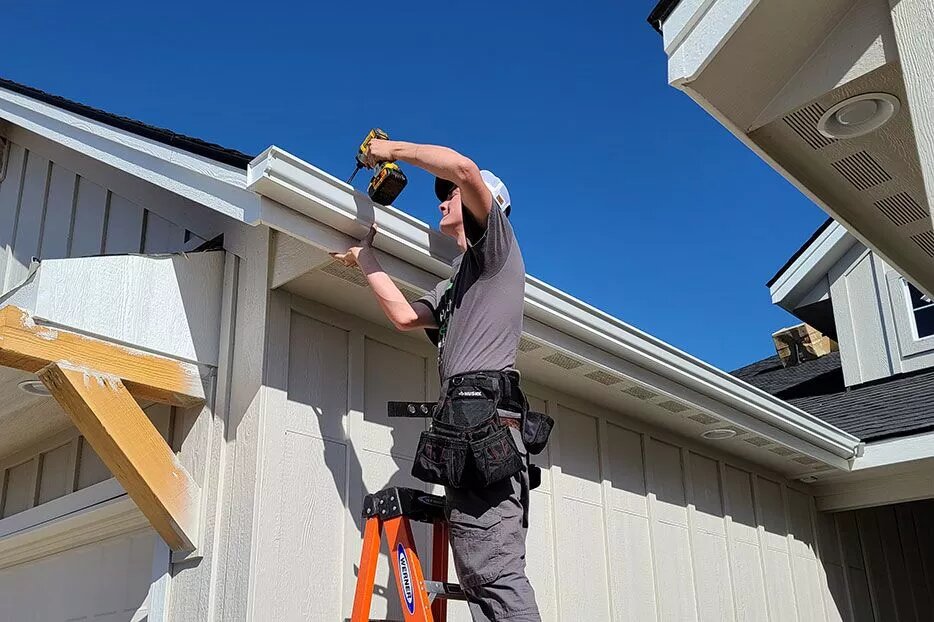 In Brisbane, the average labor cost to install or replace gutters is $55 per hour. However, professional guttering services may also charge based on the length of the gutter they install and thus, will quote on a per-meter basis.
Take note that there are also other gutter-related hardware that have to be installed and may add to the overall cost of the installation such as downpipes, fascia, and fixings. Below are the typical costs of guttering and installation:
$1900 for guttering and installation on a small home (7m x 11m)
$3000 – $4300 for guttering and fascia on a smaller home
$6100 for guttering and fascia for a length of 90 meters
The installation cost will also vary depending on the type of gutter you choose. Professional installers estimate the cost based on the difficulty of installation and the type of material they will work on.
Top Gutter Suppliers in Brisbane
Here are some of the top suppliers of gutters in Brisbane:
1. Queensland Sheet Metal & Roofing Supplies Pty Ltd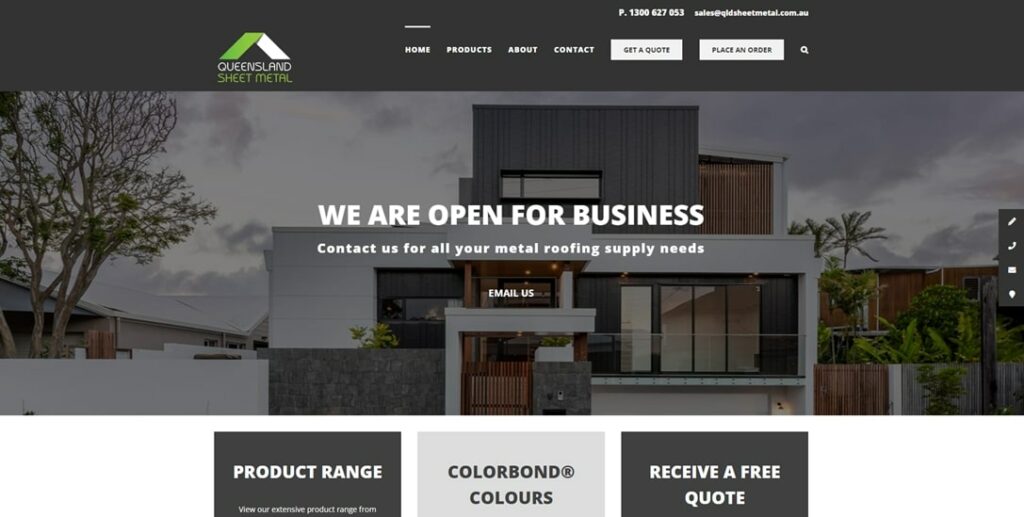 Queensland Sheet Metal and Roofing Supplies is a family-operated and Brisbane-based manufacturer of roofing materials. They offer roofing and walling supplies, from fascia to gutters and other accessories as well.
Website: https://qldsheetmetal.com.au/
Address: 115 Crockford St, Northgate QLD 4013, Australia
Phone Number: +61 1300 926 074
Email: sales@qldsheetmetal.com.au
Operating Hours: Monday – Friday: 6:30AM–4PM
2. Rollsec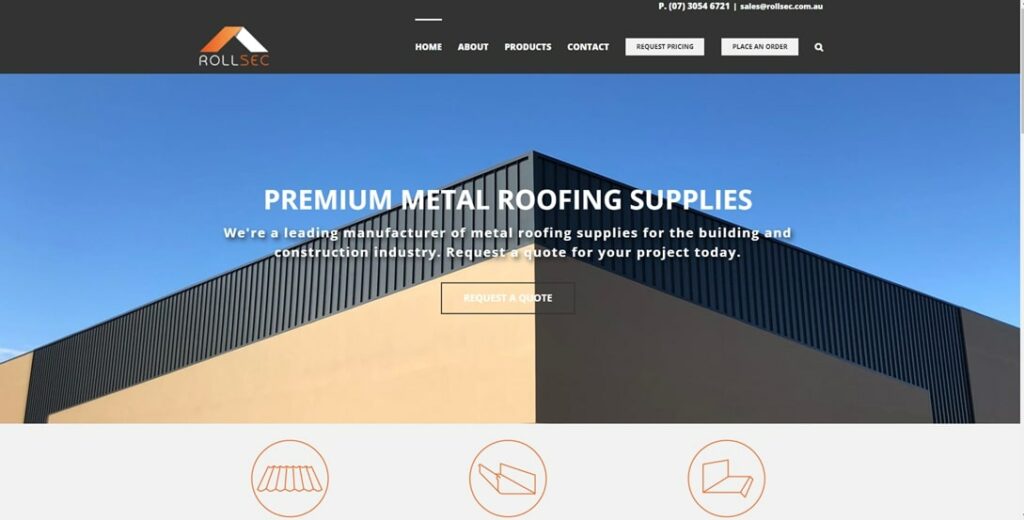 Rollsec has decades of experience in the roofing and manufacturing industries. They supply manufactured products such as roofing, fascia and gutters, and flashings and downpipes, among others.
Website: https://rollsec.com.au/
Address: 115 Crockford St, Northgate QLD 4013, Australia
Phone Number: +61 7 3267 7171
Email: sales@rollsec.com.au
Operating Hours: Monday – Friday: 6:30AM–4PM
3. Ozroofworks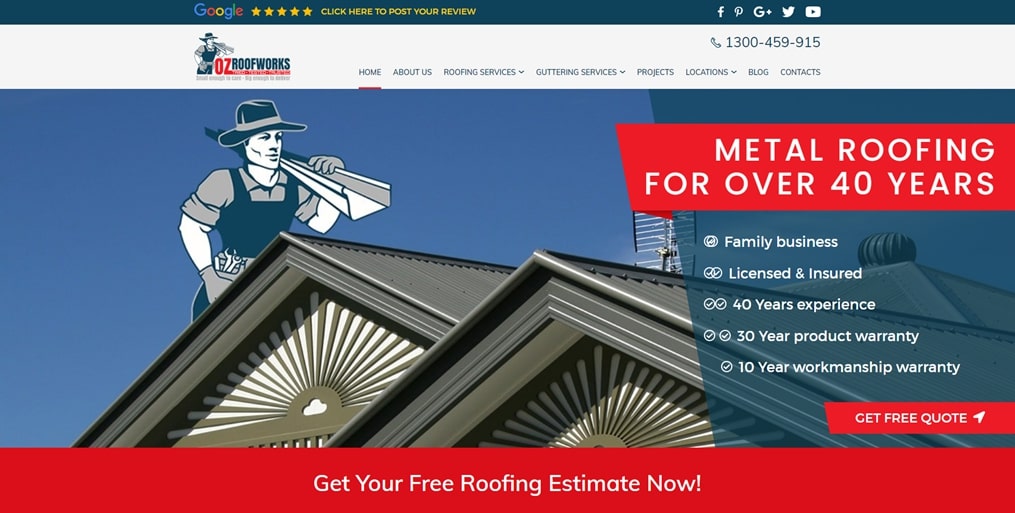 Aside from a range of roofing services such as basic metal roof replacement, asbestos, decramastic, and tiles, Ozroofworks also offer gutter replacement. They use high-quality materials and offer expert advice for your roofing needs.
Website: https://www.ozroofworks.com.au/
Address: 42 Jackson St, Hamilton QLD 4007, Australia
Phone Number: +61 1300 459 915
Email: info@ozroofworks.com.au
Operating Hours: Monday – Friday: 8AM–5PM; Saturday: 8AM–10:30AM
4. Strongguard Roofing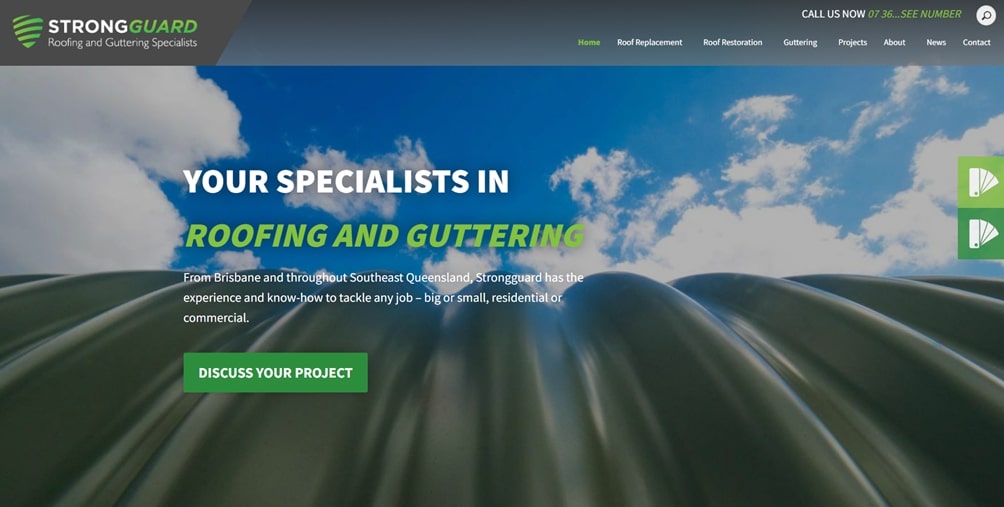 Strongguard has over 20 years of experience in the roofing and guttering industry. They supply and install brand-new gutters for your home or property. They are open for consultation to provide you with the best possible guttering solution.
Website: https://www.strongguard.com.au/
Address: 1/193-199 Hedley Av, Hendra QLD 4011, Australia
Phone Number: +61 7 3623 4422
Operating Hours: Monday – Thursday: 8AM–5PM; Friday: 8AM–4PM
5. G.C/Brisbane Roofing and Guttering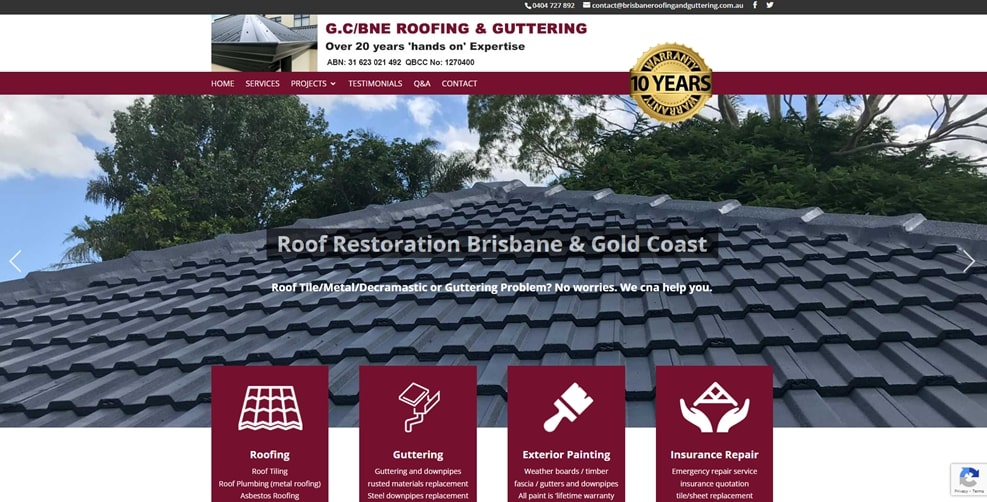 G.C/Brisbane Roofing and Guttering serves Brisbane's northern suburbs, Ipswich, the CBD, Logan shire, and the Gold Coast. They pride themselves on the use of Australian BlueScope Steel which complies with all relevant Australian Standards.
Website: https://brisbaneroofingandguttering.com.au/
Address: Logan City, Queensland, Australia 4114
Phone Number: 0404 727 892
Email: contact@brisbaneroofingandguttering.com.au
Operating Hours: Monday – Sunday: 6:30AM–7PM
Rain Gutter Overview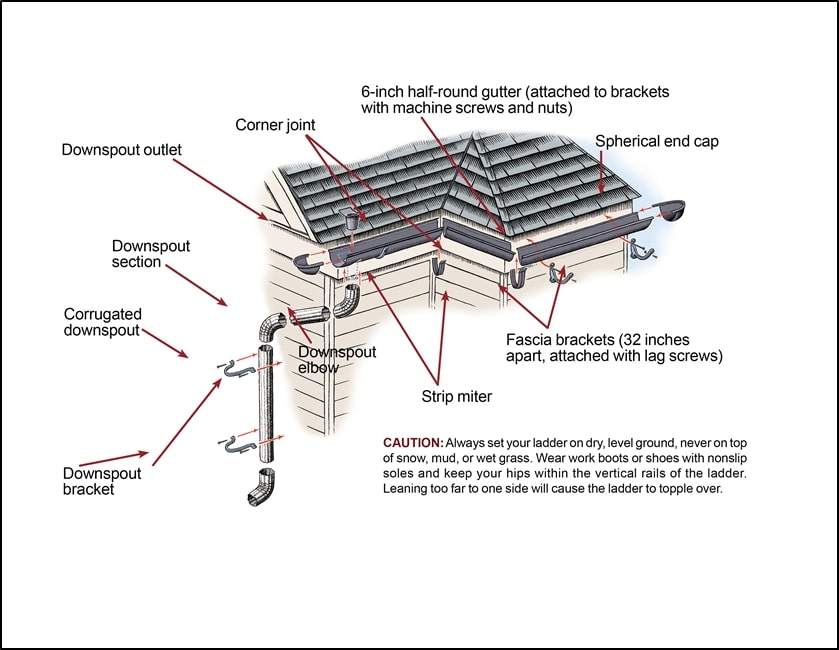 DIY Gutter Installation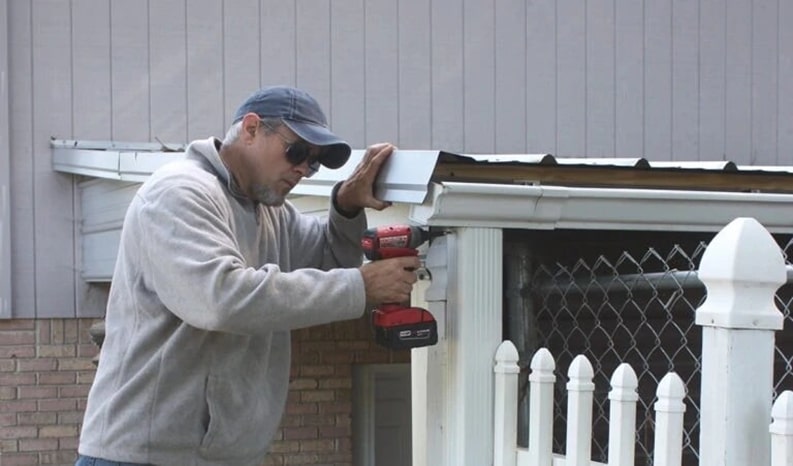 While professional services are highly recommended for the proper installation of the gutter, a DIY installation isn't impossible especially if you have some experience in this area.

However, do not do this alone. It is better if you have someone to assist you with the DIY installation.
With that said, let's take a look at the steps on how to DIY gutter installation.
Equipment and Materials Needed
Crimper
Cordless drill
Measuring tape
Extension ladder
Pop rivet gun
Hacksaw
Duckbill tin snips
Chisel
Hammer
Hex head driver
Offset tin snips
Roofing nails
1/8″ medium length rivets
1 1/4″ self-tapping hex head screws
1/4″ hex head screws ('zippers')
Gutter
Downspouts
Elbows
Gutter flashing
Gutter hanging strap
Gutter sealant
Determine the Right Length of the Gutter and Downspouts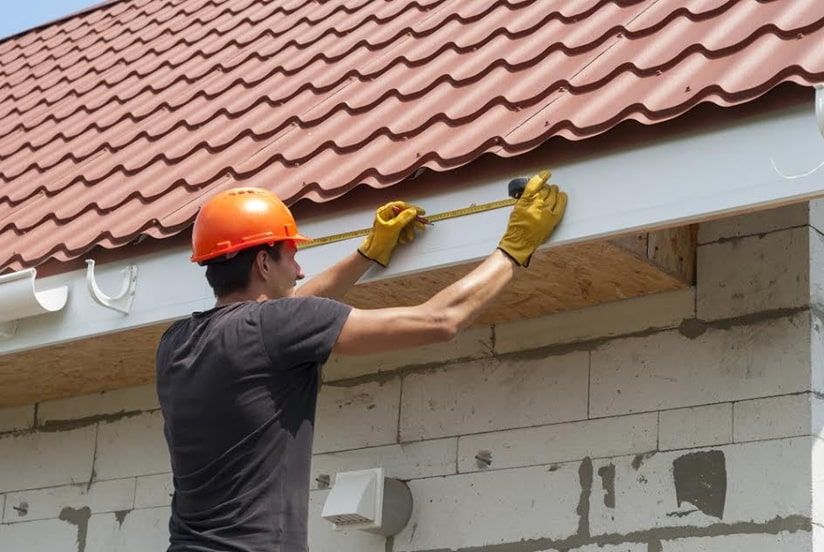 Measure the length of the gutter running the perimeter around your roofing. Also, mark the downspout locations and measure their height with additional four feet to each for an extension away from the house or building at the bottom.
If the gutter measures over 12.2 meters (40 feet), slope it from the middle going down to both directions with a downspout at each end. Rain gutters are attached to the fascia but if a house doesn't have fascia boards, special roof hanger mounting straps are needed.
Cut the Gutter Based on Your Measurements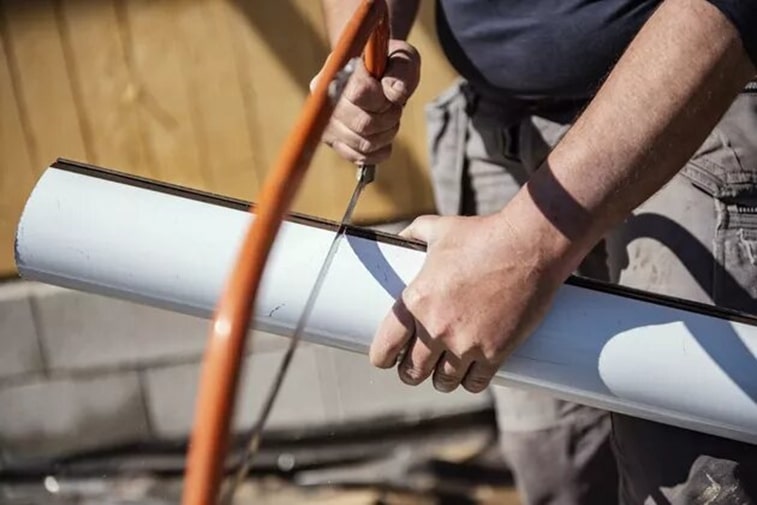 Based on your measurements, it is now time to cut the gutters for the necessary length using a hacksaw and tin snips. For corner sections of the gutters, cut an appropriate angle of usually 45 degrees at the applicable end.
Pre-assembling the Gutter Section and Corner Piece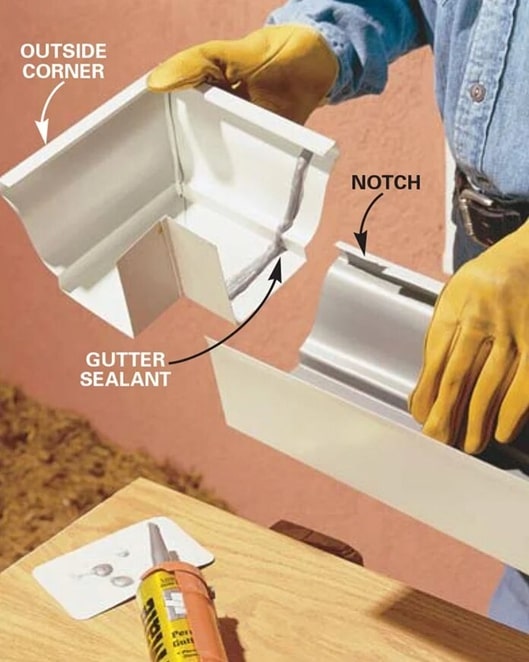 Using tin snips, cut a two-inch long notch in the front lip of the gutter, and on the corner piece, put gutter sealant 38.1mm (1.5in) back from the edge. Connect them together by hooking the front lip of the corner over the notched section of the gutter.
Now, rivet these sections together. Drill a 3.18mm-hole (0.13in) first at the front of the gutter and rivet it using a rivet gun. Join them together with six rivets. Finally, caulk the seam on the inside of the gutter with a gutter sealant and put a sealant over each rivet.
Attach the Downspout Outlet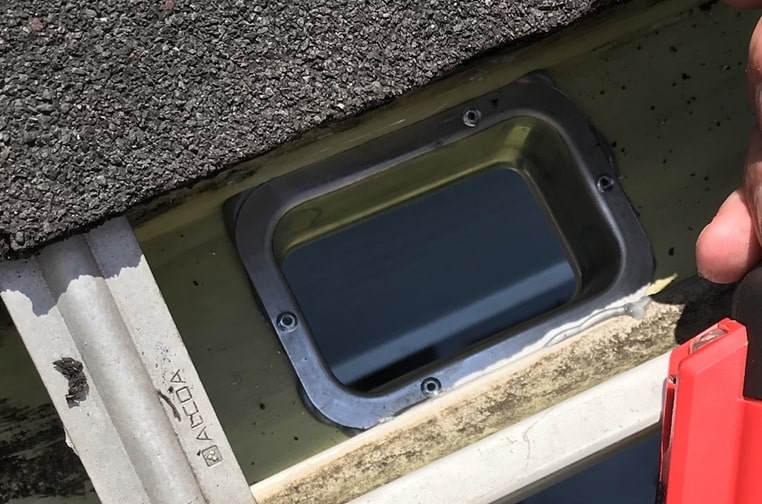 Mark the location of the downspout outlet on the bottom side of the gutter with the use of a marker. Use a chisel and a hammer and start creating a hole. Finish the outlet hole by using offset tin snips and make sure to cut 1.59mm (0.07in) outside of the outlet line.
Put the outlet into the hole and drill 3.18mm (0.13in) holes for the rivets. Remove the outlet and put a bead of gutter sealant around the opening. Press the outlet and install the rivets.
Layout the Gutter Slope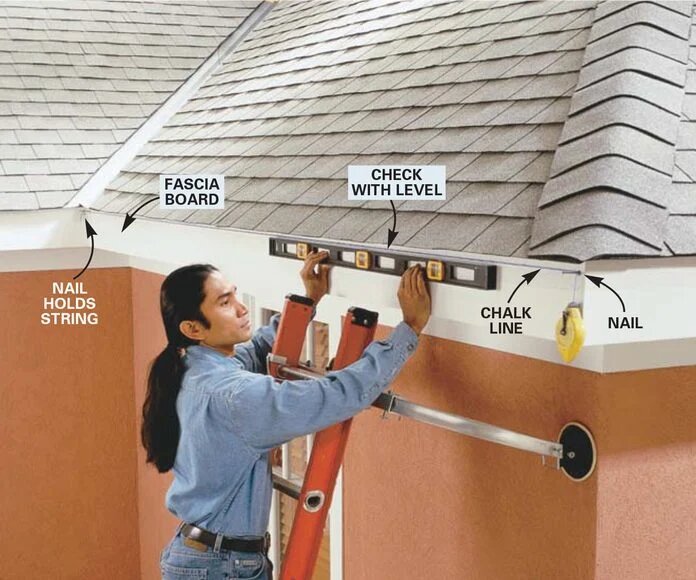 First, mark the highest point of the gutter on the fascia 31.75mm (1.25in) below the metal drip-edge flashing. Then, slope the gutter down toward the downspout about 12.7mm (0.5in) for every 3.05 meters (10ft) of gutter length. Snap the string to mark a line between these two points.
Secure the Gutters to the Fascia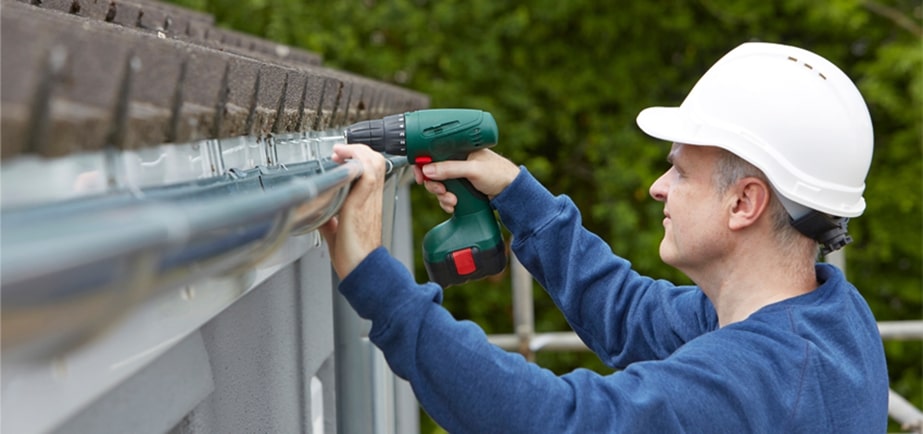 Attach the back of the gutter into the fascia with 1 1/4″ hex head metal screws. Remember to install one screw every 0.61 meter (2ft). Then, double-check the alignment to ensure that the gutter follows the marked line.
It is also important to put silicone on the gap between the fascia board and the gutter. This is to make sure that the water will run directly into the gutter and not behind it.
Install Gutter Flashing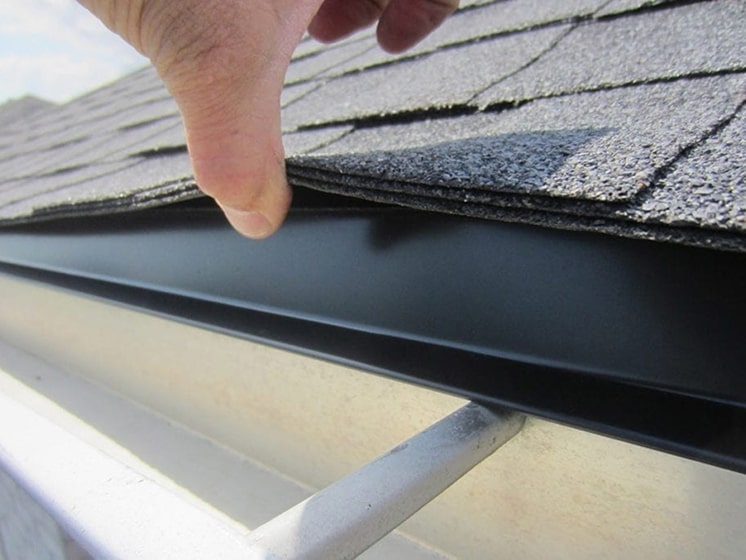 The flashing also prevents the water from running behind the gutters. Install it under the shingles and over the back edge of the gutter with 25.4mm (1in) roofing nails every 0.61 meter (2ft). Also, lap the sections about two inches.
Screw the Hanging Straps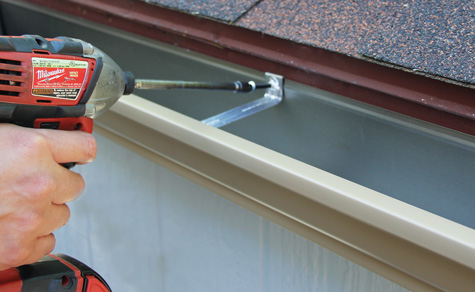 After attaching the flashing, install the hanging straps every two feet. The purpose of these is to support the gutters and strengthen the front edge. You can screw through the flashing and gutter back into the fascia.
Connect the Downspout to the Gutters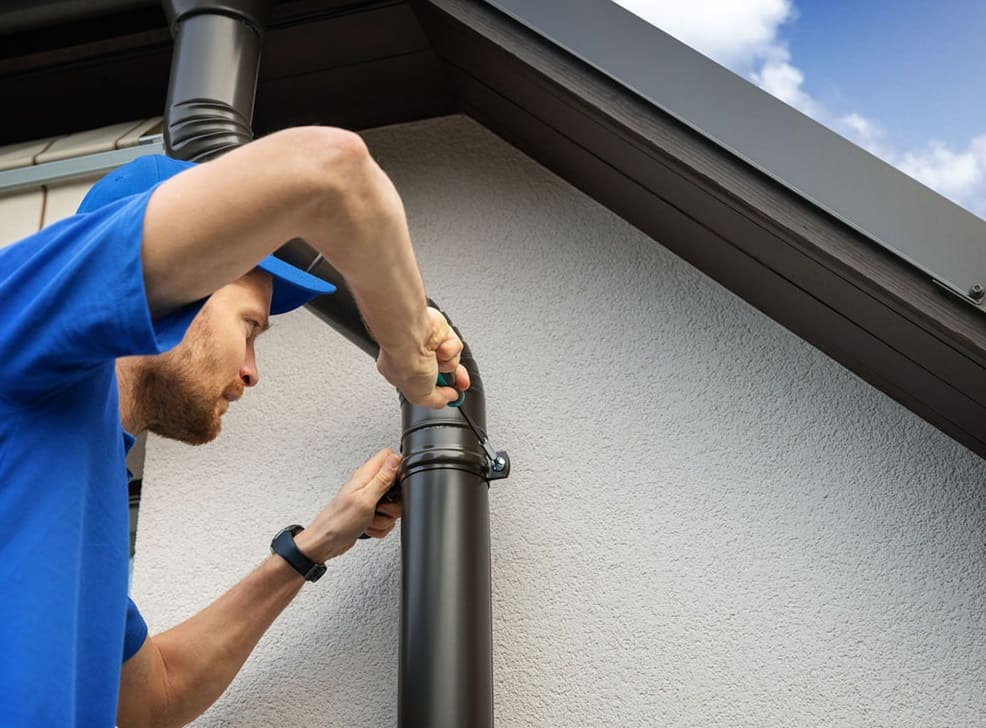 Lastly, connect the downspout to the gutters via the downspout outlet. Typically, the first connection is the elbow section of the downspout to the downspout outlet. Use metal screws to attach it to the gutter outlet that extends downward.
See to it that the crimped ends are facing down to avoid water leaks from the connections. Take note that every elbow or connection is crimped on one end to allow the other end to fit together. Then, apply a sealant to the connection seams.
Fasten the brackets to the wall and attach the downspouts to the wall via these brackets. Moreover, you can add a length of downspout tube to the bottom elbow to divert rainwater away from your home or property.
---
A rain guttering system is a valuable investment in any house or property. However, choosing the right kind of gutter can be confusing as it may or may not complement the structure of your home or property while ensuring that it serves its functionality.
With these, it is important to ask the professionals for proper consultation and for proper gutter installation in Brisbane. Such services help homeowners and building owners level up the appearance of their properties without sacrificing the quality of work.