Categories >
Internet/Tech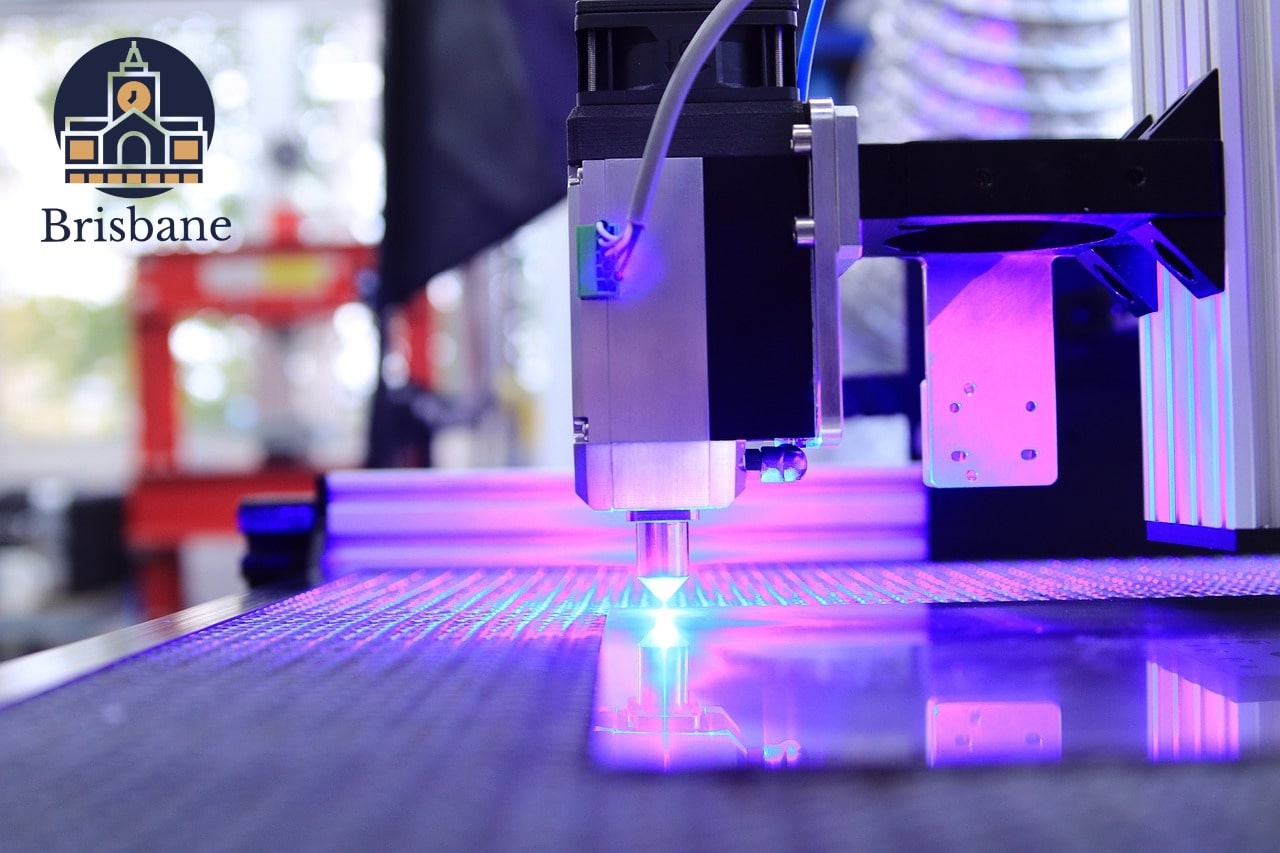 Top 6 Laser Engraving Shops in Brisbane
1. Laser Art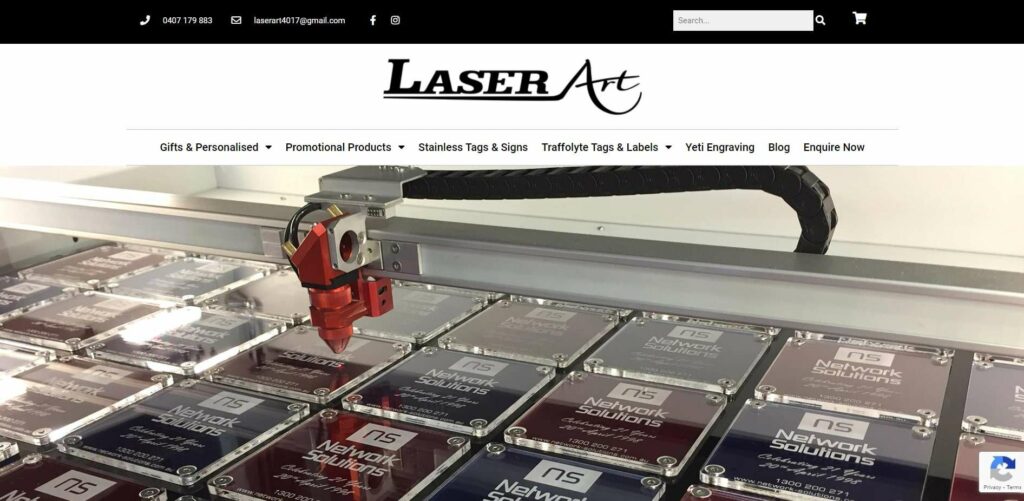 Services: Gifts & Personalised Items, Promotional Products, Stainless Tags & Signs, Traffolyte Tags & Labels, Yeti Engraving
Website: https://laserart.net.au/
Address: 121 Connaught St, Sandgate QLD 4017, Australia
Contact Details: (61) 407 179 883
Operating Hours: Monday – Thursday: 6:00 AM – 2:00 PM; Friday: 6:00 AM – 12:00 PM
| | |
| --- | --- |
| Google reviews score | 5/5 |
| Total Reviews | 5/5 |
| Score consistency | 5/5 |
| | |
| --- | --- |
| Location | 4.75/5 |
| Recommendations | 5/5 |
| Engraving Costs | 4.75/5 |
| Equipment | 5/5 |
| Versatility | 4.75/5 |
Can engrave even the most detailed design
Flexible pickup time for customers
Might not be able to accommodate last-minute bulk orders
Slow sending of quotation
Laser Art is a hub for all things personalised because it uses a topnotch laser engraving machine! Customisation is what makes them special, which means the shop can do any type of engraving as long as you send them the designs in advance.
During our talk with some of its clients, they mostly focused on how Laser Art was able to cater to even the most detailed designs from them. This is what turned them into repeat customers—it can do engraving even of the most intricate patterns.
In addition to this, the shop makes the process easier for its customers, which we appreciate. Just send them the design you prefer, the staff will immediately make the pattern and adjust it, and then your order will be available within 24 hours.
Just remember though that this turnaround time's only true for minimal orders and not for bulk orders. No matter how efficient the shop is, it might not always be able to accommodate last-minute large-scale requests.
In terms of pricing, Laser Art has very flexible rates, so you don't need to spend too much to avail its engraving. Don't expect immediate reply though regarding the quotation because the shop's a little too busy at times.
Lastly, we also appreciate Laser Art's flexibility in terms of pickup time. You can schedule when you can come to collect your orders even if it's outside of the business hours—that's a definite plus to those who only have time after work hours.
2. Wildfire Engraving Pty Ltd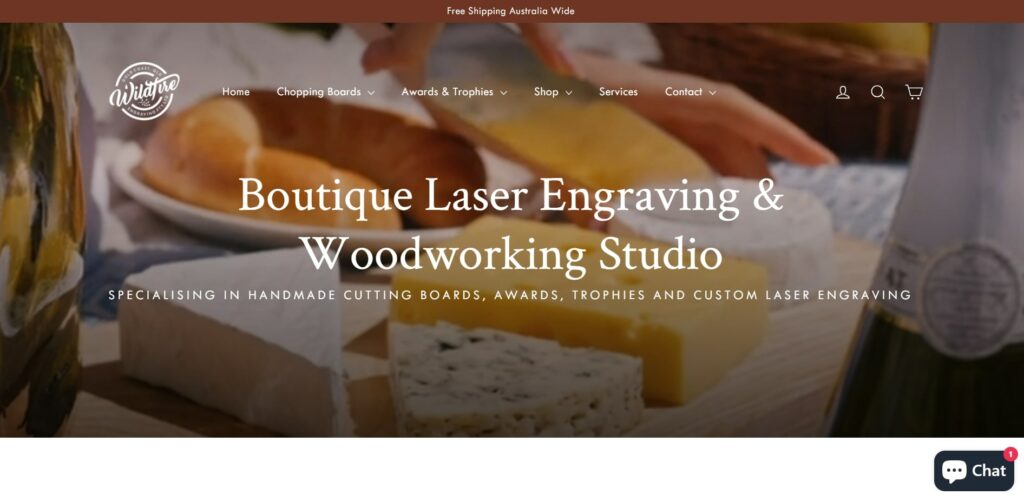 Services: Chopping Boards, Corporate Signage, Industrial Plates & Labels, Promotional Engraving, Custom Medallions, Engraved Pavers, Point of Sale Items, Direction Signage, Custom Laser Cutting
Website: https://wildfireengraving.com.au/
Address: Unit 5/11 Commerce Cct, Yatala QLD 4207, Australia
Contact Details: (61) 7 5619 5312
Operating Hours: Monday – Tuesday & Thursday – Friday: 8:00 AM – 4:00 PM; Wednesday: 6:00 AM – 2:00 PM
| | |
| --- | --- |
| Google reviews score | 5/5 |
| Total Reviews | 4.75/5 |
| Score consistency | 4.85/5 |
| | |
| --- | --- |
| Location | 4.75/5 |
| Recommendations | 5/5 |
| Engraving Costs | 4.75/5 |
| Equipment | 5/5 |
| Versatility | 5/5 |
Perfect for bespoke orders
Organised order process 
Late replies to inquiries sent via contact form
Unanswered phone calls
There's a misconception about Wildfire Engraving Pty Ltd—that it only engraves chopping boards. But if you visit its side and take a look at its products—it actually does laser engraving for an extensive list of items!
We recommend checking out the company if you're into bespoke items. The shop uses the latest laser engraving machine, so it can accommodate even the tiniest details you want in your design—it's perfect for gifts and promotional materials.
In fact, the customers we've talked to couldn't help but tell us about the amazing craftsmanship and the attention to details. From corporate signages to industrial plates or labels—you're pretty sure Wildfire can do engraving on them.
The cost is also not that high. In fact, we're quite surprised that the quality of the engraving doesn't match the price we have in mind—it's definitely lower and pocket-friendly!
We also admit that despite being a small business, Wildfire can accommodate last-minute orders. In addition to this, it makes sure the orders are delivered on time with the details requested—such efficiency!
The only problem we see about the company is its communication lines. Some customers complain about unanswered phone calls and emails.
Other than that though, we think Wildfire is a good laser engraving shop to check out. Friendly owners and quality engraving are the perfect combination for your customised projects.
And one last thing—we commend the shop for is its environmental advocacy. We all admire a brand that supports sustainability by patronising eco-friendly materials.
3. Plastic Tags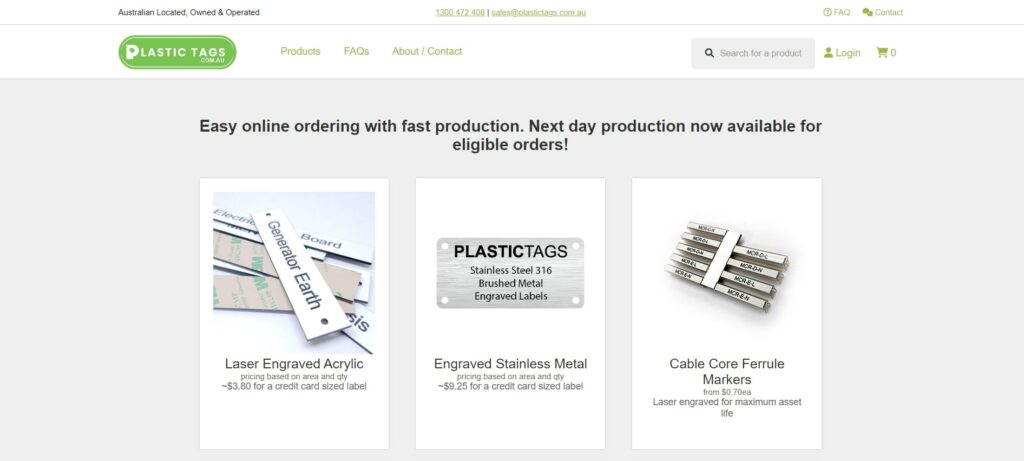 Services: Acrylic, Stainless Metal, Cable Core Ferrule Markers, Cable Labels, Steel Cable Labels, Safety Signs, Equipment Tags, Isolation Lockout Padlocks, Lockout Devices, Security Seals
Website: https://plastictags.com.au/
Address: Brisbane Tingalpa 4173 Australia
Contact Details: (61) 1300 472 408
Operating Hours: Monday – Friday: 7:00 AM – 3:00 PM
| | |
| --- | --- |
| Google reviews score | 5/5 |
| Total Reviews | 4.75/5 |
| Score consistency | 4.85/5 |
| | |
| --- | --- |
| Location | 4.5/5 |
| Recommendations | 5/5 |
| Engraving Costs | 4.75/5 |
| Equipment | 5/5 |
| Versatility | 4.75/5 |
Worldwide shipping available
Simple online order process
Closes early
Rush orders aren't available for all products
What makes Plastic Tags stand out to us is that even though it's a local company, it caters to international clients. If you're not from Australia and would love to check out their laser-engraved products, you can do so!
This is probably the reason why the shop has a seamless online process, which the clients we've talked to appreciate a lot. They told us that ordering from Plastic Tags is easy—the site's updated with all the products and it has an easy checkout process.
We also commend the efficient communication the shop has with its customers. Your requested quotes are sent immediately to emails and your inquiries are answered within minutes.
Pricing is also good, which means no need to stretch your budget! We admire Plastic Tags' dedication to make sure the needs of its customers are met even with such flexible rates.
Another thing we love about Plastic Tags is the fast production. However, we think you need to know that this isn't available for all items, so you need to inquire with the company what products are eligible for fast bulk production.
One thing we think you might not like though is that the shop closes early so you might not be able to just walk in. The good news is that Plastic Tags can accommodate you outside of its business hours—but you need to arrange the schedule with the shop.
4. Duncan Vickers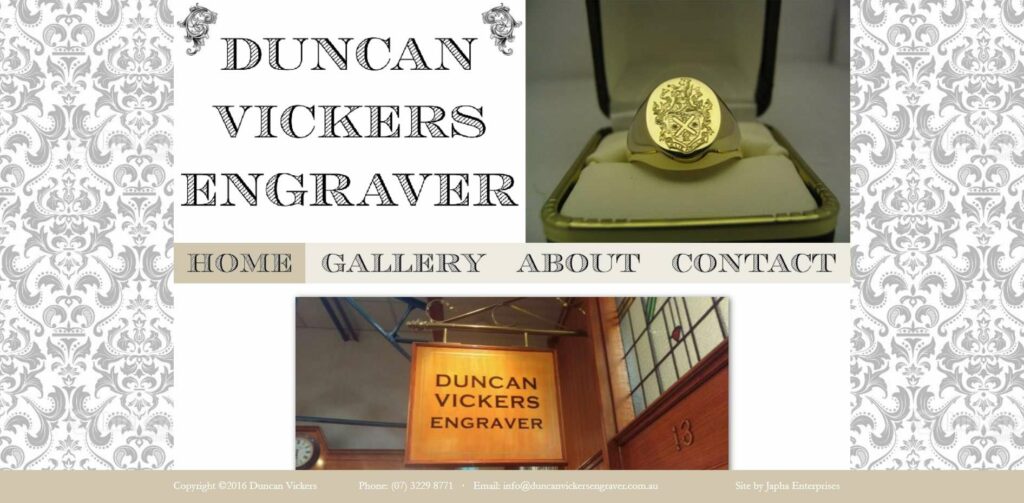 Services: Inscriptions, Monograms, Cyphers, Heraldic, Ornamental & General Engraving
Website: http://www.duncanvickersengraver.com.au/
Address: Shop 13, Queen St, Brisbane City QLD 4000, Australia
Contact Details: (61) 7 3229 8771
Operating Hours: Monday – Friday: 9:00 AM – 5:00 PM
| | |
| --- | --- |
| Google reviews score | 5/5 |
| Total Reviews | 4.75/5 |
| Score consistency | 4.85/5 |
| | |
| --- | --- |
| Location | 5/5 |
| Recommendations | 5/5 |
| Engraving Costs | 4.75/5 |
| Equipment | 4.75/5 |
| Versatility | 4.5/5 |
Strategic location
Consistent business hours
No weekends
Can't accommodate customers outside of business hours
When we asked its loyal customers about what made Duncan Vickers stand out from other laser engraving shops, they told us one thing—Duncan, the owner, is an artist. The craftsmanship is on a whole new level most especially if you see the final product.
Duncan can engrave any design you have in mind. He's highly skilled, which his customers often gush about, so his attention to intricate details is amazing–he even asks if you're a left-handed or a right-handed person before engraving on a pen!
Moreover, the shop uses a state-of-the-art laser engraving machine. This helps the designs to be clearer and more precise on your items.
Duncan Vickers has great pricing too—it can fit anyone's budget! Plus, the shop works really fast and can accommodate last-minute requests as long it's not a busy day.
Another thing we appreciate about Duncan is the convenience of doing business with them. It's located in a central area so it's easy to drop by anytime.
In addition to this, since it's located in a commercial area, it has consistent business hours so you can immediately set your schedule around it. However, the shop strictly can't accommodate customers outside of these hours, so make sure you arrive early.
We think you'll also like that there's a lot of parking spaces. So whether or not you'll go to Duncan's just to inquire or have an item engraved, you can bring your car without any problems at all.
5. Rapid Engraving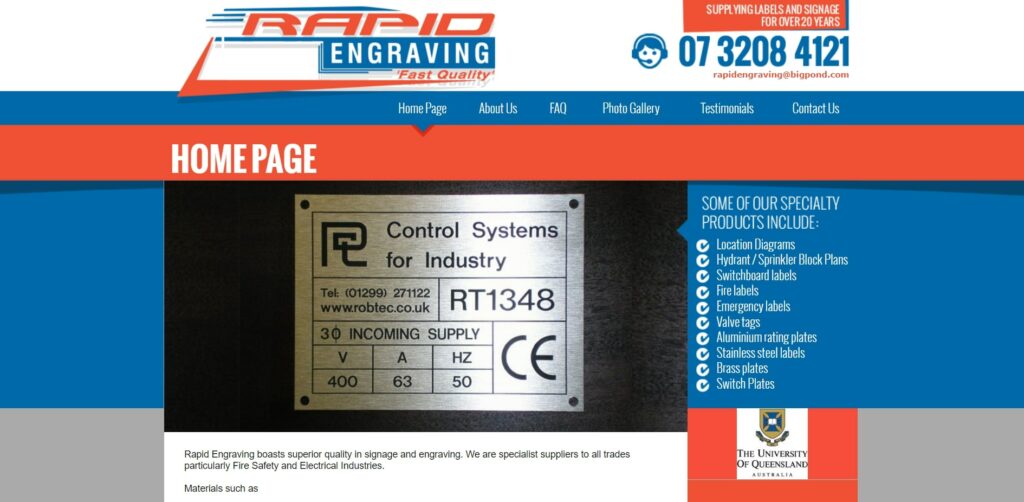 Services: Location Diagrams, Switchboard Labels, Fire Labels, Emergency Labels, Valve tags, Aluminium Rating Plates, Stainless Steel Labels, Brass Plates, Switch Plates
Website: http://www.rapidengraving.com.au/
Address: 20/22 Allgas St, Slacks Creek QLD 4127, Australia
Contact Details: (61) 7 3208 4121
Operating Hours: Monday – Thursday: 7:30 AM – 4:30 PM; Friday: 7:30 AM – 2:00 PM
| | |
| --- | --- |
| Google reviews score | 4.8/5 |
| Total Reviews | 4.25/5 |
| Score consistency | 4.45/5 |
| | |
| --- | --- |
| Location | 4.75/5 |
| Recommendations | 4.75/5 |
| Engraving Costs | 4.75/5 |
| Equipment | 5/5 |
| Versatility | 4.75/5 |
Urgent orders are prioritised
Very comprehensive website
Line's always busy
Delays on delivery during busy weeks
Rapid Engraving's efficient production process pulls customers towards it. The shop prioritises urgent orders, so most of the time they meet the promised turnaround time, except perhaps on a busy day, which is a little understandable.
We had a chat with some of Rapid Engraving's customers who told us that what they loved about the shop is that there are several options to choose from. The website's very organised and customers can easily view the product line.
The shop has an extensive list of laser-engraving services. It can inscribe on almost anything—acrylic, plaque, plates, badges, key tags, electrical labels, safety labels, safety signs, switch surrounds, switch plates, aluminium, stainless steel, and brass.
We also admire the workmanship. You can see the skills of the engravers because of the attention to details on the final products.
We also approve that Rapid Engraving accepts small or bulk orders. Even if you only need to have a single item engraved, the shop will accommodate your needs.
The only downside we see are related to communication. It's hard to get a hold of anyone because the line's always busy, and this causes inconvenience to potential customers.
Still, the pros overpower the cons, so we still think Rapid Engraving is a reliable laser-engraving shop you might want to try. High-standard end products and affordable pricing are things you can never resist.
6.  ShotThruDesigns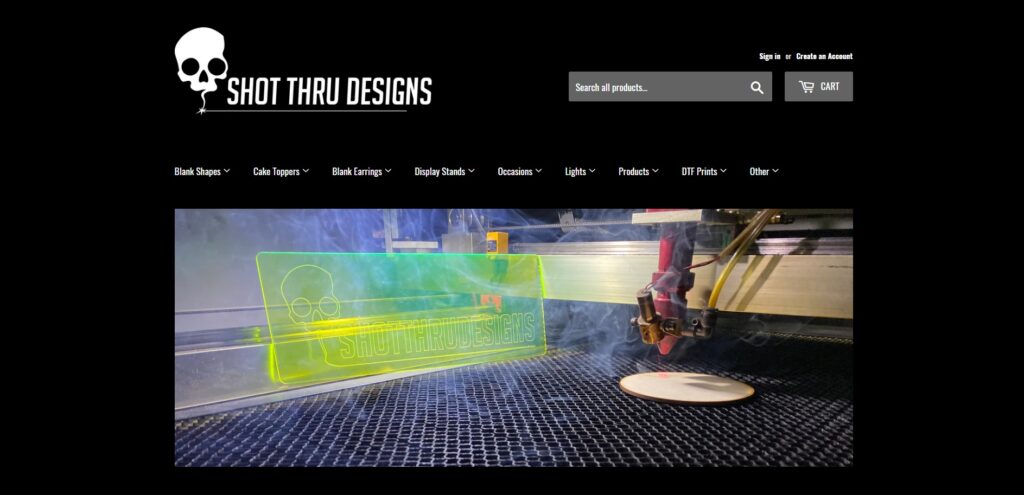 Services:  Laser Engraving Services for Blank Shapes, Cake Toppers, Blank Earrings, Display Stands, Occasion Pieces, Lights, Wall Art, Sake Boxes, LED Light Bases, and other Accessories
Website: https://www.shotthrudesigns.com.au/
Address: 3 Clive St, Goodna QLD 4300, Australia
Contact Details: +61 481 574 174
Operating Hours:
Monday to Friday: 8 AM – 6 PM;
Saturday: 10 AM – 6 PM
| | |
| --- | --- |
| Google reviews score | 5/5 |
| Total Reviews | 5/5 |
| Score consistency | 5/5 |
| | |
| --- | --- |
| Location | 5/5 |
| Recommendations | 5/5 |
| Engraving Costs | 4.5/5 |
| Equipment | 5/5 |
| Versatility | 5/5 |
A comprehensive selection of services
Experienced technicians
Unique designs
Long turnaround time for larger pieces
Delays in delivery during busy weeks
ShotThruDesigns offers a comprehensive laser engraving service that caters to a diverse range of needs. Their experienced technicians demonstrate a mastery of their craft, ensuring precise and high-quality results.
One of the standout features of their service is the availability of unique pre-made designs, which can add a personal touch to your items.
However, there are some downsides to consider. For larger projects, you might have to exercise patience due to a longer turnaround time. This can be a bit frustrating if you're working on a tight schedule.
Additionally, during busy weeks, ShotThruDesigns occasionally faces delays in their delivery process. This can be an inconvenience if you need your engraved items promptly.
Despite these drawbacks, ShotThruDesigns' laser engraving service remains a solid choice for those seeking customization and personalization. Their wide array of services and experienced team make them a reliable option for various engraving needs.
We highly recommend ShotThruDesigns to those looking to add that special touch to their belongings.
FAQs About Laser Engraving
---
That's the end of our list! If you need a special touch added to an item, whether it's a gift for someone or something you bought for yourself, try laser engraving. It's an elegant, classic way of preserving a memory in a keepsake.
---