Categories >
Construction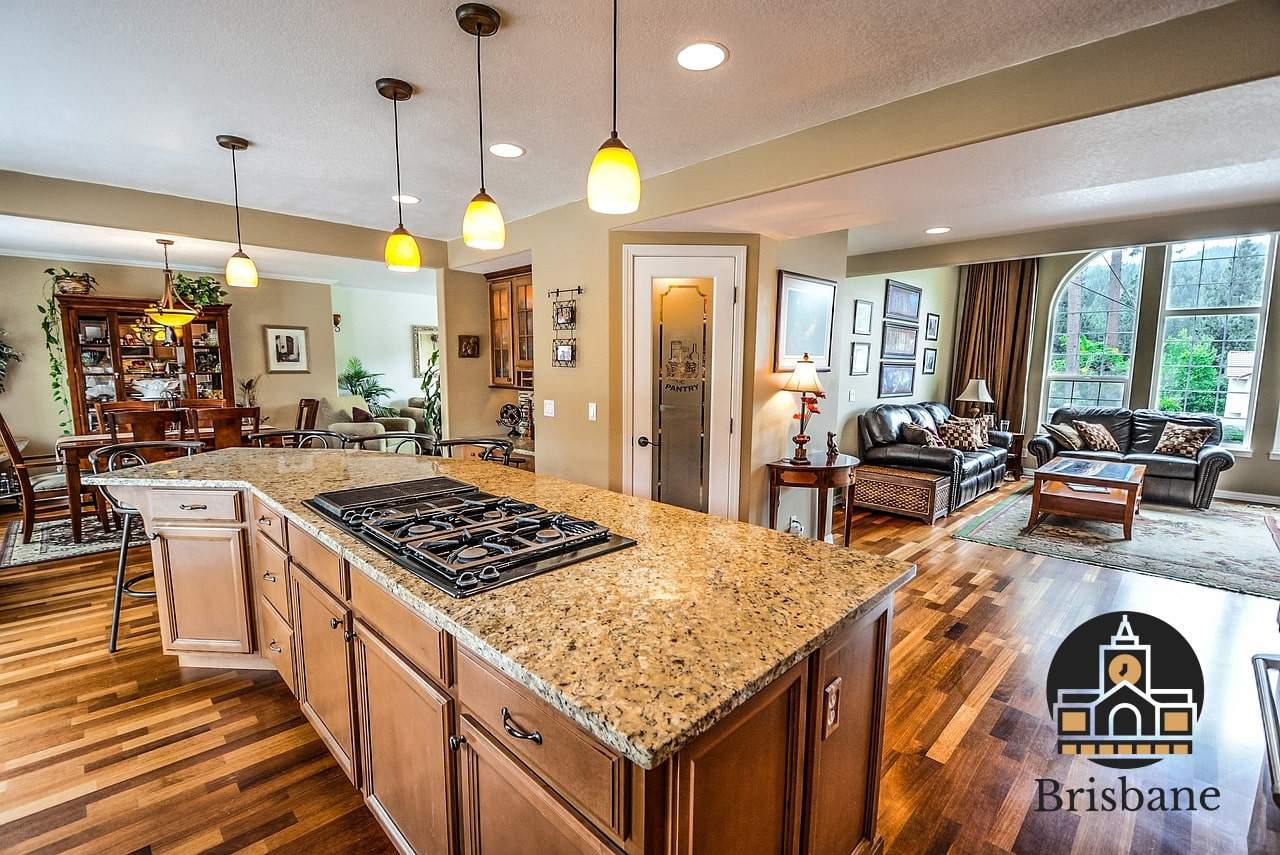 Top 5 Kitchen Remodel Contractors in Brisbane
1. Rod's Kitchens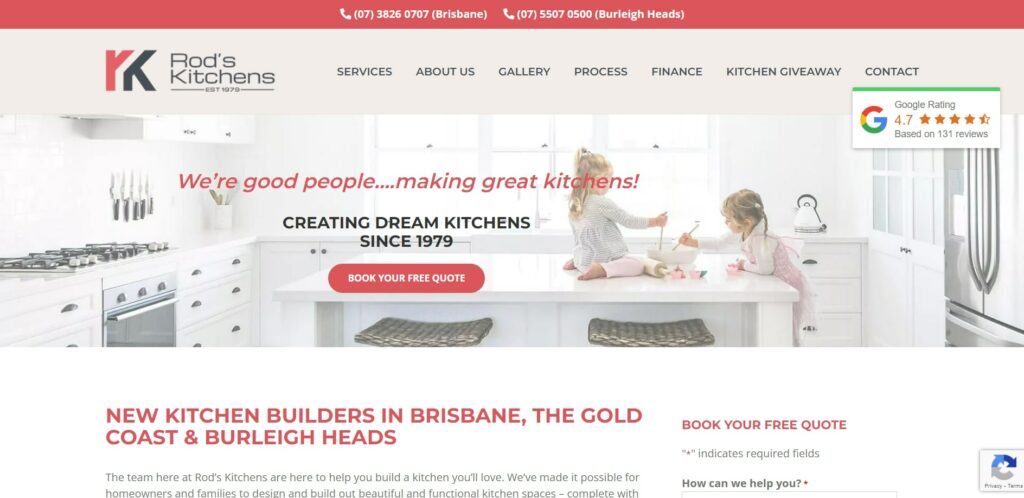 Services: Kitchen Renovation, Kitchen Design, Custom Kitchens, Kitchen Cabinet, Kitchen Installation, Kitchen Benchtops, Kitchen Showroom, Hamptons Style Kitchen
Website: https://rodskitchens.com.au/
Address: 5 Blue Eagle Dr, Meadowbrook QLD 4131, Australia
Contact Details: (61) 7 3826 0707
Operating Hours: Monday – Thursday: 9:00 AM – 4:30 PM; Friday: 9:00 AM – 4:00 PM; Saturday: 9:00 AM – 12:00 PM
| | |
| --- | --- |
| Google reviews score | 4.7/5 |
| Total Reviews | 5/5 |
| Score consistency | 4.85/5 |
| | |
| --- | --- |
| Portfolio & Credentials | 4.75/5 |
| Costs | 4.5/5 |
| Communication Skills | 4.5/5 |
| Professionalism | 4.5/5 |
Meticulous with details
Exceptional client communication
Unexpected extra charges to initial quote
Needs follow up on inquiries
We all appreciate it when a contractor has an eye for details, and Rod's Kitchens takes detailing to the next level! If you're looking for kitchen remodel experts who work with thoroughness and accuracy, then Rod's Kitchens is the perfect firm for you.
We love how the company's staff assigned to you stays with you throughout the process—from designing your kitchen to choosing materials and colours. The staff really guides you to the showroom for the actual design and colour choices.
In fact that's what former clients appreciated the most when we asked what they loved about the firm—every material and process was thoroughly explained. Even the cost was itemised so they knew where their budget's going!
In addition to this, the staff really show competence—they know their company's products and services. We love that they can provide good recommendations or alternatives regarding design and materials, and they're very up-to-date with trends!
We don't want to forget the on-site crew too—the remodelers, electricians, and plumbers turn up on an agreed schedule and get to work without delays. The best thing—they clean up after themselves!
We also want to commend Rod's Kitchens for exceptional client communication. The staff are also very patient with the clients and answer every single question, which is very helpful when the clients decide about the final design and materials.
Just be careful about extra charges. While the firm stays within your budget, they sometimes do extra services and add the fee to the final bill—a bit bothersome if you have a really strict budget!
2. Kitchen Gallery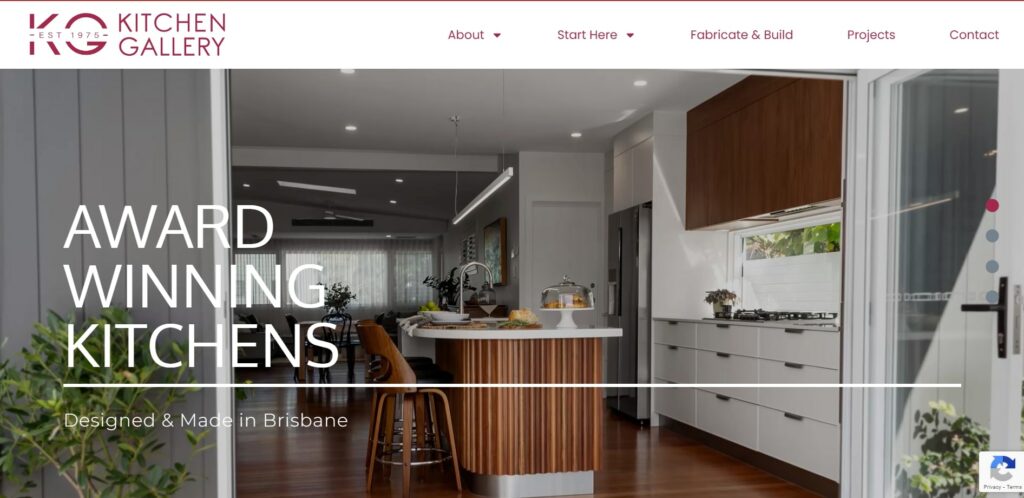 Services: Kitchen Design, Kitchen Renovation, Kitchen Fabrication
Website: https://kitchengallery.com.au/
Address: 1/270 Orange Grove Rd, Salisbury QLD 4107, Australia
Contact Details: (61) 7 3274 6388
Operating Hours: Monday – Friday: 8:30 AM – 5:00 PM; Saturday: 8:30 AM – 12:00 PM
| | |
| --- | --- |
| Google reviews score | 4.7/5 |
| Total Reviews | 4.7/5 |
| Score consistency | 4.7/5 |
| | |
| --- | --- |
| Portfolio & Credentials | 4.75/5 |
| Costs | 4.75/5 |
| Communication Skills | 4.5/5 |
| Professionalism | 4.5/5 |
Several affordable options 
Uses modern techniques and tools for remodelling
Issues in the availability of materials
Tendency to lose client selections
If you ask us what we think is Kitchen Gallery's main strength, we have a couple—the designers and the low-cost options. The designers have the best creative visions, and they can give the prettiest kitchen designs within the limits of your budgets!
Former clients whom we talked to agree with us that the Kitchen Gallery's designers know how to maximise kitchen space. We really love how they balance the look and the functionality while using low-cost materials and appliances.
Perhaps it's because the company uses modern tools and equipment that the design options are limitless. The company tries its best to transform your dream kitchen into a reality with just minor tweaks from the original design you want.
Another thing we think is worth commending is how accommodating the firm is with their clients. Clients typically have last-minute changes and requests especially when they're already seeing the results, and Kitchen Gallery has no qualms in catering to them.
We just saw one issue that might cause clients some problems—the company has a disorganised filing system. The staff have a tendency to lose details like preferred materials and colours so there's a need to repeat the process all over again.
Sometimes there are also issues in the availability of components that threaten to cause delays in the project. But Kitchen Gallery's very strict in making sure the kitchen makeover is done on time!
3. Modern Kitchens Northside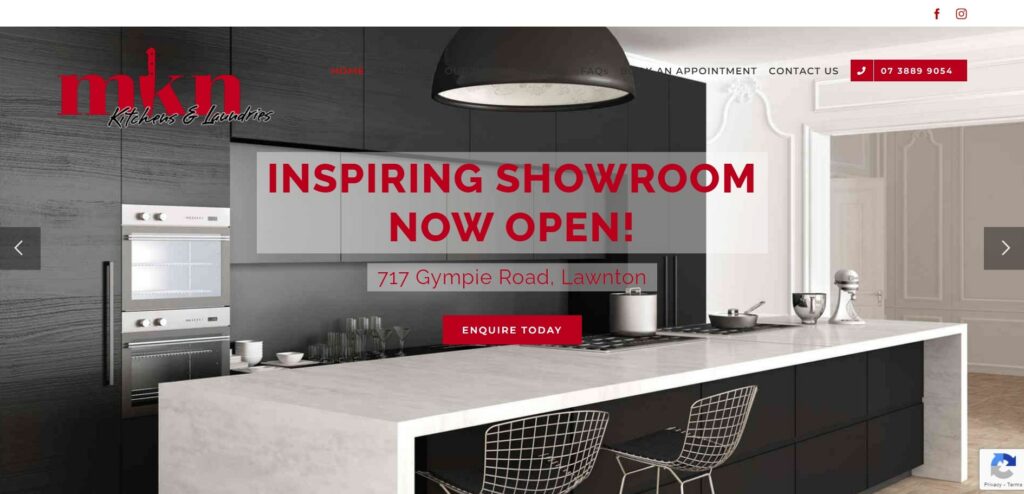 Services: Kitchen, Laundry, Bathroom, & Custom Cabinetry Solutions
Website: https://modernkitchensnorthside.com.au/
Address: 717 Gympie Rd, Lawnton QLD 4501, Australia
Contact Details: (61) 7 3889 9054
Operating Hours: Monday – Friday: 9:00 AM – 5:00 PM; Saturday: 9:00 AM – 2:30 PM
| | |
| --- | --- |
| Google reviews score | 4.8/5 |
| Total Reviews | 4.6/5 |
| Score consistency | 4.7/5 |
| | |
| --- | --- |
| Portfolio & Credentials | 4.75/5 |
| Costs | 4.5/5 |
| Communication Skills | 4.75/5 |
| Professionalism | 4.75/5 |
Easy overall process
No delays
Some staff can't provide answers to customer inquiries
Needs to double-check validity of promos
For those who don't know too much about kitchen designing and the process and materials that come with it, we recommend checking out Modern Kitchens Northside. The firm has such an easy overall process, which to us, is beginner-friendly!
We love how the company makes things easy for its clients—the process from booking to actual kitchen makeover is seamless and hassle-free. It's very organised because coordination between remodelers, installers, plumbers, staff, and electricians are solid.
Designers take note of every detail and make helpful suggestions, even introducing new trends. But what we love the most is that they make sure your kitchen remodel design is a combination of aesthetic and functionality!
This is the reason why the designers guide its clients through everything including colours, layout, and materials among others. This is what former customers boasted to us about actually—how the staff at Modern Kitchens are with you all throughout!
We also appreciate that despite the excellent workmanship being done to your kitchens, you don't need to overspend. The firm respects your budget and stays within its limits.
We also love that there are no delays in Modern Kitchens' projects. The on-site crew arrives on time and immediately gets to work, which results in an early finish and super polished results—no installation issues.
There's flawless communication too, which every client appreciates. We love how clients get updates and are always informed about any changes.
Just be careful about the promos. Some of the deals being advertised have already expired so you might need to check with Modern Kitchens' regarding the actual pricing or freebie services just to make sure.
4. Unique Design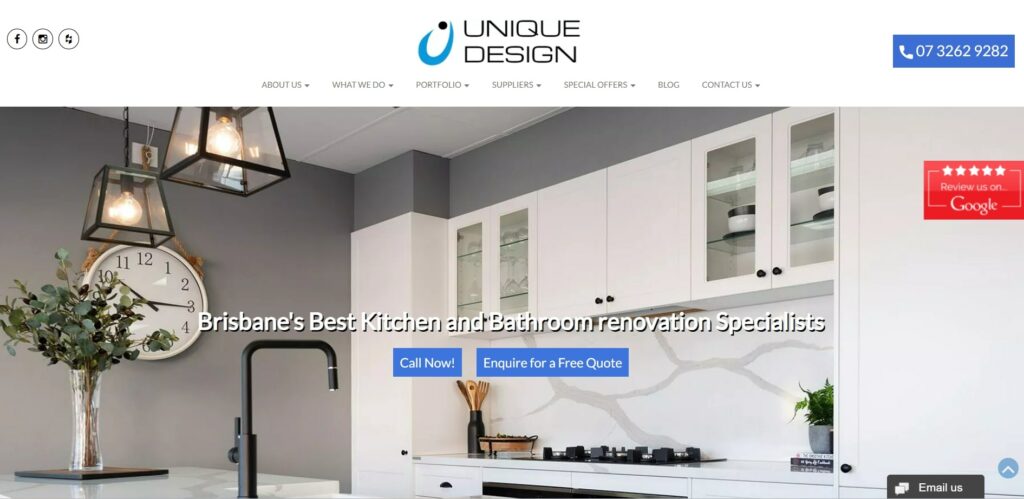 Services: Kitchen Renovations, Bathroom Designs, Alfresco Kitchens, Laundry Renovations, Hamptons Kitchens, Wardrobes, Custom Cabinetry
Website: https://www.uniquedesign.net.au/
Address: 680 Sandgate Rd, Clayfield QLD 4011, Australia
Contact Details: (61) 7 3262 9282
Operating Hours: Monday – Friday: 9:30 AM – 5:00 PM; Saturday: 9:30 AM – 2:00 PM
| | |
| --- | --- |
| Google reviews score | 4.5/5 |
| Total Reviews | 4.4/5 |
| Score consistency | 4.45/5 |
| | |
| --- | --- |
| Portfolio & Credentials | 4.5/5 |
| Costs | 4.25/5 |
| Communication Skills | 4.5/5 |
| Professionalism | 4.5/5 |
Accommodates clients any time
Amazing design options
Lapses in communication in terms of updating clients
Add-ons in terms of cost
Unique Design is your go-to contractor if you have limited resources like budget and time. The company makes sure to work around what you have and respects your limits—we're in favour of the client-centric approach!
We love that the staff listen to what the clients want and try to accommodate them in the design. If in case it's not feasible due to the constraints on the part of the client, they explain properly and also suggest good alternatives.
We appreciate the collaborative design process between the firm and its clients. Some former customers we talked to really gushed about this—Unique Design truly works WITH its clients and not FOR its clients.
This is the reason why the firm's able to create amazing kitchens that satisfy their patrons. The company knows what the clients want so it easily sorts out the details like materials, appliances, themes, and colours, and has the clients approve them.
Pricing is great too, though we just want to warn you about add-on services the on-site crew tends to do on the spot like minor adjustments. They're small extra charges, but can still be bothersome especially if it's not on the initial quote.
Speaking of on-site workers, we also want to commend them in terms of professionalism. They arrive early on-site and focus on their work so they can easily finish with the renovations and installations.
They're quite resourceful too! There are times when issues arise on-site, and the crew immediately rectifies them without a fuss to prevent delays.
5. Align Kitchens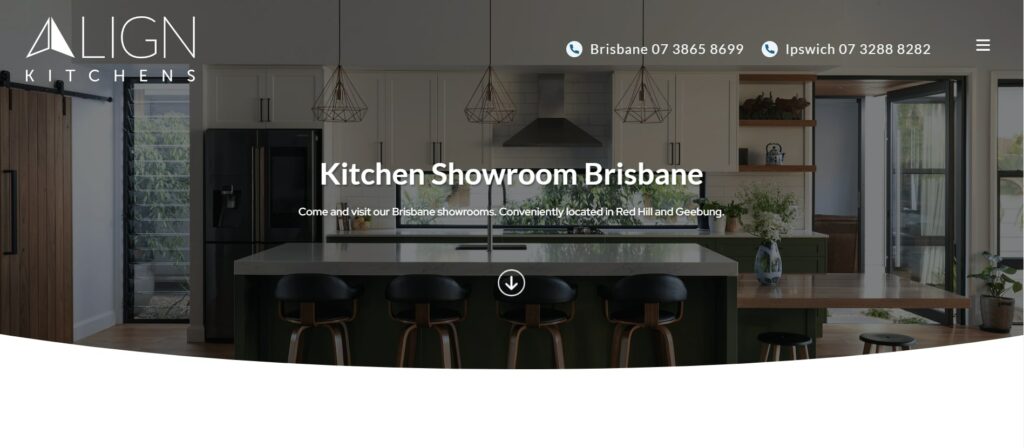 Services: New Kitchens, Kitchen Makeovers, Bathrooms, Laundries, Interior Renovations, Custom Cabinetry
Website: https://www.alignkitchens.com.au/kitchen-showroom-brisbane/
Address: 86 Granite St, Geebung QLD 4034, Australia
Contact Details: (61) 7 3865 8699
Operating Hours: Monday – Friday: 9:00 AM – 4:30 PM
| | |
| --- | --- |
| Google reviews score | 4.8/5 |
| Total Reviews | 4.4/5 |
| Score consistency | 4.6/5 |
| | |
| --- | --- |
| Portfolio & Credentials | 4.75/5 |
| Costs | 4.75/5 |
| Communication Skills | 4.75/5 |
| Professionalism | 4.5/5 |
Transparent pricing
Superb attention to detail
Walk-ins aren't allowed
Mess in the work area needs to be minimised
We love how Align Kitchens stays true to its name—it's well-known to the locals for making sure your desired design aligns with how you utilise your kitchen. The contractor maximises the space with quality materials that will serve their purpose.
We actually got to chat with former clients who told us that the longevity of their kitchens was no joke. All materials were top-notch and the installations were flawless that there were no major issues even after years of remodelling!
It's because the staff assigned to you will help you choose every material and appliance, explaining the details about them as they guide you through the showroom. They will also answer your questions patiently and make alternative suggestions.
Align Kitchens has an amazing showroom, by the way—you'll have a great time exploring it. Just one thing—walk-ins aren't allowed so you have to call them to book an appointment before you can visit the showroom.
We also appreciate how open the designers are with what you want and how much they pay attention to them. Just tell them what you want for your kitchen remodel, and they'll make sure to incorporate them with what you need for your kitchen's functionality.
On-site workers are polite and friendly, and also work quite fast. However, we wish they can also learn how to clean up after themselves so as not to inconvenience the home owners.
Pricing is competitive too and very upfront, which we like. There are no hidden or extra charges—you'll pay what's on the quote.
FAQs About Kitchen Remodel
---
Our review ends here! Renovating your kitchen to turn it into a more practical and aesthetic area in the house is always a good idea. Just remember to choose the right professionals that can help transform your new dream kitchen into a reality!
---