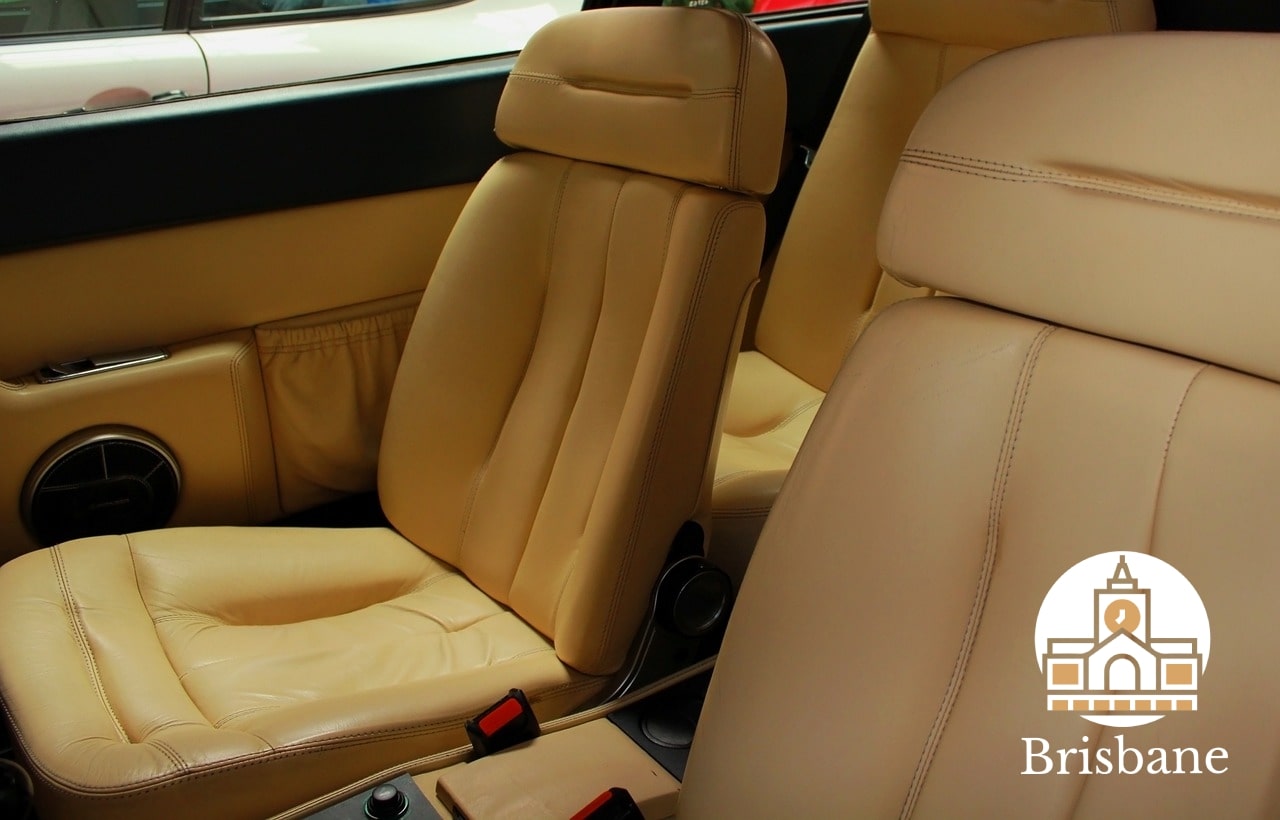 5 Top Auto Upholstery Shops in Brisbane
1. Lee Brothers & Co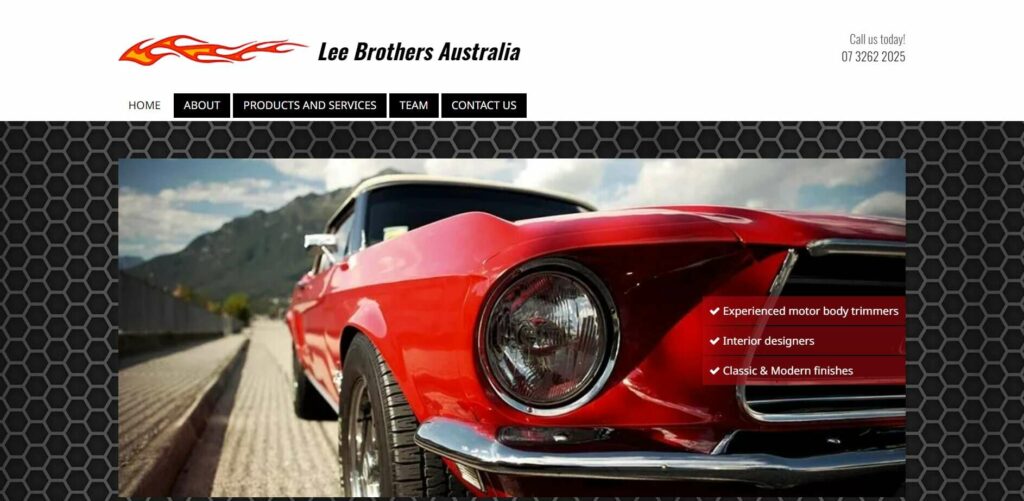 Services: Motor Trimming, Custom Designs
Website: https://www.leebrotherstrimmers.com.au/
Address: 8 Pedder St, Albion QLD 4010, Australia
Contact Details: (61) 7 3262 2025
Operating Hours: Monday – Thursday: 6:00 AM – 4:00 PM; Friday: 6:00 AM – 2:00 PM
| | |
| --- | --- |
| Google reviews score | 4.8/5 |
| Total Reviews | 5/5 |
| Score consistency | 4.9/5 |
| | |
| --- | --- |
| Reference | 4.75/5 |
| Skills & Competence | 4.5/5 |
| Equipment & Tools | 4.75/5 |
| Cost | 4.25/5 |
Easy communication
Great attention to details
Takes very long to quote
Unorganised shop
Lee Brothers & Co is known for its first-class service—whatever type of upholstery service the client requests, the shop makes sure to meet them without hesitations. This comes with a price though as the services aren't cheap—but we think it's worth it!
First thing we notice is that the guys at Lee Brothers are easy to talk to. We appreciate that you can explain what you want and they'll easily get it, immediately telling you what type of material is best to use as well as how much it will cost.
Former clients we're able to talk to boasted about the shop's fantastic workmanship. They said the upgrades were amazing, most especially if you wanted your cloth seats to be upgraded to authentic leather ones.
According to them, the final stitches were neat and they could easily see that the shop used authentic materials. They also appreciated the fact that the upholstered parts weren't easily torn even if they're months old already!
One thing we think Lee Brothers should improve on is the organisation of its shop. We notice that stuff is everywhere, and this might give a wrong impression to its customers.
We also think you should know that the shop takes a long time to send you a quote–contrary to how fast their guys accomplish the actual upholstery job. You might need to consistently follow up before you'll have the costing in your hands.
2. All Vehicle Upholstery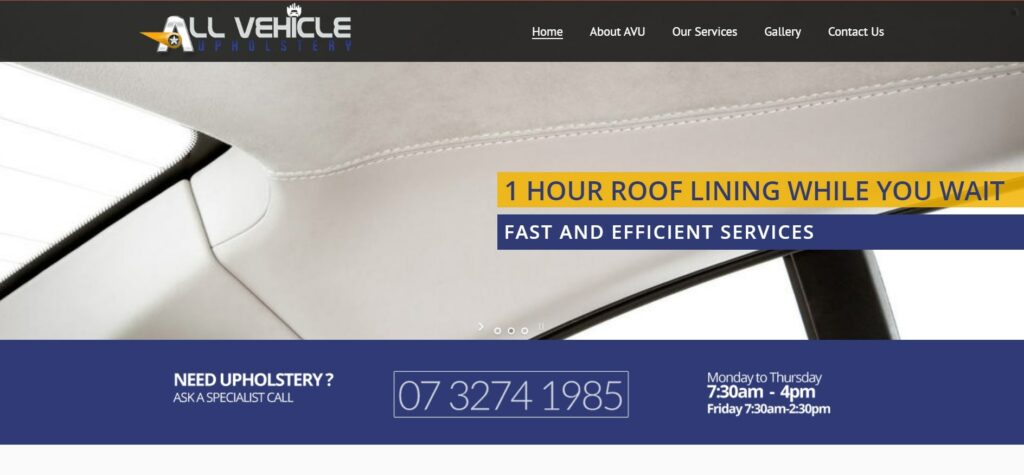 Services: Roof Lining, Sunroof, Seats, Carpets, Door Trims, Gear and Brake Boots
Website: https://allvehicleupholstery.com.au/
Address: 158 Marshall Rd, Rocklea QLD 4106, Australia
Contact Details: (61) 7 3274 1985
Operating Hours: Monday – Thursday: 7:30 AM – 4:00 PM; Friday: 7:30 AM – 2:30 PM
| | |
| --- | --- |
| Google reviews score | 4.6/5 |
| Total Reviews | 4.9/5 |
| Score consistency | 4.75/5 |
| | |
| --- | --- |
| Reference | 4.5/5 |
| Skills & Competence | 4.5/5 |
| Equipment & Tools | 4.5/5 |
| Cost | 4.75/5 |
Reasonable pricing
Easy-to-find location
Initial quote might differ from final estimate
Deviates from promised time frame on busy days
If you ask us what All Vehicle Upholstery's number one strength is, we'll answer with this: versatility. The shop doesn't say no to any custom auto upholstery—it makes sure to deliver the requirements of the clients for a reasonable price!
In fact, according to its past clients, that's the reason why they keep patronising the shop. Any idea they have in their head, the shop can cater to—no complaints or remarks even, that it's impossible.
We want to give the shop credit for this type of customer service. It validates each customer's needs and makes them feel important.
In addition to this, we also want to commend the people working at All Vehicle. Both staff and the upholsterers are always professional, yet they're also friendly and easy to talk to, making clients feel more at ease.
Another thing we love about All Vehicle—the location! It's easy to find, plus there are a lot of parking spaces around!
This space is actually true inside the shop too. All Vehicle has a nice waiting room for clients who want to wait for their vehicles since same day-fixing is available—you don't need to go anywhere to be comfortable!
Just a little warning from us though—sometimes, there are delays in the promised turnaround time. Also, make sure to check the quote since the initial estimate is sometimes far from the cost of the final estimate.
3. Annvid Auto Upholsterers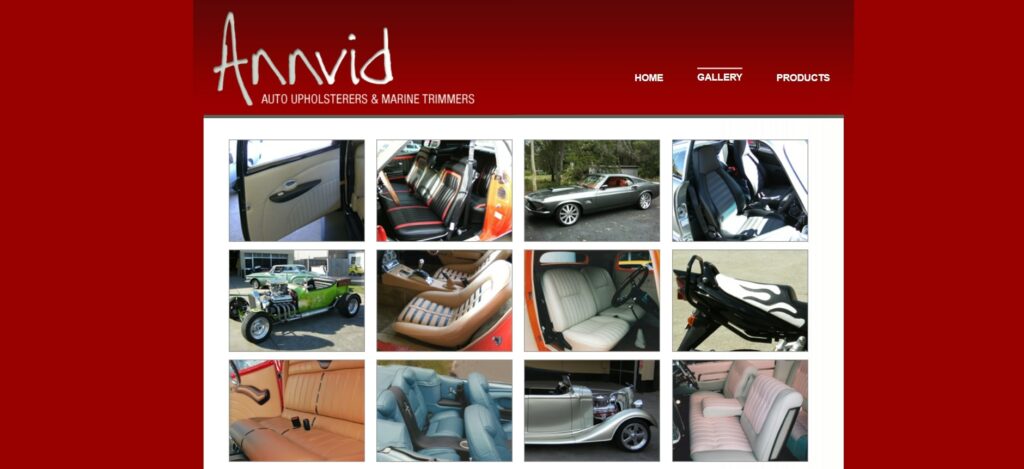 Services: Trimming & Upholstery
Website: http://www.annvid.com/
Address: 24 Smith St, Capalaba QLD 4157, Australia
Contact Details: (61) 7 3390 3444
Operating Hours: Monday – Friday: 7:00 AM – 5:30 PM; Saturday: 7:00 AM – 12:00 PM
| | |
| --- | --- |
| Google reviews score | 4.6/5 |
| Total Reviews | 4.6/5 |
| Score consistency | 4.6/5 |
| | |
| --- | --- |
| Reference | 4.5/5 |
| Skills & Competence | 4.5/5 |
| Equipment & Tools | 4.5/5 |
| Cost | 4.5/5 |
Cheap pricing
Customer-centric
Has a tendency to rush a job
Slow turnaround time
Annvid Auto Upholsterers has a more traditional approach, so it lacks the consistent text or email reminders that most service providers have. However, despite being classical in this approach, the company makes up for its services.
This approach is one of the reasons why Annvid Auto has a slow turnaround time, but the quality of work is as flawless as you can get. That more than makes it for the slow service—at least if you're not in a rush!
We had the privilege to chat with Annvid Auto's previous clients, and they told us they loved how the shop was customer-centric. It had always catered to the needs and wants of the customers, and never insisted on anything they didn't like.
In addition to this, the guys at Annvid Auto are really skilled and experienced! They can accomplish even the trickiest upholstery job, with the results looking very neat and flawless.
We also appreciate how the guys at the shop talk to customers. They exchange ideas with the customers and explain the material, process, and timeline to them in detail so they'll have an idea when things will be done.
The only problem we notice though is that Annvid Auto has a tendency to rush jobs at times, which results in minor miscalculations. However, the good news is that the shop immediately fixes it without delay—that's good customer service!
Other than that and the slow turnaround time, Annvid Auto's a good auto upholstery shop to check out. It has amazing staff and topnotch materials, and the guys gets the job done flawlessly!
4. Archerfield Auto Upholstery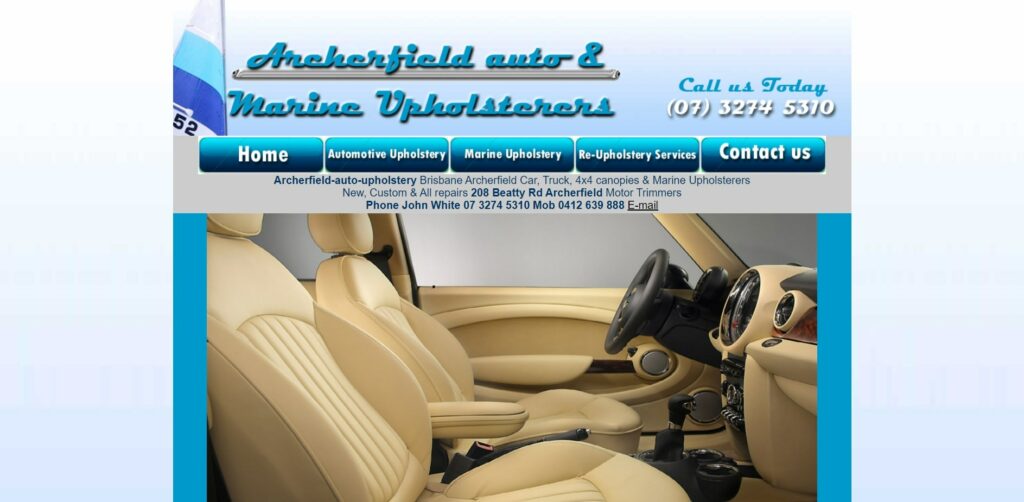 Services: Automotive Upholstery, Marine Upholstery, Re-Upholstery Services
Website: http://www.upholsterers-brisbane.com.au/
Address: 208 Beatty Rd, Archerfield QLD 4108, Australia
Contact Details: (61) 7 3274 5310
Operating Hours: Monday – Thursday: 8:00 AM – 5:00 PM; Friday: 8:00 AM – 4:30 PM; Saturday: 8:00 AM – 12:00 PM
| | |
| --- | --- |
| Google reviews score | 4.6/5 |
| Total Reviews | 4.5/5 |
| Score consistency | 4.55/5 |
| | |
| --- | --- |
| Reference | 4.5/5 |
| Skills & Competence | 4.3/5 |
| Equipment & Tools | 4.5/5 |
| Cost | 4.5/5 |
Informs and asks permissions before doing additional service
Transparent pricing
Doesn't update clients
Delayed completion date
Asking some former clients about Archerfield Auto Upholstery has proven to be useful, because they've proven that the guys at the shop were some of the easiest people to deal with. They're honest, efficient, and hardworking, focusing on the job until it's done!
According to them, they appreciated how transparent the shop was to them in terms of the pricing and the things that needed to be done. Archerfield provided all details and explained them thoroughly, so clients were never clueless.
This is the type of communication that we appreciate as customers. There's no need for us to keep following up or asking about things because they're given to us.
We also want to give credit regarding the attention to details. Flawless finish, neat trimmings, perfect stitching—these are the things that will welcome you when you check on your car's interior after Archerfield is done with them!
Customers even told us that due to the quality of work, the upholstered interiors lasted for months. There were no signs of any tearing or wrinkling for a few months, which saved them money and effort.
We're not in favour of the delays that happen sometimes, but we also understand that such things are inevitable most especially if there are a lot of clients. We still hope the company can do something about these delays though to avoid further inconvenience.
In terms of overall service, we recommend Archerfield without hesitation. It has competent guys working for it and accepts any type of upholstery work!
5. All Car Interiors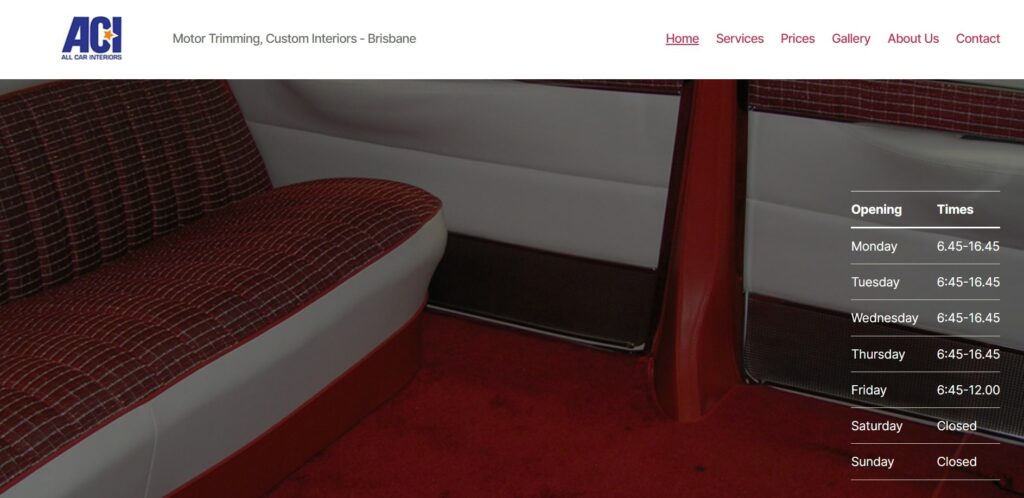 Services: Custom Upholstery & Repairs, New Car Leather Upgrades, Roof Linings, Tonneau Covers & Canopies
Website: https://www.allcarinteriors.com.au/cars/
Address: 10 Somerset St, Windsor QLD 4030, Australia
Contact Details: (61) 7 3857 1141
Operating Hours: Monday – Thursday: 6:45 AM – 4:45 PM; Friday: 6:45 AM – 12:00 PM
| | |
| --- | --- |
| Google reviews score | 4.8/5 |
| Total Reviews | 4.3/5 |
| Score consistency | 4.5/5 |
| | |
| --- | --- |
| Reference | 4.75/5 |
| Skills & Competence | 5/5 |
| Equipment & Tools | 4.5/5 |
| Cost | 4.75/5 |
Staff is respectful to customers
Uses quality materials
Phone staff needs more knowledge about their services
Needs consistent follow up for quotes
When we asked some of its past and present customers about what they thought was All Car Interiors' best feature, they said one thing—old-school experience. The shop still uses traditional ways of doing things, which results in a more polished product.
We also admire that the shop has an extensive list of materials it uses in upholstery. They're all of good-quality too, hence the upholstered area lasts for months without looking worn and torn!
We also appreciate how the upholsterers take pride in their job. They're very meticulous and precise, which you can see in the trimmings of the products.
Another thing worth noting for us is the state of the shop. It's very tidy and organised, which somehow gives you an impression on how the shop takes care of your car's interiors.
And it's cheaper than most providers around the area! We're actually surprised just how affordable the rates of All Car Interiors is for the type of service it provides.
Just a couple of things we don't like, first of which is the phone staff needing more knowledge about their services since they can't provide information to clients. Another is how the client needs to consistently follow up for quotes—very inconvenient!
In terms of meeting deadlines and accepting both major and minor works though—we think All Car Interiors meets expectations, even surpasses them! So go check them out if you're in need of a reliable auto upholstery service.
FAQs About Auto Upholstery
---
That wraps up our list! Car care doesn't only include maintenance of the exterior but the interior as well. Having a go-to auto upholstery shop helps in keeping your car in tip top shape, so make sure to find one that fits your budget and your needs.
---