Categories >
Other Services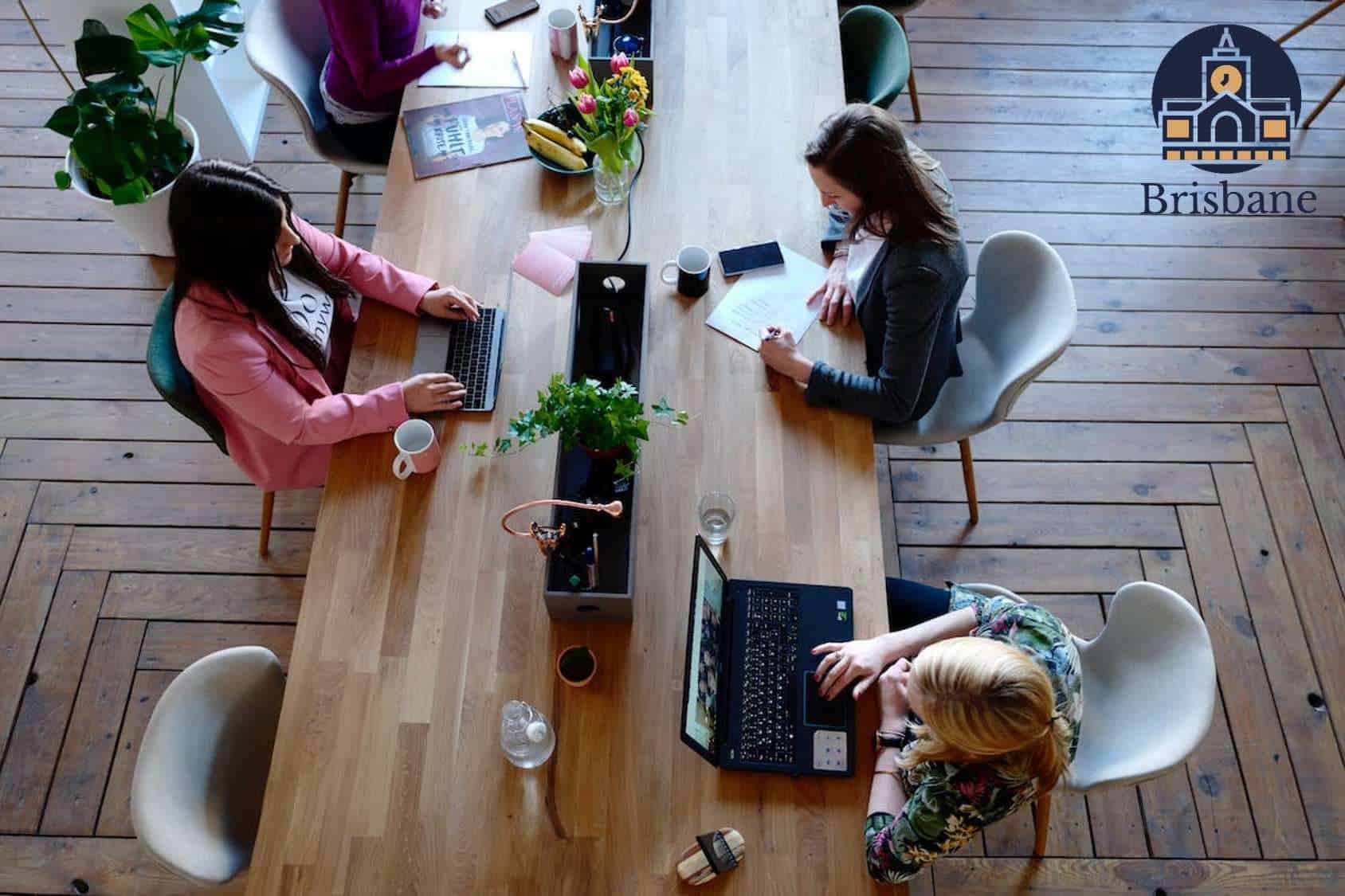 6 Best Virtual Offices in Brisbane
Our Criteria for the Best Virtual Offices in Brisbane
1. Christie Spaces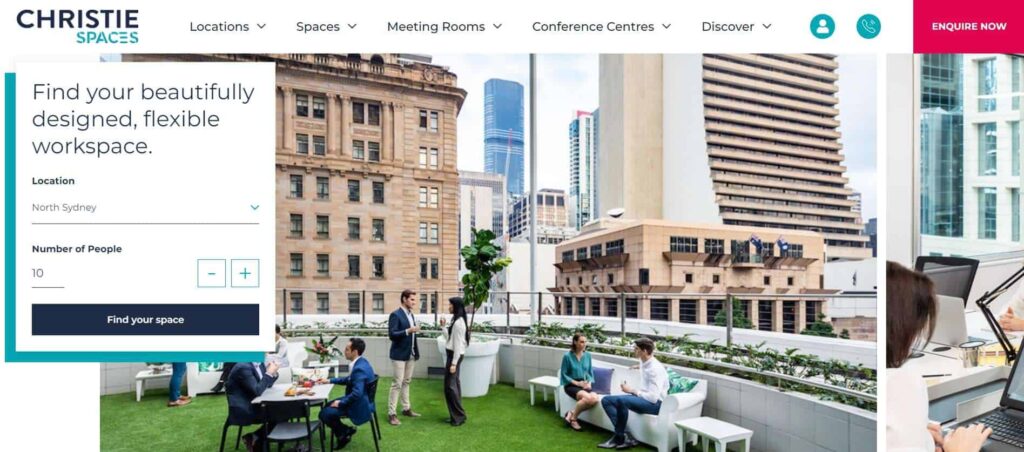 Services: Virtual Office, Private Offices, Larger Offices, Hot Desks, Conference Centre, Meeting & Boardrooms, Training Rooms
Website: https://www.christiespaces.com.au/
Location/s: Level 3/240 Queen St, Brisbane City QLD 4000
127 Creek St, Brisbane City QLD 4000
Conference Centre – 320 Adelaide St, Brisbane City QLD 4000
Contact Details: 1800 806 066
Operating Hours: Monday – Friday, 8:00am – 5:00pm
24/7 access for members
| | |
| --- | --- |
| Google reviews score | 4.9/5 |
| Facebook reviews score | 5/5 |
| Total reviews | 3.5/5 |
| Score consistency | 4.9/5 |
| | |
| --- | --- |
| Services | 4.9/5 |
| Amenities | 4.8/5 |
| Location | 4.9/5 |
| Hours | 5/5 |
| Rates | 4.8/5 |
Members get access to an exclusive app to help manage bookings
Two convenient locations within the Brisbane CBD
Flexible booking terms
Only paid parking available
Does not allow outsourcing of catering services
Christie Spaces is easily one of our top choices if you want to achieve your business goals with its flexible workspaces that can accommodate teams of any size.
When you decide to sign up for membership, you'll gain access to their app which is a really convenient tool that will help with managing your bookings.
Meanwhile, for small teams or start-ups that don't have a permanent office address, you can avail of their Virtual Office package at $95 a month.
It's awesome that you'd instantly get a professional address that's within the CBD, as well as services for mail and package handling.
On top of that, you can also book their meeting rooms and other spaces as needed, plus exclusive invites to their networking events.
They also provide professional phone answering services which can be personalized according to your requirements, but this comes at an additional cost.
Another great thing is that you can choose between two locations in the Brisbane CBD. You can find them on Queen and Creek Street, which are both convenient locations,
Both offices are equipped with 24-hour security, high-speed wi-fi, professional meeting rooms, end-of-trip facilities, concierge, daily cleaning, spacious kitchens, and a dedicated community team.
However, we're just disappointed that parking is not included even for members and that you will have to pay an additional fee.
2. Studio 42 Workspaces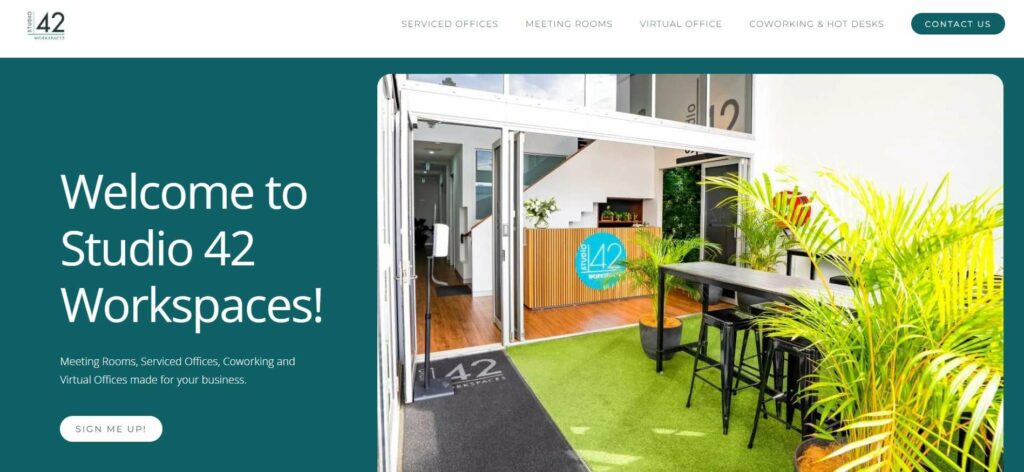 Services: Serviced Offices, Meeting Rooms, Virtual Office, Coworking & Hot Desks
Website: https://studio42workspaces.com/
Location/s: 42 Manilla St East Brisbane 4169 QLD
Contact Details: [email protected] / 07 3435 1500
Operating Hours: Monday – Friday, 9:00am – 5:00pm
24/7 access for members
| | |
| --- | --- |
| Google reviews score | 5/5 |
| Facebook reviews score | 5/5 |
| Total reviews | 3.7/5 |
| Score consistency | 5/5 |
| | |
| --- | --- |
| Services | 4.8/5 |
| Amenities | 4.9/5 |
| Location | 4.8/5 |
| Hours | 5/5 |
| Rates | 4.9/5 |
Flexible leases from 1 month to 1 year
Fully furnished offices with utility costs included
Sustainable office practices
Offers only 1 GB of wi-fi for serviced offices
Street parking only
You can definitely find a workspace that you could call your own at Studio 42 Workspaces with its fully furnished offices that are move-in ready.
If you want a central location that's not tucked within the busy and crowded areas of the city, then this is the perfect place!
Conveniently located just 2 kilometers from the CBD in East Brisbane, this modern boutique workspace offers flexible serviced offices with some great package inclusions.
Apart from fully furnished office spaces, packages will also include water and electricity costs which is very convenient. What's more is, it also comes with a well-supplied kitchen!
Not too many virtual offices have offerings like that, so we think Studio 42 is one of the best workspaces when it comes to additional perks.
We also love that leasing terms are quite flexible for those who don't want to commit just yet. They have monthly terms, as well as 6 and 12-month terms, but are also open to accommodating daily and hourly rentals.
Their meeting room rentals start at $35 an hour depending on the number of persons. They also offer mail and address packages and mail, address, and phone packages that start at $49 and $69 monthly.
These packages are pretty affordable. However, we're not completely happy with the wi-fi situation as it seems quite limited offering only 1GB of wi-fi in serviced offices.
3. Atworkspaces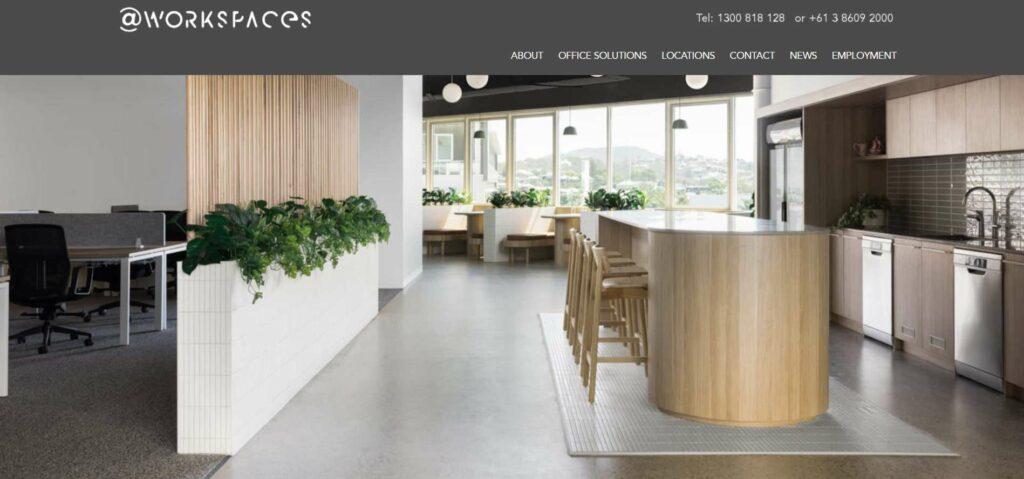 Services: Serviced Offices, Coworking Memberships, Virtual Offices, Meeting Rooms
Website: https://www.atworkspaces.com/
Location/s: Level 18, 324 Queen St Brisbane QLD 4000
Contact Details: [email protected] / +61 1300 818 128
Operating Hours: Monday – Friday, 8:30am – 5:00pm
| | |
| --- | --- |
| Google reviews score | 4.8/5 |
| Facebook reviews score | 0/5 |
| Total reviews | 3.5/5 |
| Score consistency | 4.8/5 |
| | |
| --- | --- |
| Services | 4.3/5 |
| Amenities | 4.8/5 |
| Location | 4.8/5 |
| Hours | 4.8/5 |
| Rates | 4.8/5 |
Situated in central locations
Serviced offices can accommodate large groups
Virtual Office package seems limited
Additional fees for mail and parcel storage
You'll feel right at home in Atworkspaces which makes accessibility one of its top priorities.
It's quite convenient that clients can get to enjoy other necessary amenities nearby such as malls, restaurants, and fitness centers. They make sure that they choose a location that's in the center of the commercial district of a major city such as Brisbane.
If a central location is what you're looking for, then this is the place for you, with Virtual Office services starting from $50 per month. You can list them as your business address along with mailing services as well.
Although, we found out that they don't include storage of mail and parcels in their packages and it comes as an additional option.
This is a tad inconvenient but at least they can handle the delivery of packages to your address but it comes with additional postage and handling costs as well.
Meanwhile, their coworking packages appear to be promising with a variety of options to choose from, from a day access and a fixed desk to a private room for one.
As for serviced offices, it's great that they can accommodate up to 60 people with flexible leasing terms that can be tailored to your business requirements.
4. Workspace 365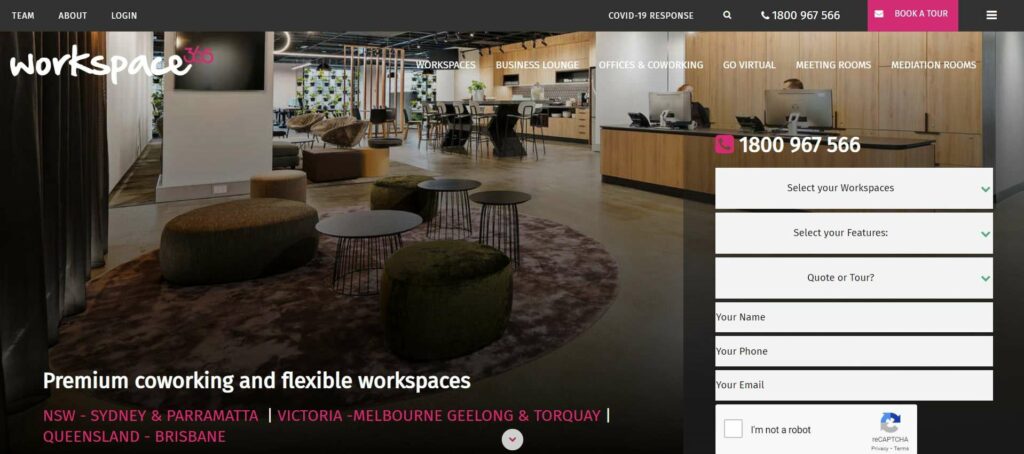 Services: Business Lounge, Private Office, Flexi Desk, Project Space, Bespoke Workspace, Team Rooms, Mediation Rooms, Event Space
Website: https://www.workspace365.com.au/
Location/s: 111 Boundary St – West Village, West End
307 Queen St.
167 Eagle St.
1024 Ann – Fortitude Valley
Contact Details: [email protected] / +61 7 3607 3800
Operating Hours: Monday – Friday, 9:00am – 5:00pm
Available 24/7 for clients
| | |
| --- | --- |
| Google reviews score | 4.9/5 |
| Facebook reviews score | 5/5 |
| Total reviews | 3.5/5 |
| Score consistency | 4.9/5 |
| | |
| --- | --- |
| Services | 5/5 |
| Amenities | 5/5 |
| Location | 5/5 |
| Hours | 4.8/5 |
| Rates | 4.8/5 |
Multiple locations within Brisbane and other cities
Barista-style coffee available
Virtual Office plans have business lounge access
Business Lounge membership only has day access
Rates are higher than others
Workspace 365 definitely gives you an all around 360-degree access to its premium services with four locations within Brisbane!
With their Business Lounge membership, you can gain access to all of these locations plus other workspace branches in Melbourne and Sydney, with packages starting from $59 per month.
However, we're just a bit disappointed about the Business Lounge hours as it's rather restrictive with access that's only from 8:30am – 5:30pm, Mondays to Fridays.
Perhaps this membership is meant for those who usually go interstate for business and want a go-to workspace to catch up on work or to hold quick meetings.
Apart from the lounge, they have more offerings that can accommodate different business needs such as bespoke workspaces, project space, and more.
The 24/7 access is available for the coworking space, private office, and team rooms. And our personal favorite – the barista-style coffee!
If you're someone who can't work without coffee in hand, then we think this is definitely a great perk so you won't have to go out for coffee all the time.
In addition, their Go Virtual plans start from $90 which includes usage of business address, mail management, business lounge access, and invitation to exclusive networking events.
Their rate is a bit higher than others but given their premium services and prime location, it's quite reasonable overall. Plus, you get business lounge access, too!
5. Mobo Co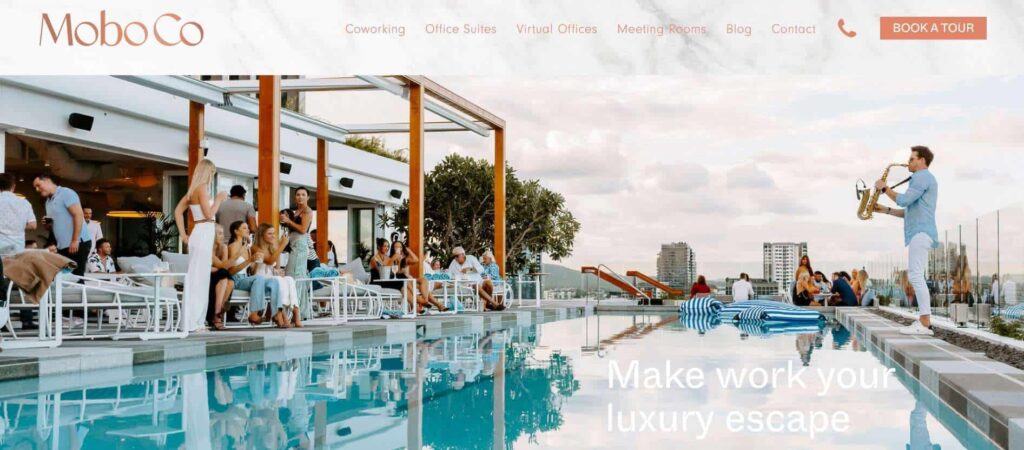 Services: Coworking, Office Suites, Virtual Offices, Meeting Rooms, Serviced Offices,
Hot Desks, Rooftop Pool, Health & Wellness Areas
Website: https://mobocowork.com/
Address: 88 Tribune St, South Brisbane QLD 4101
Contact Details: Sean O'Connor – 0452 007 189 / [email protected]
Operating Hours: Monday – Friday, 8:30am – 5:00pm
24/7 access for members
| | |
| --- | --- |
| Google reviews score | 5/5 |
| Facebook reviews score | 0/5 |
| Total reviews | 3.5/5 |
| Score consistency | 5/5 |
| | |
| --- | --- |
| Services | 4.8/5 |
| Amenities | 5/5 |
| Location | 5/5 |
| Hours | 5/5 |
| Rates | 5/5 |
Flexible membership plans
Virtual office package includes receptionist services
Premium amenities including a rooftop pool 
Virtual office service doesn't provide mail and parcel storage
Parking is for members only
Being at Mobo Co is absolutely refreshing! It's definitely a place where you can look forward to working, and we never thought we'd see the day!
It's one of the best virtual offices in Brisbane because they offer packages that include a virtual receptionist as well, which is really convenient.
Apart from the basic virtual office services such as a prime business address and mail management service, a virtual receptionist can answer calls on your behalf, as well as receive and forward mail to you.
Their Virtual Office Starter is priced at $200 which already includes reception services. We also recommend their Virtual Coworking package at $350 which includes 24/7 access to their coworking space on top of the virtual office services.
If you need space for meetings with your team and clients, you'll get access to their meeting and boardrooms with their Premium Virtual Coworking priced at $450.
We think their packages are all worth it given the premium inclusions. And to top it all off, they even have a rooftop pool!
The pool can be accessed by members at a particular time daily. We think it's a nice touch which, as they say, would instantly make work "your luxury escape."
The only thing that we don't see in their package is storage for mail and parcels, so it's best to coordinate with them whenever you're expecting mail.
6. Salt Space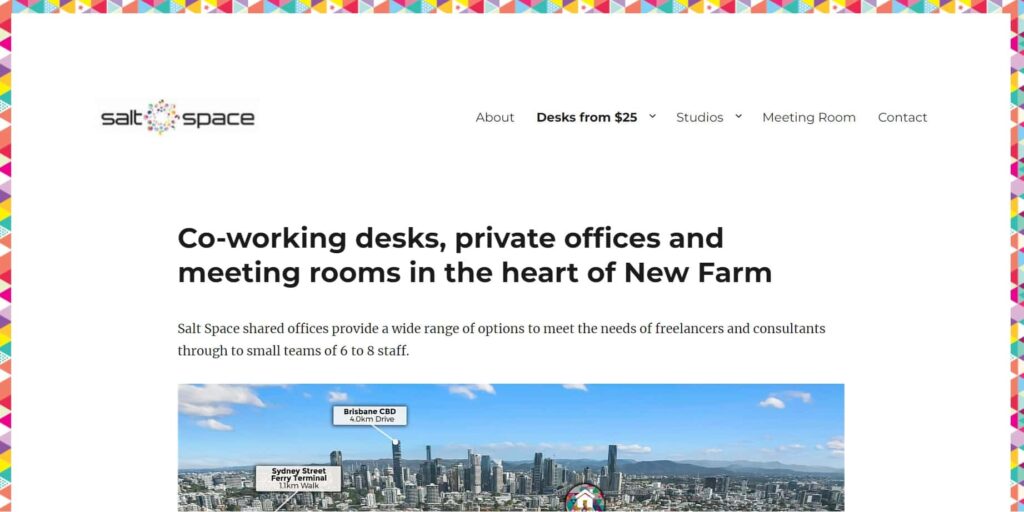 Services: Hot Desks, Dedicated Desks, Virtual Offices, Studios, Meeting Rooms
Website: https://saltspace.com.au
Address: Level 1, 888 Brunswick Street
Corner Merthyr Road (Next to Merthyr Village)
New Farm, Queensland
Contact Details:
Phone 07 3040 4441
Email [email protected]
Facebook @saltspacebris
Twitter @saltspacebris
Instagram @saltspacebris
Operating Hours: Monday – Friday: 9:00am – 5:00 pm
| | |
| --- | --- |
| Google reviews score | N/A |
| Facebook reviews score | N/A |
| Total reviews | N/A |
| Score consistency | N/A |
| | |
| --- | --- |
| Services | 5/5 |
| Amenities | 4/5 |
| Location | 5/5 |
| Hours | 4/5 |
| Rates | 5/5 |
Has extensive years of experience in the field
Utilizes innovative technologies and facilities
Customizable space booking
Slightly limited availability may occur
Closed on Sundays
Salt Space is a company that provides its clients with comprehensive and accessible co-working spaces and hot desks among other interrelated services to provide businesses having workspaces that suit their needs.
We like that their packages are very versatile and can be paid for both in the short-term and long-term occupancy to ensure that clients have a hassle-free transaction with them.
Aside from this, they also employed a team of innovative and experienced personnel in the field to offer clients concrete and practical advice on their options and better integrate their needs into the services they intend to avail of.
Note though that there might be slight limitations when it comes to the availability of their co-working spaces and offices since at the moment, they only have a singular location for their operations.
Overall, with their innovative and excellent array of meeting rooms and co-working spaces, accommodating customer service, and versatile packages offered, we highly recommend interested clients to check them out.
FAQs About Virtual Offices
---
And that's it for our picks of the best virtual offices in Brisbane! It's awesome that there are a lot of convenient and practical business solutions nowadays. We'd love to know what you think of our recommendations!
Just drop us a line down below!